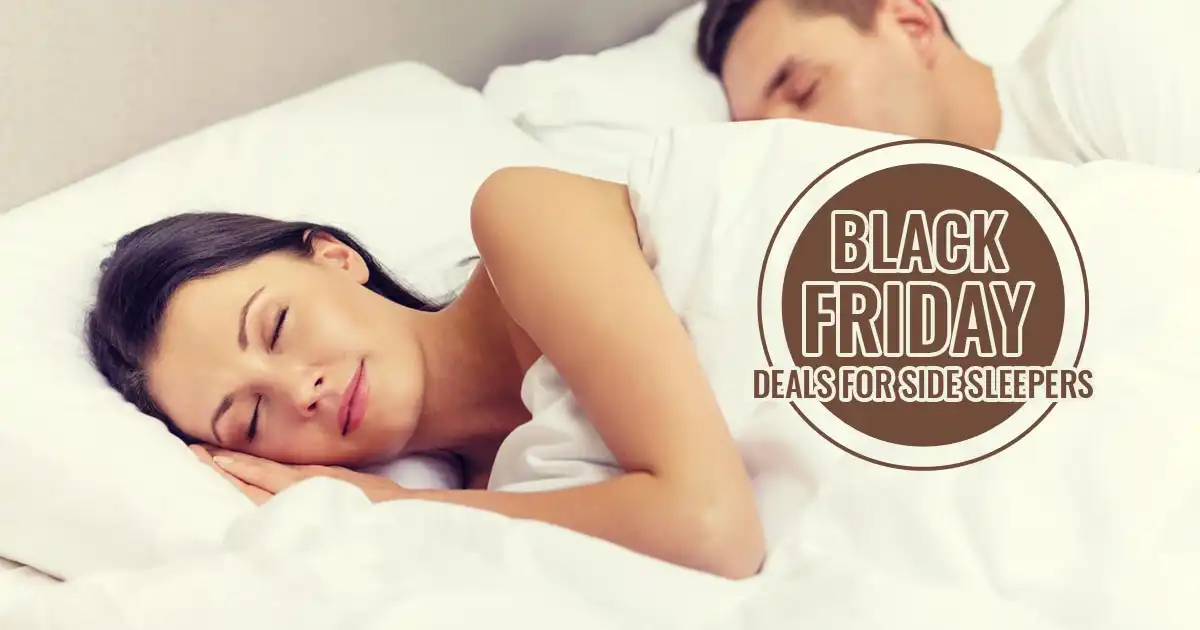 Are you a side sleeper seeking comfort and support for your sleep? Well, get ready to bid farewell to tossing and turning! Black Friday 2023 is just around the corner, and SmartMattressBuy.com has unveiled mattress deals tailored just for you!
Side sleeping is a common sleeping position that medical practitioners often recommend. It has some benefits for your body, like improved digestion and breathing. However, side sleepers feel discomfort in the body's pressure zones, especially in their shoulders and pelvis. That's why getting a mattress that contours your body well is important.
Do you often ponder which mattress will give you the coziest hug when you sleep? Look no further as we reveal the Top 5 Black Friday Mattresses for side sleepers that will change how you feel when you go to bed.
Top 5 Mattresses for Side Sleepers | Black Friday 2023
Shopping Guide – 5 Best Mattresses | Side Sleepers
1. iSense Classic Mattress
iSense Classic mattress is 11 inches thick and made entirely of foam. It uses top-notch foam and each layer is designed to support your body by contouring and isolating motion. It's great for people who sleep on their sides. The Comfort Control™ Technology provides personalized support. Additionally, the mattress has a core that enhances breathability, helping regulate temperature for a more comfortable sleep.
Key Features
Mattress Type: Foam
Firmness: Medium
Mattress Height: 11-inch
Warranty Period: 10-year
Trial Period: 120 Nights
Shipping: Free
Our Recommendation
iSense Classic Mattress has five different foam layers, each chosen to make your sleep better. These foams are designed to be comfy, last a long time, regulate temperature, hug your body, and even help with back pain.
Foam mattresses are good at isolating movement, so you won't be bothered by your partner's tossing and turning. iSense Classic Mattress, made completely of foam, does a good job of preventing motion transfer. This means you can enjoy a peaceful and undisturbed sleep without disturbances.
Pros
Tailored Comfort: Experience personalized comfort to suit your preferences.
Couple-Friendly: Made just for couples, this mattress makes sharing a bed with your partner much easier by minimizing disturbances.
Motion Isolation: Reduces motiontransfer so you can have a calm and restful sleep.
Weight Range: Designed for people who weigh between 130 and 230 pounds.
Cons
Less Responsive: This mattress might not respond fast, which may not be the best choice for people who like responsive mattresses.
Are you eager to learn more? Check out our thorough review of the iSense Classic Mattress.

2. Leesa Original Hybrid Mattress
Leesa Original Hybrid Mattress is best mattress for side sleepers. It has a comfy top foam layer that molds to your body, making sleep better. The special foam lets air flow well, keeping you cool and easing pressure. With 789+ individual springs, it supports your body and lets you move easily. It's perfect if you like both the cozy feel of memory foam and the support of springs.
Key Features
Mattress Type: Hybrid
Firmness: Medium
Mattress Height: 11-inch
Warranty Period: 10-year
Trial Period: 100 Nights
Shipping: Free
Our Recommendation
Leesa Original Hybrid mattress is good for couples because it has strong edges and does a good job in motion transfer.
Leesa Original Hybrid Mattress is good at staying cool. The upper foam layer lets air through, and the pocketed coils help air move around, keeping you comfortable.
Pros
Pressure Relief: Layer of memory foam that hugs your shoulders and hips and pocketed steel coils also compress individually for targeted pressure relief.
Motion Isolation: Two-layer comfort system absorbs surface-level vibrations.
Budget Friendly: People looking to save money will be happy with this hybrid mattress because it's priced affordably.
Cons
Less Supportive for sleepers with sensitive joints: This mattress might not be suitable for such sleepers as it may not provide deeper sinkage.
Are you eager to know more? Read Review
Enjoy the best of season's sale with our Black Friday Deals 2023!

3. Layla Hybrid Mattress
Layla Hybrid is a 13-inch mattress and is good for side sleepers. It is made of memory foam with copper, which helps keep you cool and comfortable. The coils also help air flow through and make the edges strong. Layla Hybrid has two sides, and you can choose which one to sleep on.
The soft side (4) is good if you want to feel less movement and have less pressure on your body. The firm side (7) is better if you want to move easily and stay cool while you sleep.
Key Features
Mattress Type: Hybrid/Innerspring
Firmness: Medium
Mattress Height: 13-inch
Warranty Period: 10-year
Trial Period: 120 Nights
Shipping: Free
Our Recommendation
Layla Hybrid provides good motion isolation. The memory foam it uses absorbs movements, so if your partner moves, you won't feel it. The coils inside the mattress also respondindividually to pressure, reducing motion transfer.
Depending on the side you sleep, Layla Hybrid mattress can be better at keeping you cool. Both sides have memory foam with copper that pulls away heat from your body. Also, the coils help air move around and get rid of heat. The cover is breathable too, making sure you stay cool while you sleep.
Pros
Ample Edge Support: Ideal for people who need extra support at the edges to make it easier to get in and out of bed.
Flexible Firmness Choices: This mattress is liked by people who want a bed that can be both a bit soft and a bit firm. It's also good for those who think their preferences might change in the future.
Couple Friendly: The mattress makes sure that when one person moves, the other person doesn't feel it much. And because you can flip it, couples can pick how firm or soft they want it for their own comfy sleep.
Cons
Flipping Need Assistance: Because Layla Hybrid is heavy, you might need help flipping it.
To learn more, read our comprehensive Layla Hybrid Mattress Review.
4. Nolah Evolution 15 Mattress
Nolah Evolution 15-inch Mattress is best mattress for side sleepers. With six layers of foam and coils, it makes for a super cozy sleep. Plus, it has this cool ArcticTex® fabric to keep your body temperature just right. The 2-inch AirBreath® border makes it even better by keeping things cool and breezy.
Key Features
Mattress Type: Hybrid/Innerspring
Firmness: Soft
Mattress Height: 15-inch
Warranty Period: Lifetime
Trial Period: 120 Nights
Shipping: Free
Our Recommendation
The top cover and the cozy foam layers in the Nolah Evolution 15 mattress are desirable for side sleepers. The mattress gives plenty of room, letting your body sink in comfortably. It spreads your weight evenly, so you don't feel too much pressure on your hips and shoulders.
Nolah Evolution 15 mattress is really good at motion isolation. This is because of the thick polyfoam layers that make it comfy and the Euro-top cover. The padding inside the cover also helps to keep movements from bothering you.
Pros
Hot Sleepers: Good for people who get hot at night, this mattress has cool features that keep your temperature just right.
Effective for Chronic Pain: Good for people with long-lasting pain, helps by easing pressure and giving support.
Innerspring Mattress Enthusiasts: If you like spring mattresses, you'll love sleeping on the Nolah Evolution 15. It mixes the support of coils with the comfort of foam.
Cons
Too Soft for Stomach Sleepers: This mattress might feel too soft for people who sleep on their stomachs.
Need more information? Check our detailed Nolah Evolution 15 Mattress Review.
5. Saatva Classic Mattress
Saatva Classic mattress is great for side sleepers as it combines luxury, support, and versatility. It's an innerspring and hybrid mattress that comes in three firmness options, so everyone can find their perfect level of comfort. The mattress has a fancy 3-inch Euro pillow top and Lumbar Zone Technology, which helps support your spine better and gives you comfort while relieving pressure points.
Key Features
Mattress Type: Hybrid/Innerspring
Firmness: Firm
Mattress Height: 11.5-inch and 14.5-inch
Warranty Period: Lifetime
Trial Period: 365 Nights
Shipping: Free
Our Recommendation
If you have back pain and want a good mattress to help with that, this one is a great choice.
This mattress is made to help you stay cool and comfy if you get too warm while sleeping.
Pros
Combination Sleepers: Saatva's mattress has bouncy coil layers that respond well, making it just right for people who switch positions a lot while sleeping, especially those who are combination sleepers.
Heavier Sleepers: If you're a bit heavier, Saatva mattress is good for you because it's built strong, giving you more support and making it last longer.
Cons
Light-weight Sleepers: If you're a light-weight sleeper, you might want to think about getting a mattress with low-motion transfer.
Learn everything about the Saatva Classic mattress from our Comprehensive Review.
Smart Tips!
When you're looking for a mattress on Black Friday 2023, keep these simple tips in mind.
Tip 1: First, look into different types and brands within your budget.
Tip 2: Compare features and read what others say.
Tip 3: Think about what you need for a good night's sleep, like extra support or temperature control.
Tip 4: Check the return policy and warranty. Some brands offer trial periods, so you can test the mattress at home.
These tips will help you find the best Black Friday mattress deals that fit your preferences.
Smart-Take!
Unlock the best Black Friday mattress deals for side sleepers with us! Our platform, SmartMattressBuy.com, makes it effortless to find quality yet budget-friendly options. Navigate through exclusive tips for a seamless shopping experience. Research, compare, and make an informed choice with our comprehensive insights. Don't miss out on trial periods and special deals.
Smart-Deals await you at SmartMattressBuy.com, leading the industry with the innovative Cashback Rebate initiative. Explore now before supplies run out!

FAQs About Mattresses for Side Sleepers
Q1. What type of mattress is best for side sleepers?
Side sleepers should opt for a soft or medium-firm mattress. Too much firmness can exert pressure on the hips and shoulders, leading to discomfort.
Q2. What firmness is ideal for side sleepers with back pain?
For side sleepers with back pain, a medium mattress is recommended. It strikes a balance between support and comfort, helping alleviate discomfort.
Q3. Is memory foam or hybrid mattress better for side sleepers?
Memory foam is suitable for side sleepers due to its superior pressure relief and contouring. It cushions joints and adapts to the body's shape, offering optimal support.
Q4. What is the healthiest sleeping position?
The healthiest sleeping position is on your side with a pillow or blanket between the knees. This not only aligns the spine but also provides relief for those with neck or back pain. Additionally, you can choose a pillow with the right loft for neck and shoulder support.
Q5. Are there benefits to sleeping on your side?
Yes, sleeping on your side offers more than just comfort. This position helps keep your airway open, ensuring uninterrupted sleep and preventing obstructions that could disrupt your rest.
References