Methodology
We gather information on mattress industry, product, pricing, customer reviews and financial information from more than 50+ websites daily through our automated "bots" and use advanced data analytics techniques to evaluate and rate mattresses.

Updates
Our reviews are updated at least once a week in cases of changes, product releases, and new insights gathered from analyzing our data set.

Format
We present our mattress reviews in a Q&A format with the intent of mirroring the thought process of how customers make mattress purchase decisions
Saatva Classic Mattress-Firm-11.5
By Brand: Saatva
$

1995

$

1696
Saatva deals Coupons
15% off orders $1k+ | Ends 9/18.
Save an extra $100 off an adjustable base or bed frame with a mattress purchase.

Get Coupons

x

15% off orders $1k+ | Ends 9/18.
Save an extra $100 off an adjustable base or bed frame with a mattress purchase.

Tip:No Code needed

Continue to Store

Saatva Offers

15% off orders $1k+ | Ends 9/18.
Save an extra $100 off an adjustable base or bed frame with a mattress purchase.
Product Description
Saatva is a premium traditional innerspring mattress that offers comfort, support, and durability. It is a luxury brand that uses quality materials for its built.
The Saatva Mattress offers three firmness levels (Plush Soft, Luxury Firm, and Firm) and two different height options (11.5 inches and 14.5 inches) to cater to the needs of different sleepers.
The brand offers five different mattress types:
Saatva Classic
Loom and Leaf
Saatva Latex Hybrid
Solaire
Zenhaven Latex Mattress
The brand also makes Saatva HD Mattresses for heavier people and youth and crib-sized mattresses.
In this article, we review Saatva Classic.
Material: Fiber, Polyfoam, Memory Foam, and Steel Coils
Sizes: Saatva is available in all regular sizes: Twin, Twin XL, Full, Queen, King, Cal King, Split King
Pricing: Depends on size & variety
Shipping & Delivery: Free white-glove delivery
Trial & Return: 180-night trial, $99 (transportation charge) for return
Warranty: 15 years non-prorated warranty; Fairness Replacement Option
Pros & Cons
BEST if you:
Sleep on your back, stomach, or, a combination of both
Are hot sleeper
Have back pain
Prefer specific firmness
Want an extra supportive mattress
Have average to heavy body type
Want your mattresses to be delivered and set up in your home
NOT IDEAL if you:
Sleep on your side, wanting an extra soft bed
Weigh below 150 pounds
Want free returns ($99 transportation charge)
Want a foam mattress like feel
Firmness
Whether a mattress feels firm or soft is relatively subjective. All mattresses should support body weight, promote healthy spinal alignment, and ensure comfortable and restful sleeping. Whether a mattress is fluffy and squishy (what mattress companies call soft or plush) or less so (what companies call firm), is purely defined based on personal preferences.
Saatva offers three different firmness levels making it suitable for all sleeper types, thus making it one of the most versatile brands. On a firmness scale (1 – 10), the mattress can be categorized as Plush Soft (3/10), Luxury Firm (6-6.5/10), and Firm (8/10). All three firmness levels provide akin comfort systems. Plush Soft provides ample support around the hips and shoulders, while the Luxury Firm, a medium-firm mattress, goes well with the side, stomach, and back sleepers. A firm mattress is best for back or stomach sleepers as it supports lumbar, lower back pain, and other spinal alignment issues.
Material & Construction
Saatva mattress, also called the Saatva Classic,is a combination of two layers of coils along with two layers of polyfoam and a thin layer of memory foam.
The knit cover is made of organic cotton, making the mattress top soft and breathable. The organic cover is treated with Guardian botanical antimicrobial solution and stacked with soft foam to provide a pillow-top look and feel. The construction of the Euro pillow top brings forth an impressive combination of comfort and contouring.
The three firmness levels of Saatva (Plush Soft, Luxury Firm, and Firm) comprise a Euro-top with a sewn-in cushioning. Plush Soft and Luxury Firm use 1.25 inches of soft polyfoam while Firm uses 1.5 inches of firm polyfoam. Fiberfill of 0.75 inches and an ounce of Dacron are also included in the mattresses to provide a cushion to the surface. Underneath the Euro-top, a layer of polyfoam (0.625 inches) and a layer of memory foam (0.375 inches) is included to support a person's lumbar region. This helps to improve spinal alignment. To balance responsiveness and contour, a 4-inch layer of coil of 14.5 gauge is included to adjust the body of a person, thus helping air circulation.
Each mattress uses a support core of 13-gauge hourglass coils to increase the mattress's durability, thus supporting unique airflow throughout the mattress. The two different height options, 11.5 inches and 14.5 inches use a 4-inch and 7-inch layer, respectively. The base is made up of a 0.5-inch loft pad and 0.875 inches of fiber pad to support the coil system. Saatva provides excellent edge support. The mattress perimeters are wrapped with foam encasement; thus, sitting and lying near the border is safe and secure.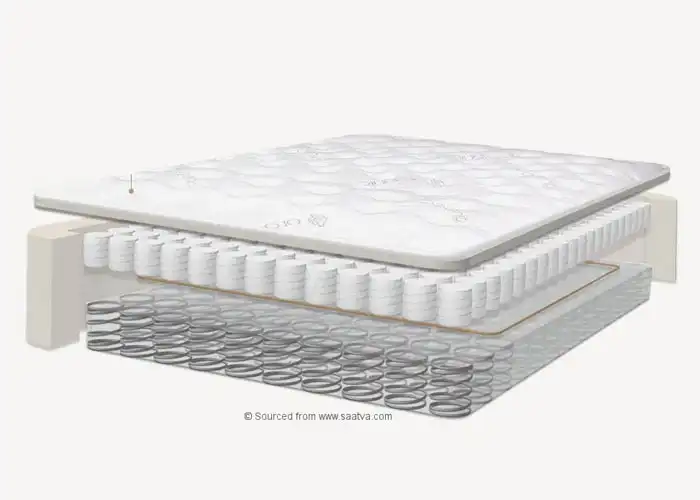 Rating
Saatva Classic Mattress-Firm-11.5
Materials & Construction (1=Least, 5=Best)
Repositioning (1=Least, 5=Best)
Comfort (1=Least, 5=Best)
Cooling (1=Least, 5=Best)
Motion Isolation (1=Least, 5=Best)
Edge Support (1=Least, 5=Best)
Overall Rating
4.17/5
Rating Scale: 1 = Average, 2 = Good, 3 = Very Good, 4 = Excellent, 5 = Winner
Repositioning
Repositioning means that sleepers can change position easily. Saatva's make using polyfoam and pocketed coils makes it exceptionally responsive compared to most other hybrid models. Using these materials helps to regain the shape of the mattresses more quickly than memory foam as the mattresses conform to the sleeper's body, thus reducing the feeling of the sleeper being trapped in the bed.
The three firmness options that Saatva's provides make it easy for most sleepers to move across and change positions. Most sleepers will prefer the Firm version of the mattress compared to Plush Soft as it is easier to change sides or move on.
Saatva is an excellent combination of responsiveness and traction. The Euro-top supports enough traction, and the two layers of coils give extra bounce preferred by most couples. The robust edge of the mattress provides couples extra space, allowing them to change positions safely, thus making use of the entire surface of the mattress.
Comfort, Back Support, Pressure Relief
Most of us are unaware that our spine is responsible for most of our movements as it connects all the major muscles responsible for activities. Back pain is a common problem that impacts our daily life and disrupts our sleep. Chronic back pain results in poor sleep, which can be very frustrating as it makes one feel significantly worse during waking hours. Chronic back pain may sometimes be challenging to find a comfortable sleeping position. Thus, it is essential to understand that different sleeping positions require different cushioning, contouring, and mattress firmness levels to avoid worsening back pain.
Saatva can alleviate or avoid back pain due to the additional support of foam and coil. It can support body weights varying from 130 pounds to 230 pounds, thus making it ideal for average to heavy-weight sleepers. All firmness versions of the Saatva mattress provide back support. People suffering from back pain may choose from the three levels of firmness depending on their condition and requirement.
All three firmness versions have significant pressure-relieving properties comparable to many hybrid models. Euro-top offers cushion to the surface of the mattress while pocketed coils support intense contouring. This cushioning helps the sleeper's weight spread wider, relieving pressure points that often occur around the hips and shoulders. The lumbar pad further helps the sleeper from sinking in, thus promoting better spine alignment.
Even though all Saatva firmness options have the potential to relieve pressure, individuals' experiences will vary based on their body weight and sleeping position. For people under 130 pounds, the Plush Soft version of the mattress is expected to relieve the most pressure, whereas those over 230 pounds will experience better balance and support from the Firm version.
Cooling & Temperature Control
Most hybrid mattress helps to sleep cool. Saatva's Euro-top construction uses polyfoam and fiber, making the mattresses more breathable than memory foam mattresses. The cotton cover helps in air circulation throughout the mattress. Unlike other hybrid models Saatva's constructions primarily consist of pocketed coils allowing air to flow freely between the springs thus dissipating the heat from the mattresses. Therefore, most tend to sleep cooler than most of the hybrid models. Though all the three firmness levels help promote a cooler night's sleep, the Plush Soft version owing to more conforming, leads to slightly more heat retention.
Motion Isolation and Sharing a Bed
This category rates how well a mattress can prevent other sleepers in a bed from feeling when their sleep partner rolls over, shifts, or changes positions. The Saatva Classic uses less foam and prefers an extra layer of springs. Though the foam layers and fiber fill of the Euro pillow top absorb some motion but when any one of the partner changes side or wakes up in the night, some movement is felt by the other partner. People who tend to sleep light might find this irritating and should opt for the Plush Soft version, which absorbs slightly more movements.
Edge Support
Foam mattresses aren't typically very supportive along the edge of the mattress—vital if one likes to sit on  or tend to sleep along the edges. Edge support is an important consideration for couples, as poor performance limits both sleeping and sex closer to the center of the bed, rather than its perimeter. Getting in and out of bed may also disturb the partner since the bed may bend when sitting on the edge. This is a common among all-foam mattresses.
The Saatva Classic attributes high-density foam rails around the mattress perimeter, creating firm edge support, thus preventing sagging or sinking when one lies near the edge of the mattress. The extra edge stability helps to expand the usable surface of the mattress as sleepers will feel secure to sleep near the edge without fear of falling off. These reinforced edges also make getting out of the Saatva bed easier. However, it is noteworthy that Plush Soft is not as firm as Luxury Firm or Firm models.
Recommendation based on sleeping style
We all crave a good night's sleep, but it's easier said than done. No matter what position we sleep in, we all need to sleep well so our bodies can heal and rejuvenate. There are three sleep postures: Side, back, and stomach sleepers. Therefore, all three have different needs and specific experiences regarding the comfort, support, and flexibility that the mattress should offer them.
Side Sleepers: More than half of the people sleep on the side. In this position, most of the body's weight rests on the shoulders, hips, and legs. Thus shoulders, hips, and legs should sink into the bed enough to relieve pressure points and support the spine alignment appropriately throughout the night for a good and pain-free night's sleep. The Plush Soft mattress is best for people under 130 pounds. The Luxury Firm option is best suited for people between 130 and 230 pounds as it gives a firmer feel while relieving pressure. Side sleepers heavier than 230 pounds will find the Firm version more ideal.
Back Sleepers: The National Sleep Foundation regards back sleeping, with arms at the sides, the ideal position to sleep. This sleeping position helps keep the head and spine in a neutral alignment, eliminating the pressure that causes pains thus allowing back muscles to relax. Back sleeping is suitable for people who suffer from back pain. This sleeping position reduces acid reflux by keeping the head above the esophagus thus preventing stomach acid from reaching the digestive tract. For back sleepers whose weight is less than 130 pounds, both Plush Soft and Luxury Firm Saatva models will be a good fit as both have strong support and soft cushioning foams. Back sleepers in the weight range 130 and 230 pounds will find the Luxury Firm Saatva the best fit as it offers support, firmness, and contouring altogether. People over 230 pounds will find the Firm version to be a good choice as it provides adequate firmness and support.
Stomach Sleepers: Sleeping on the stomach makes it hard for the spine to stay in a neutral position but is suitable for people who snore. People sleeping on their stomachs tend to put more pressure on the mattress, especially around the midsections. Thus a supportive mattress that prevents the risk of sinking and harming the spines is the best suited. Stomach sleepers below 130 pounds will prefer both the Plush Soft and Luxury Firm Saatva versions. This would depend on their preference for firmness. The Firm version owing to Firm polyfoam in the comfort layers, may give a firmer feel for lighter sleepers. Stomach sleepers whose weight lies between 130 and 230 pounds should like both the Luxury Firm and Firm versions of the Saatva as both have robust support and a firmer feel. Those over 230 pounds will find the Firm Saatva more suitable.
Combination Sleepers-Those who alternate between various positions: Combination sleepers need good responsiveness in a mattress. Saatva's innerspring coil construction is a good option for combination sleepers who want to shift positions and not feel stuck in the mattress.
Price
| Size | Dimensions | Weight | Price | Sale Price | Discount |
| --- | --- | --- | --- | --- | --- |
| Twin | 38 x 75 | NA | $1095 | $931 | 15% |
| Twin XL | 38 x 80 | NA | $1395 | $1186 | 15% |
| Full | 54 x 75 | NA | $1895 | $1611 | 15% |
| Queen | 60 x 80 | NA | $1995 | $1696 | 15% |
| Cal King | 72 x 84 | NA | $2495 | $2121 | 15% |
| King | 76 x 80 | NA | $2495 | $2121 | 15% |
Get Coupons
x
15% off orders $1k+ | Ends 9/18.
Save an extra $100 off an adjustable base or bed frame with a mattress purchase.
Tip:No Code needed
Continue to Store
Saatva Offers
15% off orders $1k+ | Ends 9/18.
Save an extra $100 off an adjustable base or bed frame with a mattress purchase.
Coupons & Deals
15% off orders $1k+ | Ends 9/18.
Save an extra $100 off an adjustable base or bed frame with a mattress purchase.
Check Other Saatva Mattress Models