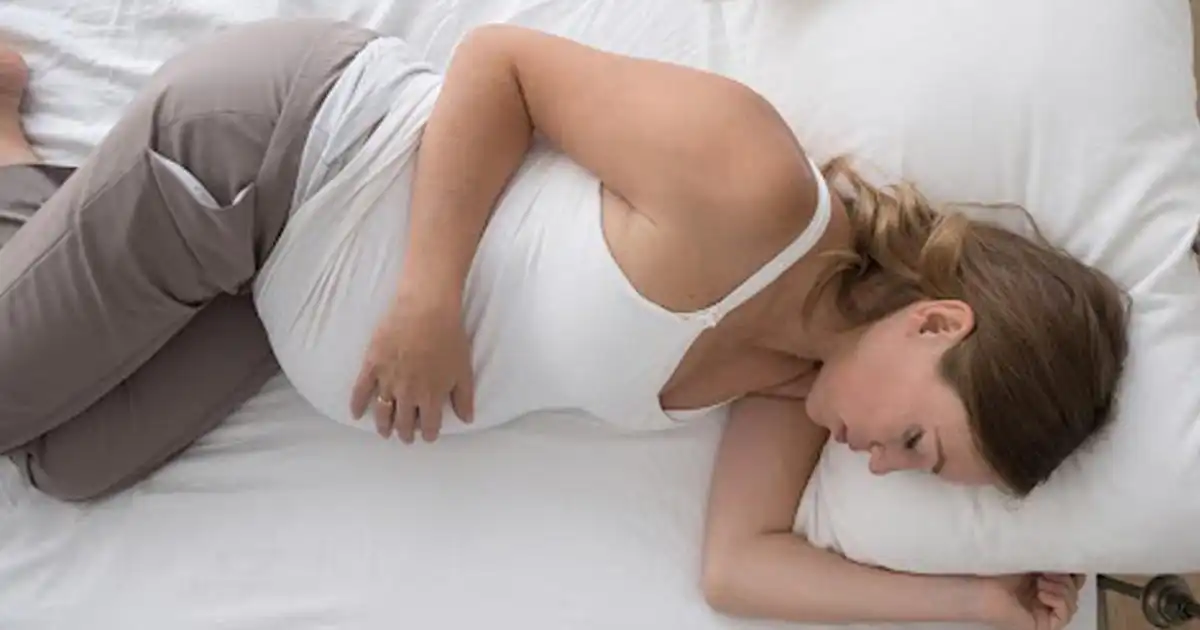 Feeling tired during pregnancy? Pregnancy pains or discomfort keeping you awake at night? Sleep is a quintessential metric that determines your health during this 9-month-long gestation period!
Pregnancy can bring about various challenges that may disrupt your sleep routine. Issues like night-time bathroom calls, nausea, or leg cramps are pretty common. It is important to prioritize a good night's sleep for both your health and the well-being of your baby.
Finding a mattress that offers the right amount of comfort and support can help improve sleep quality. Consider this as our guide to choosing the best mattress, so that you can embrace the joy of motherhood!
What Is the Best Sleep Mattress for Pregnancy?
During pregnancy, many women experience hip and lower back pains due to the changes happening in their bodies. So, it is best to remain prepared and select a mattress early on to get some well-deserved sleep!
Here's everything you may need to know about sleep mattresses you can rely on during pregnancy.
The list is as follows:
Best on Overall Features – Saatva Mattress
Best on Pressure Relief – Nectar Memory Foam Mattress
Best for Pain Relief – Helix Midnight Luxe Mattress
Best on Spinal Alignment – Nolah Evolution 15 Mattress
Best for Shoulder, Back, and Hip Pain – Bear Hybrid Mattress
Our Recommendation – Top Pick!
We recommend the "Saatva Hybrid Mattress" an ideal sleep mattress during pregnancy.
Why so?
Hybrid mattresses offer a balance of support and comfort that is much needed during pregnancy. Saatva Hybrid Mattress has a combination of memory foam layers with innerspring coils. This mattress is thus a popular choice, as it provides low-back support and ideal firmness for all sleeping positions.

How Do We Choose the Top Mattresses For You?
Every pregnancy is unique, and what works for one person may not work for another. It's essential to listen to your body and adapt to suit the needs of your body.
For that, we have considered certain prime factors while choosing the mattress that suits you most!
Brand Transparency: We value brands that are transparent about their product manufacturing processes. Transparency builds trust among customers, as they feel assured that the brand is delivering quality products. When a brand shares information about manufacturing methods, it helps customers make informed decisions. This further reinforces the credibility of the brand.
Customer Reviews: Genuine reviews from customers aid in a proper decision-making process. Positive reviews indicate that customers have had a satisfactory experience with the brand's products. By considering customer feedback, we can assess a brand's reputation, customer satisfaction, and effectiveness in providing relief during pregnancy.
Design Flexibility: The design flexibility of mattresses is crucial to us. Brands that offer mattresses with a balance of firmness and plushness are preferred. This aims to address the discomforts and pains faced by pregnant women as they rest in different sleeping positions.
Myriad Features: Offering a diverse range of product features is important to us. By choosing brands that provide various features, we can focus on customer-specific needs. This approach allows us to offer products that suits specific requirements of our customers.
Pricing Strategy: We prioritize brands that offer different pricing options to accommodate various customer budgets.  This strategy acknowledges that customers have different financial capabilities. Thus it aims to make the products accessible to a broader audience.
Learn about customized sleep-aid mattresses to reduce discomfort during pregnancy!
Shopping Guide – The Top 5 Mattresses During Pregnancy!
Mattress Type: Innerspring
Firmness Range: Soft Firm – Very Firm
Price Range: $995 – $2,710
Warranty Term: Lifetime
Sleep Trial Period: 365 days
Smart Mattress Buy's Review
Saatva Mattress is a hybrid sleep mattress that combines coil support with memory foam and a Euro pillow top. It offers excellent support, edge support, and motion isolation, making it an ideal choice for pregnant women.
The combination of coil support, memory foam, and the Euro pillow top makes it a comfortable and supportive choice for pregnant women. The different firmness options cater to various sleep preferences and needs, providing customized support for different areas of the body.
The Plush soft option offers extra support around the hips and shoulders, which can be beneficial for pregnant women who experience discomfort in those areas. The Luxury firm option is suitable for side, back, and stomach sleepers, accommodating different sleeping positions during pregnancy. The Firm option provides additional support for the lumbar and lower back, which can be helpful for pregnant women experiencing back pain.
The mattress's construction, with two layers of coils and polyfoam, promotes airflow throughout the mattress, helping to keep you cool during hot weather or if you tend to sleep hot. The coils also provide targeted pressure relief and contouring as your body changes during pregnancy.
One notable feature of the Saatva Mattress is its reinforced edges with high-density coils. This design strengthens the edges, making the usable area of the mattress larger. It also makes it easier to get in and out of bed, which can be especially useful for pregnant women who may need extra support and stability.
Overall, the Saatva Mattress combines comfort, support, and various firmness options to cater to the specific needs of pregnant women.
Pros:
Ideal for individuals in any sleep position
Ideal for individuals who prefer specific types of firmness and bounce
Suits sleepers who are seeking pressure relief
Good for relieving lower back pain and pain in the lumbar area
Sleepers who sleep hot find this mattress surface cool and comfortable
Cons:
Sleepers who prefer motion isolation may need to consider. This mattress offers firmness and related motion transfer.
This mattress is not soft plush but offers proper back support to the lumbar region.
Read Detailed Review – All Saatva Mattress Options
2. Nectar Memory Foam Mattress
Mattress Type: Foam
Firmness Range: Medium Firm
Price Range: $599 – $1299
Warranty Term: Lifetime
Sleep Trial Period: 365 days
Smart Mattress Buy's Review
The Nectar mattress is indeed known for its body-contouring and pressure-relieving properties, which can be beneficial for pregnant individuals experiencing discomfort in areas like the hips, shoulders, and lower back. Nectar mattress's memory foam is designed to conform to the body's shape, providing support and alleviating pressure points. This can help relieve tension and pain that often arise during pregnancy.
Memory foam mattresses like Nectar are known for their ability to distribute body weight evenly and adapt to individual body contours. This feature can be particularly helpful for pregnant individuals as their bodies undergo changes and may require extra support and cushioning. The conforming nature of the mattress can help align the spine, relieve pressure on sensitive areas, and provide a more comfortable sleeping surface.
It's important to note that every pregnancy and individual is unique, and preferences for mattress firmness or softness can vary. Some pregnant individuals may prefer a firmer mattress for additional support, while others may find a softer mattress more comfortable. So, it's advisable to try out different mattress options, if possible.
Pros:
For individuals who are side-sleepers (Side-sleeping position is the most recommended sleep position in pregnancy.)
Suitable for back sleepers (It is advisable not to sleep on your back while you are pregnant. However, Nectar provides sufficient support to provide relief in this sleep position.)
For couples seeking motion isolation
Cons:
Sleepers who sleep on their stomach and are pregnant need to consider a mattress that has a coil and spring support.
Nectar is relatively low priced, making it affordable for many pregnant women and their families. Nectar offers a lifetime warranty and a 365-day sleep trial, so you can always give it a try.
Read Detailed Review – All Nectar Mattress Options
3. Helix Midnight Luxe
Mattress Type: Hybrid
Firmness Range: Medium Firm
Price Range: $748 – $1398
Warranty Term: 10 Years
Sleep Trial Period: 100 days
Smart Mattress Buy's Review
The Helix Midnight mattress is indeed a memory foam hybrid mattress known for its ability to provide strong support and cushioning pressure relief. This combination of features can be particularly beneficial for pregnant individuals experiencing aches and pains, including back and joint pain.
The mattress utilizes a hybrid construction, which typically consists of multiple layers of foam and coils. This design helps to balance comfort and support. By contouring to the body shape, the foam provides personalized pressure relief and reduces strain on sensitive areas. At the same time, the coils offer a supportive base, ensuring proper spinal alignment and preventing excessive sinking.
Pregnancy can often lead to increased pressure on the back and joints due to weight gain and changes in the body's center of gravity. The Helix Midnight's ability to alleviate pressure points and maintain proper spinal alignment can help alleviate discomfort associated with these changes. Additionally, the mattress's motion isolation feature can be beneficial for those who share the bed, as it minimizes disturbances caused by movement during sleep.
It's important to note that individual preferences for mattress firmness and support can vary, so what works for one person may not work for another. It's always recommended to try out a mattress and consider personal comfort preferences before making a purchase.
Pros:
For people who are side-sleepers and prefer to sleep on their sides during pregnancy (relieves pressure around shoulders)
Individuals preferring to sleep on their backs
For individuals seeking pain relief in lower back
Cons:
Stomach sleepers and especially those in their pregnancy, need firmer and enhanced support in their lower back.
With a 100-day trial and a 15-year limited warranty, Helix Midnight Luxe is a good choice for pregnant women.
Read Detailed Review – All Helix Mattress Options
4. Nolah Original Mattress
Mattress Type: Foam
Firmness Range: Medium Firm
Price Range: $999 – $1749
Warranty Term: Lifetime
Sleep Trial Period: 120 days
Smart Mattress Buy's Review
The Nolah Original 10″ Mattress is a highly versatile mattress that offers several desirable features. The Nolah Original 10″ Mattress is designed to provide lasting durability. It is made with high-quality materials and construction techniques to ensure it withstands regular use over an extended period.
This mattress excels in relieving pressure points on your body. The foam layers of the Nolah Original mattress help in even distribution of body weight. This reduces pressure on areas such as your shoulders, hips, and the lower back. Thus, the mattress provides pain relief for sciatica or hip pain. The 10″ Mattress offers gentle body contouring, allowing it to adapt to your body's unique shape and provide personalized support. This feature helps to align your spinal and enhances comfort.
The mattress is designed to maintain a cool sleeping environment. It incorporates advanced cooling technologies, such as open-cell foam and breathable materials, to promote airflow and dissipate heat efficiently, helping you stay comfortably cool throughout the night. The Nolah Original 10″ Mattress comes with a premium cover made from Tencel™, a sustainable and moisture-wicking fabric.
The Nolah Original 10″ Mattress provides the benefits of a high-quality mattress without the hefty price tag often associated with other luxury mattresses on the market. Overall, the Nolah Original 10″ Mattress is a versatile option that aims to provide a comfortable and supportive sleep experience at a more affordable price compared to many other mattresses with similar features.
Pros:
Good for side sleepers. Doctors prescribe that pregnant women sleep on their sides during the 9-month gestation period.
For individuals preferring to sleep cool
Sleepers seeking value at a competitive price range
Cons:
Sleepers of a heavier build
This is not ideal for stomach sleepers, who require enhanced support.
Nolah Mattress offers a 120-day sleep trial and a lifetime warranty. All these features make this mattress a must-try during pregnancy.
Read Detailed Review – All Nolah Mattress Options
5. Bear Hybrid Mattress
Mattress Type: Hybrid
Firmness Range: Medium Firm
Price Range: $1721 – $2511
Warranty Term: Lifetime
Sleep Trial Period: 120 days
Smart Mattress Buy's Review
As the pregnancy progresses, many women may experience pressure build-up near their hips as the body grows larger to accommodate the growing baby. Mattress with foam layers is good at relieving pressure points. The Bear mattress is indeed known for its firm and responsive feel, which can be beneficial for individuals who experience back pain.
The combination of support and pressure/pain relief helps to alleviate discomfort and promote proper spinal alignment during sleep. This can contribute to a more restful and comfortable night's sleep, particularly for those with back issues.
Additionally, the Celliant cover is designed to promote coolness and breathability. This feature can help regulate body temperature and prevent overheating during sleep, which is essential for maintaining a comfortable sleeping environment. Overall, the Bear mattress is a suitable option for addressing back pain and ensuring a cool and comfortable sleep experience during pregnancy.
Pros:
For individuals seeking a cool sleeping environment
For people who prefer to sleep on their backs
Bear Mattress is also good for healing body pains and suitable for athletes
Side-sleepers may find this ideal
Cons:
Sleepers who prefer to sleep on their stomachs may not find this a suitable option
Bear comes with a 120-day sleep trial and a lifetime warranty. Try Bear Hybrid for cool and comfortable sleep during pregnancy.
Read Detailed Review – All Bear Mattress Options

Mattress Price Comparison – Top 5 Mattresses in Pregnancy 2023
A price comparison of the 5 most popular sleep mattresses during pregnancy is given below:
Saatva Mattress: Starting Price – $995
Nectar Mattress: Starting Price – $599
Helix Mattress: Starting Price – $748
Nolah Mattress: Starting Price – $999
Bear Mattress: Starting Price – $1721
Best of 10 Tips to Choose the 'Right' Mattress When Pregnant!
Finding the right mattress for pregnancy is indeed important for getting the rest you need. Here are some factors to consider when choosing a mattress during pregnancy:
Tip 1: Support
Look for a mattress that provides adequate support to your body, especially to your growing baby bump and lower back. A medium-firm to firm mattress tends to offer better support.
Tip 2: Pressure Relief
Pregnancy can cause discomfort and pressure points in areas such as the hips, shoulders, and lower back. Opt for a mattress that can relieve pressure from these sensitive areas, usually achieved through materials like memory foam or latex.
Tip 3: Motion Isolation
As pregnancy progresses, you might find yourself tossing and turning more during the night. A mattress with good motion isolation can minimize disturbances when you or your partner move.
Tip 4: Cooling and Breathability
Pregnancy can cause night sweats and increased body temperature. Look for mattresses that promote airflow and heat dissipation to keep you cool and comfortable throughout the night.
Tip 5: Hypoallergenic Materials
If you have allergies or sensitivities, consider a mattress made of hypoallergenic materials to minimize potential reactions.
Tip 6: Durability
A durable mattress is essential, as it will provide consistent support and comfort throughout your pregnancy and beyond.
Tip 7: Certifications
Look for mattresses that have certifications such as CertiPUR-US or Oeko-Tex Standard 100, which ensure that the mattress meets certain standards for materials and emissions.
Tip 8: Size
As your pregnancy progresses, you may find that you need more space to accommodate your changing body and potential discomfort. Consider upgrading to a larger mattress size to ensure you have enough room to move and find a comfortable sleeping position.
Tip 9: Comfort
Look for a mattress that offers a balance of comfort and support. While comfort is subjective, many pregnant women find relief with memory foam mattresses that contour their body shape. However, some may prefer the firmer support of an innerspring mattress. It ultimately depends on personal preference.
Tip 10: Unique Body Needs
It's always important to consider individual preferences and consult with healthcare professionals when choosing a mattress.
What Are the Symptoms of Pregnancy?
Here are some common signs and symptoms of pregnancy.
Food cravings or food aversions: Many women experience changes in their food preferences during pregnancy. You may develop cravings for certain foods or have aversions to foods you previously enjoyed.
Mood swings: Hormonal changes can affect your emotions, leading to mood swings. You may feel more emotional or irritable than usual.
Frequent headaches: Some pregnant women experience more frequent headaches due to hormonal changes, increased blood volume, or other factors.
Missed menstrual bleeding: A missed period can be a strong indicator of pregnancy, especially if you have a regular menstrual cycle. However, if you suspect that you might be pregnant, regardless of your menstrual cycle regularity, it's recommended to take a pregnancy test to confirm.
Dizziness or faintness: Pregnancy hormones can cause changes in blood pressure and blood sugar levels, leading to feelings of dizziness or lightheadedness.
Constipation: Hormonal changes can slow down digestion, leading to constipation in some pregnant women.
Heightened sense of smell: Some women experience a heightened sense of smell during pregnancy, which may lead to increased sensitivity to certain odors.
Backaches: As your body adjusts to the changes of pregnancy, you may experience backaches or lower back pain.
Darkening of the areolas: The areolas may darken during pregnancy due to hormonal changes.
Frequent urination: In addition to increased urination, you may also feel the need to urinate more frequently due to the growing uterus putting pressure on the bladder.
Light spotting or implantation bleeding: Some women may experience light spotting or bleeding known as implantation bleeding, when the fertilized egg implants itself into the uterine lining.
It's important to note that these signs and symptoms may vary from woman to woman, and some women may experience few or no symptoms in the early stages of pregnancy. If you suspect you may be pregnant, it's recommended to take a pregnancy test or consult with a healthcare professional for confirmation.
How Is a Mattress Related to Pregnancy and Sleep?
Pregnancy indeed brings about various physical and hormonal changes that can affect sleep quality. Research shows that hot flashes and general discomfort are common issues faced by pregnant individuals. Some other symptoms, including nausea, frequent urination, cramping, heartburn, back pain, and restless legs syndrome, can all contribute to difficulty falling and staying asleep during pregnancy.
Creating a comfortable sleep environment can certainly help improve sleep during pregnancy. Here are some tips to enhance sleep quality:
Choose a pain-relief mattress: Opt for a mattress that provides adequate support and relieves pressure points. Consider a medium-firm mattress, as it can provide a balance between comfort and support.
Use supportive pillows: Utilize pillows to support your body and alleviate discomfort. A pregnancy pillow or body pillow can be particularly helpful in providing support to your growing belly and relieving pressure on your back and hips.
Maintain a cool sleeping environment: Keep your bedroom cool and well-ventilated to reduce the likelihood of experiencing hot flashes. Use breathable bedding materials, and consider using a fan or air conditioner if needed.
Practice relaxation techniques: Engage in relaxation exercises before bedtime, such as deep breathing, meditation, or gentle stretching. These techniques can help calm your mind and body, promoting better sleep.
Adjust your sleep position: Experiment with different sleeping positions to find the one that is most comfortable for you. Many pregnant individuals find sleeping on their side, particularly the left side, to be more comfortable and beneficial for blood flow.
Establish a consistent bedtime routine: Develop a soothing bedtime routine that signals to your body that it's time to wind down and prepare for sleep. This may include activities like taking a warm bath, reading a book or listening to calming music.
Limit fluid intake before bed: To minimize the need for frequent urination during the night, try to reduce your fluid intake in the evening. However, it's important to stay hydrated throughout the day, so ensure you drink enough fluids earlier in the day.
Seek relief for specific discomforts: If you are experiencing specific pregnancy-related discomforts like heartburn or leg cramps, consult with your healthcare provider for appropriate remedies or strategies to manage these issues.
Remember that every pregnancy is unique, and what works for one person may not work for another. If you're experiencing persistent sleep disturbances or severe discomfort, it's important to consult with your healthcare provider for personalized guidance and support.
 Troubled Sleep During Pregnancy? Enjoy a Relaxed and Comfortable Sleep! Swap Your Old Mattress With an 'Ideal Sleep Mattress' Today!

Questions To Ask Yourself Before Getting a New Mattress!
Here are some essential questions that you should ask yourself before buying a new mattress!
Q 1. Is the mattress brand reliable and transparent?
Q 2. What is the manufacturing process of your mattress and the raw materials involved?
Q 3. Are the raw materials used in a mattress's production process safe for the baby?
Q 4. What is the reputation and credibility of the brand from which you have selected your mattress? What are the customer reviews and opinions about the brand?
Q 5. What type of mattress suits your unique body's needs during pregnancy?
SMART-Take!
Sufficient rest and quality sleep are indeed crucial for overall health, and pregnant individuals have additional reasons to prioritize sleep during pregnancy. Research, including studies conducted by Hopkins Medicine, suggests that inadequate sleep during pregnancy can increase the risk of developing certain complications such as preeclampsia and gestational diabetes.
Preeclampsia is a condition characterized by high blood pressure and organ damage, typically affecting pregnant individuals after the 20th week of gestation. Lack of sleep or poor sleep quality may contribute to the development of preeclampsia, although the exact mechanisms are not fully understood.
Gestational diabetes refers to high blood sugar levels that occur during pregnancy. Several studies have found a link between inadequate sleep and an increased risk of developing gestational diabetes. In addition to these complications, insufficient sleep during pregnancy can also contribute to other issues, such as excessive daytime sleepiness, mood disturbances, impaired cognitive function, and a higher risk of accidents or falls.
In order to retain good health during pregnancy, it is generally recommended that pregnant individuals aim for 7-8 hours of quality sleep each night. Establishing a regular sleep schedule, creating a comfortable sleep environment, practicing relaxation techniques, and maintaining good sleep hygiene can all help improve sleep during pregnancy!
Further, an 'Ideal' sleep mattress suiting your specific needs will always help you relax and rest during pregnancy!
Smart Mattress Buy offers a plethora of sleep mattresses from reputed brands that range in features from firmness, raw materials, types, pricing to discount offers and more.
Choose one that suits you best as per your – sleep positions, cooling preferences, and budget. Gain on Your Beauty Sleep and Get that Pregnancy Glow Starting Today!
FAQs on Best Mattresses to Sleep on During Pregnancy
1. What is an ideal type of mattress to sleep on during pregnancy?
Most doctors recommend pregnant women practice side sleeping as an ideal sleep position during pregnancy. Hence, a medium to firm sleeping mattress will be a suitable choice to support your shoulders, pelvis, and knee while you sleep.
2. Is a memory foam mattress good to sleep on while pregnant?
Yes, memory foam mattresses are considered ideal to sleep on during pregnancy. This is because they provide a balance of comfort and medium-firm support as you sleep.
3. When pregnant, which type of mattress is better – a hard mattress or a soft mattress?
The weight of a developing child adds to the weight of a mother's body during pregnancy. Thus, most pregnant moms' are in need of lumbar support. A soft mattress can help you in this aspect by taking the pressure away from your lower-back region and providing you a restful sleep for the night.
4. How can you sleep better when pregnant?
Some tips to improve sleep during pregnancy is to maintain proper sleep hygiene, do some relaxing yoga, eat healthy, reduce caffeine and alcohol consumption, practice sleeping on the side, relax, and increase sleeping hours. No doubt, a supportive yet comfortable sleep mattress can help you get some restful sleep!
5. What is the ideal sleep position while pregnant?
Doctors recommend pregnant moms sleep on their sides, preferably on their left side. The side-sleeping position is always considered the safest sleep position when pregnant.
Top Research and Story (Updated 2023)
The aforementioned research articles and stories do not correspond to Smart Mattress Buy, and are presented for information building and knowledge sharing.
References