Methodology
We gather information on mattress industry, product, pricing, customer reviews and financial information from more than 50+ websites daily through our automated "bots" and use advanced data analytics techniques to evaluate and rate mattresses.

Updates
Our reviews are updated at least once a week in cases of changes, product releases, and new insights gathered from analyzing our data set.

Format
We present our mattress reviews in a Q&A format with the intent of mirroring the thought process of how customers make mattress purchase decisions
Bear Original Mattress
By Brand: Bear
$

998

$

649
Bear deals Coupons
35% Off Sitewide Plus FREE $400 Sleep Accessories (includes 2 Pillows, Sheet Set, and Mattress Protector).

Get Coupons

x

35% Off Sitewide Plus FREE $400 Sleep Accessories (includes 2 Pillows, Sheet Set, and Mattress Protector).

Tip:No Code needed

Continue to Store

Bear Offers

35% Off Sitewide Plus FREE $400 Sleep Accessories (includes 2 Pillows, Sheet Set, and Mattress Protector).
Product Description
The American brand BEAR mattress started its journey in 2014. It is a direct-to-consumer mattress and bedding brand based in Hoboken, USA. Bear Mattress is an e-com company that helps energetic people sleep better, recuperate faster, and increase athletic performance through its line of beds, pillows, and sleep essentials.
The bear mattress is crafted with scientific technology that provides optimum cooling, comfort, and muscle relaxation for sportspersons and active lifestyle folks. The bear mattress quickly became the Mattress for professional athletes and fitness enthusiasts.
BEAR deals with the following mattresses
Bear Original
Bear Pro
Bear Hybrid
Elite Hybrid
The Bear mattress is manufactured by seasoned mattress professionals who have been designing and producing mattresses for decades. The Bear mattress is committed to improving sleep quality, helping people recover faster from everyday life, and improving their performance in life. Their goal is to help everyone from professional athletes to daily grinders to teenagers wake up each morning feeling their best, ready to perform.
You'll wake up energized and carry out activities on the day.
This article will look deeply into The Bear Original Mattress's construction performance for various sleeping positions.
Bear Original Mattress is a no-frills mattress that comes at an affordable price. It is an all-foam 10-inch thick mattress with two layers of foam within a woven cover. It is an all-foam mattress made with Celliant Sleep technology to improve sleep and physical recovery. It is 10" thick and made of three layers, topped by a Breathable Celliant® cover.
Material: All Foam
The Bear original is with contouring memory foam and comes with brand Celliant® technology to promote cooling and recovery. Celliant is a unique fiber utilizing natural minerals to restore the sleeper's natural energy while sleeping. Bear Original consists of 2 comfort layers (2 "of gel-infused graphite memory foam and 2 "of polyfoam) with a high-density foam support core.
Sizes: Bear Original is available in all regular sizes: Twin, Twin XL, Full, Queen, King, Cal King, Split King
Pricing: Depends on size
Shipping & Delivery: Free
Trial & Return: 365-day trial, full refund, and pickup
Warranty: Lifetime mattress warranty
Pros & Cons
The Bear Original offers excellent cooling at an affordable price. The Mattress is chemical-free, Certified Clean. Foams are certified by CertiPUR-US and GREENGUARD Gold.
Besides, it offers a lot.
Bear Original is Ideal for the people.
Prefer to sleep on a firm mattress without sinking but with pressure relief in the shoulder back.
Hot sleepers
Searching more mattress lifespan
 Not so ideal for the persons
 Preferring deep contouring and cushioning –opt for a softer mattress
Sleeping near edges
Heavyweight Back & Stomach sleepers
Firmness
Whether a mattress feels firm or soft is relatively subjective. All beds should support body weight, promote healthy spinal alignment, and ensure comfortable and restful sleeping. Whether a mattress is fluffy and Plush (what mattress companies call soft ) or less so (what companies call firm) is purely defined based on personal preferences.
With a medium-profile mattress, the Bear Original sits at seven on the firmness scale of 10, indicating a firm feel. Bear Original Mattress gives enough firmness or back support. This is particularly great for Back sleepers.
Material & Construction
The Bear Original is a 10-inch tall all-foam mattress. It comes with proprietary Celliant Sleep Recovery Technology for improvising sleep and speeding up muscle relaxation. The mattresses constitute 2 inches of graphite-gel infused memory foam (to promote cooling) and a 2-inch poly foam layer, and 6 inches of dense polyfoam for support.
Let's dig into the details of the constitution of the Mattress –
Layer 1: Celliant Cover: The Mattress comes with a removable cover. Celliant cover is designed to wick body heat from the sleeper's body and redirect it as infrared energy. The brand claims that this cover helps improve muscle relaxation. Besides, help sleep more deeply with temperature regulation.
Layer 2: Cooling Graphite-Gel Memory Foam: The graphite gel memory foam 2" later in the Bear Original disperses heat, helping you sleep cooler.
Layer 3: Responsive Transition Foam: The Bear has a responsive transition foam layer. This 2" layer offers the sleeper pressure relief and balanced support.
Layer 4: High-Density Support Foam: The base of the Bear Original is a layer of high-density support foam. This 6-inch thick support layer gives long-lasting durability.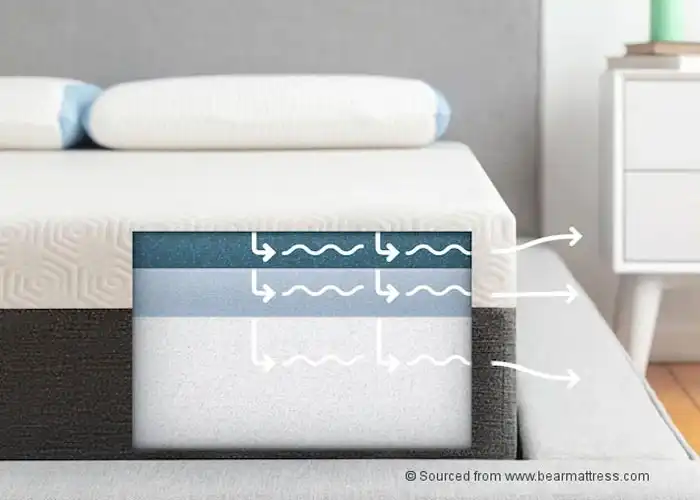 Rating
Bear Original Mattress
Materials & Construction (1=Least, 5=Best)
Repositioning (1=Least, 5=Best)
Comfort (1=Least, 5=Best)
Cooling (1=Least, 5=Best)
Motion Isolation (1=Least, 5=Best)
Edge Support (1=Least, 5=Best)
Overall Rating
3.67/5
Rating Scale: 1 = Average, 2 = Good, 3 = Very Good, 4 = Excellent, 5 = Winner
Repositioning
Repositioning means that sleepers can change position quickly. many people toss and frequently turn while sleeping.
The Bear Original is unlike other available foam models. The foam in Bear Original doesn't conform and cradle the body much. Besides, it eliminates the feeling of floating on top of the Mattress like other beds. For these characteristics, Original makes it a bit easier to move around on the bed than on other memory foam mattresses. However, heavy people tend to sink deeper into the mattress, making it challenging to move around.
Comfort, Back Support, Pressure Relief
Generally, foam mattresses, particularly memory foam mattresses, tend to cradle the sleeper's body, redistributing body weight. It can help relieve aches and soreness in the areas that exert the most force on the Mattress.
The Bear Original uses multiple layers of cooling, contouring, and comforting memory foam to increase the pressure-relieving properties that help you sleep better and recover faster. The brand goes beyond traditional foams and uses Graphite-gel infused foam in the comfort layer and responsive transition foam to keep sleepers' bodies cool and spine aligned. Moreover, it uses brands Celliant® technology weave brands to promote cooling and recovery in the cover. Celliant is a unique fiber that utilizes organic minerals to redirect your body's heat back as infrared light. This energy boosts blood circulation in the body for muscle recovery.
Back Sleepers: People who sleep on their back tend to require more support — particularly around the hips, which may sink into softer mattresses and prevent proper spinal alignment. Sleepers sleeping on Bear Original mattress will get enough firmness or back support. It is mainly for the average weight & Heavy group. However, individuals on the lighter side may see some challenges with this firmer bed.
Side sleepers: Side sleepers will greatly appreciate Bear Original. With the comfort and support layers, the Mattress will absorb the pressure and provide a comfortable night's sleep.
Lightweight and average-weight side sleepers will enjoy the feel softness of the bed.
Stomach sleepers: Achieving good spinal alignment for stomach sleepers can often be trickier as the hips can tend to sink too far with some mattresses. Stability and support are crucial for "stomach sleepers" to not cause back or hip pain. Bear Original is suitable for lightweight stomach sleepers with a medium-firm configuration but may create challenges for heavy sleepers who may experience sinking in and make a spinal curvature.
Combination Sleepers:  Bear pro is quite comfortable for the most lightweight and average-weight combination sleepers.
Cooling & Temperature Control
The Bear Original is intended to sleep more relaxedly than other foam mattresses. The open-cell structure of brands foams allows for better airflow and prevents overheating while one sleeps. Bear Original's graphite gel memory foam disperses heat, helping you sleep cooler.
The Bear Original offers good thermal neutrality without overheating, unlike other foam mattresses. Fact is, Bear Originals though memory foam, do not provide as much conforming or the feeling of sinking into the Mattress as market available models.
Motion Isolation and Sharing a Bed
This category rates how well a mattress can prevent other sleepers in a bed from feeling when their sleep partner rolls over, shifts, or changes positions.
Memory foam mattresses provide a high degree of motion isolation by absorbing motion and spreading. Since Bear's memory foam is firmer than its competitors, the responsiveness is higher, and motion isolation is lower. It means that light sleepers may notice their partner's movements.
Edge Support
There is no separate Foam perimeter to the Bear mattresses, and the only support foam is a different layer of High-Density Foam. It means that the edge does not have a separate support system, making it easier to move in or out of bed. The problem magnifies significantly for sleepers with higher body weight, who will feel deeper sinkage.
Recommendation based on sleeping style
Young or old, nobody is immune to back pain, whether chronic or temporary. It is essential to pay attention to where you put your head (and back, of course).
Let's get a detailed idea about the Sleeping style
Side Sleepers:  The USP of Bear mattresses is its support to people with active lifestyles. It means that the foam is comparatively more firm. So, side sleepers with light body weight may experience some pressure on their hips and shoulders. But this level of support should be good for people with heavier body weight.
Back Sleepers: Bear mattress feels natural for people with over 150 pounds since it conforms appropriately to their body weight. The conforming is limited but comfortable for back sleepers with less weight than this. There is a good balance between conforming and supporting people with body weights between 150 and 250 pounds.
Stomach Sleepers: For stomach sleepers of weight lower than 150 pounds, the support and stability of Bear are good. But for people with body weight above 250 pounds, the support to mid-section is often not enough. This might cause the Mattress to sag in between, and spinal alignment may be disturbed.
Heavy Sleepers: Bear performs the best for people with higher body weight if you are a side or back sleeper. The Bear mattress might lead to some discomfort in the shoulders and hips in the morning for stomach sleepers.
Price
| Size | Dimensions | Weight | Price | Sale Price | Discount |
| --- | --- | --- | --- | --- | --- |
| Twin | 39 x 75 x 10 | 70 lbs | $748 | $487 | 35% |
| Twin XL | 39 x 80 x 10 | 90 lbs | $811 | $528 | 35% |
| Full | 54 x 75 x 10 | 90 lbs | $873 | $568 | 35% |
| Queen | 60 x 80 x 10 | 60 lbs | $998 | $649 | 35% |
| King | 76 x 80 x 10 | 50 lbs | $1248 | $812 | 35% |
| Cal King | 72 x 84 x 10 | 50 lbs | $1248 | $812 | 35% |
Get Coupons
x
35% Off Sitewide Plus FREE $400 Sleep Accessories (includes 2 Pillows, Sheet Set, and Mattress Protector).
Tip:No Code needed
Continue to Store
Bear Offers
35% Off Sitewide Plus FREE $400 Sleep Accessories (includes 2 Pillows, Sheet Set, and Mattress Protector).
Coupons & Deals
35% Off Sitewide Plus FREE $400 Sleep Accessories (includes 2 Pillows, Sheet Set, and Mattress Protector).
Check Other Bear Mattress Models