Methodology
We gather information on mattress industry, product, pricing, customer reviews and financial information from more than 50+ websites daily through our automated "bots" and use advanced data analytics techniques to evaluate and rate mattresses.

Updates
Our reviews are updated at least once a week in cases of changes, product releases, and new insights gathered from analyzing our data set.

Format
We present our mattress reviews in a Q&A format with the intent of mirroring the thought process of how customers make mattress purchase decisions
DreamCloud-Luxury Hybrid Mattress
By Brand: DreamCloud
$

1199

$

999
DreamCloud deals Coupons
40% Off All Mattresses! Prices Starting From $499.
15% off for Military, First Responders and Healthcare Professionals (verification required).

Get Coupons

x

40% Off All Mattresses! Prices Starting From $499.
15% off for Military, First Responders and Healthcare Professionals (verification required).

Tip:No Code needed

Continue to Store

DreamCloud Offers

40% Off All Mattresses! Prices Starting From $499.
15% off for Military, First Responders and Healthcare Professionals (verification required).
Product Description
DreamCloud is a luxury-feel hybrid mattress that was launched back in January 2018. The DreamCloud mattress was created by the Nectar company. The DreamCloud is essentially a hybrid and more luxury version of the Nectar all-foam mattress, and they are both manufactured by the same business. The DreamCloud, the company's flagship brand, was the first luxury mattress accessible completely online. The 14-inch DreamCloud is the best mattress money can buy, with a hybrid construction that includes a wonderfully inventive mixture of cooling gel-infused memory foam and coil technology.
The DreamCloud Sleep mattress was designed to provide a luxurious sleep experience at an affordable price for almost all types of sleepers. The hybrid mattress is made of high-quality materials that are built to last a lifetime of nighttime dreams and are covered by our Lifetime Warranty.
DreamCloud offers three mattress models:
The DreamCloud mattress, which is a popular 14-inch hybrid model
DreamCloud Premier, which is a 14-inch hybrid model with a hotel mattress like luxury feel
DreamCloud Premier Rest is a 16-inch-high profile hybrid model
On a scale of 1 to 10, the DreamCloud offers a luxury-firm feel (6.5). This is within the comfort zone for the majority of sleepers. On the firmness scale, DreamCloud Premier is also a 6.5 out of 10, which is luxury-firm. Individually wrapped coils ensure you sleep comfortably as the Euro Top lulls you to sleep. As a result, DreamCloud Premier is rated as a luxury enterprise. With a rating of 6.5, DreamCloud Premier Rest too is a luxury-firm mattress. DreamCloud Premier Rest has a softer feel than others. This is, in reality, DreamCloud's plushest mattress. It has a plush cushion top and a substantial layer of soft foam underneath.
This review focuses on the essential characteristics, features, benefits, and drawbacks of The DreamCloud Mattress.
The DreamCloud is a hybrid mattress that incorporates memory foam, regular foam, and springs. The mattress is 6.5 out of 10 in terms of firmness (luxury-firm). This is in the middle of the firmness range that most sleepers enjoy, however it is on the firmer part of that range. The DreamCloud Hybrid Mattress has a thickness of 14 inches.
The mattress' surface is cushioned by a 1-inch cover with polyfoam quilted into it. This layer has a cashmere blend cover that provides a softer feel while yet allowing for breathability. Following that, a 1.5-inch layer of gel-infused memory foam is designed to ease pressure points while retaining minimal body heat.
In the transition layer, 2.5-inch Polyfoam is used to provide deeper contouring while preventing the sleeper from sinking into the coil core. Individually wrapped springs make up the 8-inch coil core. To prevent motion transfer between springs, each coil can move independently. This layer has excellent ventilation, which allows heat to escape. The coil structure is supported by a final 1.5-inch base layer of standard foam.
It comes with a 365-day free trial period and a lifetime warranty.
Only the highest-quality materials are used, including velvety memory foam, pocketed coils, and a cashmere blend Euro top cover hand-stitched by expert artisans. It also has CertiPur-US accreditation, which means it has passed stringent safety tests.
Twin, Twin XL, Full, Queen, King, and California King are the sizes available.
Material: It's a lovely combination of memory foam and innerspring coils that ensures you get the best night's sleep possible every night. The DreamCloud cover is comprised of a unique cashmere blend that is both soft and warm to the touch. It's also quilted with a touch of foam for enhanced comfort. You'll find a layer of gel memory foam behind the cover. Because this material responds slowly to pressure, the sleeper can sink in providing pressure alleviation at the shoulders and hips. A tall portion of individually wrapped coils serves as the mattress's main support mechanism. The foundation layer is made out of a thin slice of poly foam.
Sizes: The DreamCloud is available in all regular sizes: Twin, Twin XL, Full, Queen, King, Cal King
Pricing: It is determined by the mattress's size and variation.
Shipping & Delivery: Free
Trial & Return: 365-night trial, full refund, and pickup
Warranty: Lifetime
Pros & Cons
For sleepers, the DreamCloud has a lot to offer. It is suggested for
Back sleepers who require a good mix of comfort and support.
Those who prefer a memory foam bed but sleep hot
Folks who enjoy a long trial period
Hot sleepers
Budget buyers
Plus, it's not the best for
Folks who weigh 300 pounds or more and require a more supportive mattress
Side sleepers of average weight who require pressure alleviation in their shoulders and hips when sleeping
People who enjoy the feel of memory foam
Those who require more motion isolation
Firmness
It might be tough to tell if a mattress is firm or soft. All mattresses should support weight, promote appropriate spinal alignment, and give a comfortable and restful night's sleep. Whether a mattress is fluffy and spongy (what mattress companies call soft or plush) or less so is a matter of personal preference (what brands call firm).
The DreamCloud offers a luxury-firm feel, with a firmness rating of roughly 6.5 on a 10-point scale. This is in the middle of the firmness range that most sleepers enjoy, however it is on the firmer part of that range. It's best for people who sleep on their backs and are of average weight. If you want a hard mattress but your partner prefers a soft one, this is your ticket to finding a middle ground. The DreamCloud Hybrid Mattress provides contouring comfort and pushback support, ensuring that you and your partner wake up satisfied. For sleepers, it provides a wonderful blend of comfort, support, and bounce. Heavier sleepers may sink in and largely feel the support layers, making it harder to them. Very light sleepers may only feel the pillow top, making it softer to them.
Material & Construction
The hybrid DreamCloud is 14 inches thick, making it more accessible to folks who have difficulty bending or standing up.
It has a hybrid 5-layer design. Its cover is made of a cashmere blend, which is cool and breathable, making it ideal for hot sleepers. A gel memory foam layer lies beneath, providing pressure relief at the shoulders and hips for sleepers. As memory foam tends to trap or absorb body heat, this layer contains cooling gel to aid in heat dissipation.
The foam layers of DreamCloud conform to your shape to enhance spinal alignment. Foam of the highest quality carries you to the depths of your dreams. The pocket-coil mechanism adapts to your specific body shape and sleeping habits. Furthermore, the pocketed coils reduce motion transfer, while the higher-gauge coils that circulate the mattress's perimeter provide edge support.
The DreamCloud contains a layer of polyfoam at the bottom for added stability and structure.
Cover:The quilted foam and cashmere combination on top of the soft-to-the-touch 1-inch cover keeps you cozy and cool. It's breathable, and the top of the mattress is tufted and quilted with polyfoam to give it a pillow-top look and feel.
Layer 1: This is the 1.5-inch pressure-relieving comfort layer. With pressure-actuated high-density gel memory foam that conforms to your shape, you may get relief wherever you need it. The gel infusion prevents memory foam from trapping too much heat, which is a common problem.
Layer 2: It's known as the sink-in-just-right layer. This 2.5-inch supportive polyfoam transition layer with reduced motion transfer guarantees that the sleeper settles in without being engulfed by the mattress.
Layer 3: It's the Targeted-Support Coil Layer, which is 8 inches in length. Innerspring individually wrapped coils that adjust to the body provide tailored alleviation for sleepers. This layer permits a lot of air to move through the mattress's body.
Layer 4: This is the 1.5-inch high-density memory foam Essential Base Layer. This layer guarantees that everything above it runs smoothly.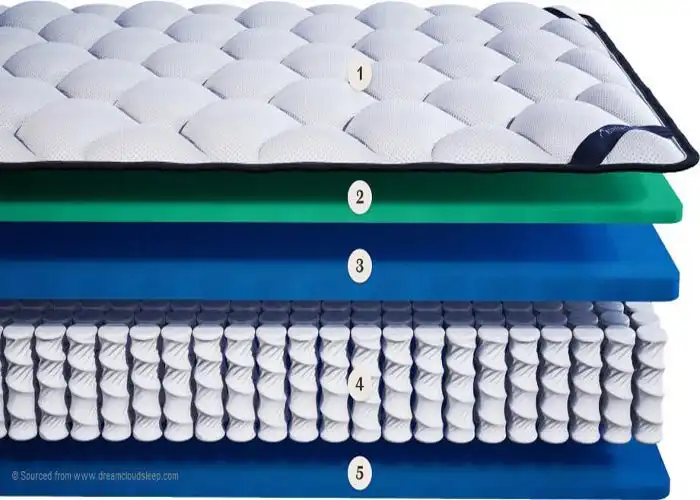 Rating
DreamCloud - Luxury Hybrid Mattress
Materials & Construction (1=Least, 5=Best)
Repositioning (1=Least, 5=Best)
Comfort (1=Least, 5=Best)
Cooling (1=Least, 5=Best)
Motion Isolation (1=Least, 5=Best)
Edge Support (1=Least, 5=Best)
Overall Rating
4.08/5
Rating Scale: 1 = Average, 2 = Good, 3 = Very Good, 4 = Excellent, 5 = Winner
Repositioning
Sleepers who shift themselves during the night will find it easier if they have the right mattress. Memory foam and softer foam mattresses sink in, making it more difficult for the sleeper to change positions. Couples or sleep partners will find it easy to move around and reposition on the DreamCloud Mattress because it is springy and responsive.
A responsive bed will allow you to rapidly become comfortable in each position. The DreamCloud rapidly adjusts to each movement as sleepers change positions.
The foam and coil composition of the DreamClouds mattress generates a bouncing surface that allows sleepers to freely adapt and move around.
The DreamCloud not only responds quickly, but also relieves pressure in critical places that are prone to aches and pains in people of various sizes.
Comfort, Back Support, Pressure Relief
When shopping for a mattress, be sure it offers enough back support, spinal alignment, and pressure relief. Maintaining proper spinal position when sleeping is critical for good back health. This implies the mattress should support your spine in the same way it does while you're standing. When a mattress pushes back against your body with too much force in a concentrated area, it can cause pain, discomfort, lack of circulation, recurrent tossing, and other problems. Side sleepers, in particular, should be cautious about "pressure points," as this is the position in which your body's weight is distributed over the smallest surface area.
Pressure release refers to a bed's ability to reduce stress in the shoulders, hips, and lower back. The ability of a mattress to achieve this is largely controlled by your weight, sleeping position, and body shape. Another question for heavy sleepers is whether the foam version can hold their weight without sagging all the way to the bottom support layer.
Regretfully, no mattress can provide the same level of spinal alignment and pressure alleviation to all sleepers. Variable spinal alignment and pressure reduction capabilities will be found in sleepers of diverse weights, body types, and sleep postures.
With the DreamCloud Mattress's gel memory foam comfort layer that helps relieve pressure spots, you can fall asleep quickly and wake up easily. You'll wake up feeling like the best version of yourself because of the gel memory foam that conforms to your body where it needs support the most. It's a high-end hybrid mattress with memory foam layers and pocketed coils. Back sleepers will appreciate the mix of support and pressure reduction it provides. Back sleepers experience virtually no pressure in the hips and shoulders, whereas side sleepers experience some pressure. If you have back or hip problems, this mattress is a great option. The quilted memory foam is soft and designed to ease pressure points and provide additional support for the sleeper.
With DreamCloud's gel memory foam that helps relieve pressure spots, you can fall asleep quickly and wake up easily. You'll feel like your best self when you wake up due to the gel memory foam that conforms to your body where it needs support the most.
Back Sleepers: Back sleepers need more support, particularly around the hips, which can sink into softer beds and prevent proper spinal alignment. One of the greatest mattresses for back sleepers is DreamCloud. Back sleepers of average weight (130 pounds to 230 pounds) and lightweight (under 130 pounds) will sink into the plusher foams on top while feeling the support of the coils beneath.
Side sleepers: Side sleepers of moderate weight may not like the DreamCloud mattress. They may begin to feel pain on pressure points when sleeping in this position. Light-weight side sleepers will not sink as far into the mattress, thus their shoulders and hips should be free of significant pressure.
Stomach sleepers: As certain mattresses allow the hips to sink too much, getting proper spinal alignment for stomach sleepers may be more difficult. Stability and support are especially important for "stomach sleepers" to avoid back and hip pain. Average-weight stomach sleepers prefer the DreamCloud. They have adequate support under their hips and are able to maintain a neutral spinal alignment. Those who weigh close to 230 pounds, on the other hand, may notice their hips sinking into the mattress, which can lead to lower back pain over time. The lightweight sleepers who sleep on their stomachs will feel properly supported throughout their entire body.
Heavy sleepers: Overweight people exert a lot of pressure on the bed. For heavy sleepers, the DreamCloud is ideal. Larger back and side sleepers will be well supported by the individually wrapped coils and deep foam layers. For stomach sleepers, a firmer mattress with less foam cradling is recommended. DreamCloud may not be as accommodating to folks who weigh near 300 pounds or more.
Cooling & Temperature Control
The capacity of memory foam mattresses to retain heat is well-known. As the sleepers sink into the memory foam layer, it creates a snug feeling and traps heat. This is not the case with hybrid mattresses. The gel memory foam and coil technology in the DreamCloud work together to prevent stuffiness and heat retention. The coils help to circulate air across the mattress. The cover and gel memory foam help to diffuse your body heat. The DreamCloud hybrid mattress' coil architecture facilitates airflow throughout the mattress. The top foam layer is also constructed of gel memory foam that has been laced with cooling beads.
Motion Isolation and Sharing a Bed
This category evaluates how well a mattress keeps other people in the bed from being disturbed when their partner rolls over, adjusts, or changes positions. You never know when your partner will get up or move in DreamCloud. You won't feel a thing if your companion turns over thanks to DreamCloud's stay-put technology. Vibrations do not travel since the coils are individually wrapped. The supporting foam layer also significantly lessens the sensation of movement.
Edge Support
Foam mattresses aren't always very supportive along the mattress's very edge, which is important if you wish to sit or sleep on the edge of the bed. Couples should also think about edge support, as poor performance in this area confines both sleeping and sexual activity to the middle of the bed. As you get in and out of bed, the bed may flex if you sit on the edge, causing a disturbance to your partner. This is a common problem with all-foam mattresses. In this regard, hybrid mattresses are superior. The DreamCloud's edge is supportive enough for most people to use the entire mattress surface.
The DreamCloud Mattress's perimeter is robust due to the thick coil layer and luxury firm setting. The edge is further reinforced with a double-row rim of larger gauge coils. Most people will not experience severe sinkage if they sleep at the edge of the bed. This may make them feel more at ease, allowing them to use the entire mattress without the worry of rolling off. Similarly, the border is sturdy enough for most people to sit comfortably on the edge, making getting into and out of bed easier.
While most sleepers will find the DreamCloud's edge to be sturdy enough, some may find it to be less supportive. This is especially true for individuals who weigh more than 230 pounds.
Recommendation based on sleeping style
In order for our bodies to recuperate and rejuvenate, we all need to sleep soundly, regardless of what posture we sleep in. We actually shrink by one to two inches during the day. The intervertebral discs contract due to a lack of fluid, resulting in this disorder. The discs are repaired during the night by the fluid. You must sleep in a comfortable position in order for this to work. When we say we're in a good situation, what exactly do we mean? Side, back, and stomach sleepers, as well as individuals who prefer a combination of these positions, are the three types of sleepers. All three people have different needs and hence have different experiences when it comes to the level of comfort, support, and flexibility that a mattress can provide.
Side Sleepers: Sleeping on one's side is the norm for the great majority of individuals. The body can sink into the mattress, but the waist and spine must be supported and corrected. This helps to keep neck and back problems at bay in the morning. To reduce pressure on the neck and pelvis, the support portions for these areas should be flexible. A mattress that delivers both contouring comfort and solid support is ideal for side sleepers. The DreamCloud is likely to be excessively firm for many side sleepers.
Back Sleepers: If you prefer to sleep on your back, make sure your shoulders and hips sink far enough into the mattress to avoid painful arches. Back sleepers, on the other hand, prefer to feel as though they're "sleeping on" a mattress rather than "sleeping in" one. Sinking too deeply into a mattress can be painful for a back sleeper, especially if their hips sink deeper than the rest of their body, placing pressure on their lower back. Back sleepers want a mattress that gently cradles the hips while providing adequate support to maintain proper spinal alignment.
The DreamCloud is a high-end hybrid mattress featuring memory foam layers and pocketed coils. Back sleepers will appreciate the mix of support and pressure reduction it provides. They'll feel more like they're "on top" of their bed rather than "in" it.
Stomach Sleepers: For resting on your stomach, a less flexible mattress with a good amount of firmness is best. This prevents your stomach from sinking too far into your body, limiting your movements and leading to curvature. This puts a strain on the shoulders and the neck. Stomach sleepers, in particular, require extra support to keep their spine upright and comfortable. A soft mattress could lead a stomach sleeper's midsection to sink into the support core, causing lower back stress. By offering regular support, a firmer mattress prevents this.
The DreamCloud is a wonderful choice for stomach sleepers who are lighter or average weight, and the pressure-relieving foam prevents excessive pressure on the hips. The DreamCloud's strong support can keep their midsection from sinking too far into the mattress, allowing for improved spinal alignment.
The DreamCloud's memory foam comfort layers conform to the sleeper's body, but there's a lot of resistance in the middle. This provides a more supportive feel than normal memory foam comfort layers, allowing for appropriate spinal alignment.
Combination Sleepers-Those who alternate between various positions: Are you one of those guys who sleeps on their back, stomach, side, and back in the same night, exhausted every position? It's not as if you're on your own. The majority of adults, according to studies, change positions about 20 times per night. The greatest combination sleeper mattress is sensitive and effectively isolates motion.
In these areas, the DreamCloud is great. Due to DreamCloud's excellent responsiveness, combination sleepers can find comfort in any position.
Price
| Size | Dimensions | Weight | Price | Sale Price | Discount |
| --- | --- | --- | --- | --- | --- |
| Twin | 38 X 75 X 14 | NA | $899 | $699 | 22% |
| Twin XL | 38 X 80 X 14 | NA | $999 | $799 | 20% |
| Full | 54 X 75 X 14 | NA | $1099 | $899 | 18% |
| Queen | 60 X 80 X 14 | NA | $1199 | $999 | 17% |
| King | 76 X 80 X 14 | NA | $1399 | $1199 | 14% |
| Cal King | 72 X 84 X 14 | NA | $1399 | $1199 | 14% |
Get Coupons
x
40% Off All Mattresses! Prices Starting From $499.
15% off for Military, First Responders and Healthcare Professionals (verification required).
Tip:No Code needed
Continue to Store
DreamCloud Offers
40% Off All Mattresses! Prices Starting From $499.
15% off for Military, First Responders and Healthcare Professionals (verification required).
Coupons & Deals
40% Off All Mattresses! Prices Starting From $499.
15% off for Military, First Responders and Healthcare Professionals (verification required).
Check Other DreamCloud Mattress Models