Methodology
We gather information on mattress industry, product, pricing, customer reviews and financial information from more than 50+ websites daily through our automated "bots" and use advanced data analytics techniques to evaluate and rate mattresses.

Updates
Our reviews are updated at least once a week in cases of changes, product releases, and new insights gathered from analyzing our data set.

Format
We present our mattress reviews in a Q&A format with the intent of mirroring the thought process of how customers make mattress purchase decisions
Silk and Snow Mattress
By Brand: Silk and Snow
$

800

$

800
Silk and Snow deals Coupons
Receive a FREE duvet with each mattress purchase (up to $175 value).

Get Coupons

x

Receive a FREE duvet with each mattress purchase (up to $175 value).

Tip:No Code needed

Continue to Store

Silk and Snow Offers

Receive a FREE duvet with each mattress purchase (up to $175 value).
Product Description
Silk & Snow is a mattress-in-a-box company that was founded in 2017. Sustainability, conscious manufacturing, and transparency are all fundamental aspects in the creation of the products. These materials are not only extremely comfortable, but they are also more environmentally friendly and long-lasting than the alternatives. This winning mix results in mattresses that are both healthy for your sleep and good for the environment.
The mattresses are made from just the highest-quality materials, ensuring a restful night's sleep.
The following are the three Silk & Snow mattresses:
S&S Mattress—The sleepers can enjoy the classic enveloping feel of memory foam while sleeping, as well as pressure point alleviation.
S&S Hybrid Mattress– This pocketed coil mattress will transport you to the land of slumber, with all the comfort of high-density memory foam. It's also good for people who sleep on their stomachs.
S&S Organic Mattress— This is a good option if you're a heavier sleeper who needs extra support or prefer a mattress composed entirely of natural materials.
This review is based on the essential characteristics, features, benefits, and drawbacks of the brand's flagship S&S Mattress.
S&S Mattress
The Silk & Snow mattress features an all-foam comfort layer with a gel-infused layer. It's ideal for pressure-relieving for side sleepers and couples who prefer beds with excellent motion isolation. S&S Mattress is a medium mattress with a rating of 5 out of 10 on a firmness scale of 1 to 10. The Silk & Snow mattress is 10-inch tall.
The Silk & Snow has a classic memory foam feel to it. You'll feel a lot of body contouring around your shoulders and hips as you sink into its foam layers. This is fantastic for those who like to sleep 'within' rather than on top of their mattress.
The antibacterial cover of this mattress is thin and breathable. And, best of all, it's detachable. The cover may be unzipped and washed in the washing machine. Silk & Snow's luxurious cooling memory foam serves as the comfort layer. This material contains gel, which aids in the removal of heat from the body. It has a plush feel to it, which is ideal for folks who enjoy slowly sinking into their mattresses. A tiny piece of transitional foam rests beneath the comfort layer. The support layer is a thick piece of high-density foam beneath it. This material provides lumbar support and helps the mattress last longer.
The brand strictly uses high-density memory foam in all-foam mattresses, organic Dunlop latex in organic mattresses, and quality eco-friendly textiles like Egyptian Cotton and European Flax Linen in all bedding. All of the foams used in S&S Mattress are Certi-Pur US certified, meaning they are made without ozone depleters, PBDE flame retardants, mercury, lead and other heavy metals, formaldehyde, phthalates regulated by the Consumer Product Safety Commission. They are with Low VOC (Volatile Organic Compound) emissions for indoor air quality (less than 0.5 parts per million). This means a healthier sleep for you, and for our planet.
Twin, Twin XL, Full, Queen, King, and California King Mattresses are the sizes available.
Material: The S&S Mattress is handcrafted in the United States with the highest-quality foam and materials from renowned suppliers. In the Silk & Snow Mattress, the brand combines premium 4lb high-density memory foam to ensure a high-quality sleep that gives incomparable pressure relief and support for your body. Its unique design includes a 360-degree zipper that makes it simple to remove the top panel for laundering. To prevent bacteria growth, the cover is composed of a novel antimicrobial substance.
FXI is a major manufacturer of comfort products with sites all over the Northeast United States. It produces all of the foams utilized in this mattress. Based on decades of experience, FXI manufactures smart technical goods with the sleeper and the environment in mind, based on decades of experience. The Lonstein Family, who runs a textile firm in Webster, MA, does all cutting and stitching. The Lonsteins continue to devote themselves to making quality bedding items that emphasize conscientious production and consumer safety as top concerns, now led by the 3rd generation of the family. Fine Cotton is a textile manufacturer in Toronto, Ontario, that makes the fabric for S&S Mattress. It uses recycled materials and has been recognized by governing agencies for its environmental stewardship.
Sizes: The S&S Mattress is available in standard sizes: Twin, Twin XL, Full, Queen, King, and California King.
Pricing: It depends the mattress's size and variation.
Shipping & Delivery: Free to USA and Canada
Trial & Return: 100-night trial, full refund, and pickup
Warranty: 15-year
Pros & Cons
The S&S Mattress has a lot to offer sleepers. It is suggested for
Folks who want the slow-moving feel of a memory foam mattress
Those who are hot sleepers
Lightweight sleepers
Sleepers who want antibacterial mattresses
Those who are concerned about keeping the sleep surface clean, as the cover can be removed
Plus, it's not the best for
Fans of bouncy mattresses
Folks who need strong edge support
Stomach sleepers
Firmness
It might be difficult to distinguish between a firm and soft mattress. All mattresses should support weight, promote appropriate spinal alignment, and give a comfortable and restful night's sleep. Whether a mattress is fluffy and spongy (what mattress companies call soft or plush) or less so is a matter of personal preference (what brands call firm).
The Silk & Snow Mattress has a medium rating of 5 on a 10-point firmness scale, making it suited for most average to lightweight sleepers. It's a foam-only model. Sleepers weighing less than 230 pounds will observe light but visible body-conforming and minimal sinkage.
Material & Construction
To create a luxurious sleeping experience, Silk & Snow selects only the finest materials and manufacturing partners. The 4lb high-density memory foam mattress is expertly constructed utilizing healthy, non-toxic components to deliver excellent pressure point and discomfort relief for most sleepers.
The S&S Mattress is coated in a cover consisting of a polyester and spandex combination, which is extremely soft and stretchy. Silver has been embedded into the fabric, which has antibacterial characteristics and can help keep dust mites and other allergens at bay. For cleaning, the cover may be removed and washed and dried in any household machine.
A 2-inch memory foam comfort layer is included below the cover. The material conforms to a degree that is mild but even. The foam is also fairly durable, with a density of 4 pounds per cubic foot (PCF), and should withstand deep body impressions for the majority of the bed's lifespan. Cooling gel is injected into the memory foam to assist the mattress to stay cool by drawing heat away from the sleeper's body. However, the foam may still trap heat and make some people feel hot.
Underneath the comfort layer is a 2-inch transitional layer of high-density (1.8 PCF) polyfoam. This component effectively acts as a buffer to keep sleepers from sinking too far into the mattress and colliding with the dense base foam.
The S&S Mattress boasts a 6-inch high-density (1.8 PCF) polyfoam support core. When someone sits on or sleeps on the bed's borders, this layer stabilizes the entire mattress, but it also compresses a little.
Cover: An Antimicrobial Cover is made of cutting-edge material to help prevent the growth of unwanted bacteria. The top of the mattress cover zips off simply, making cleaning your mattress a breeze. If you need to wash your cover, it has a 360-degree zipper that makes it simple to remove, drop in the washer, and zip back on for a clean and comfortable night's sleep.
Layer 1: This 2-inch layer is intended to relieve pressure. The 4-pound gel memory foam relieves pressure spots while providing outstanding durability.
Layer 2: This layer's 2-inch 1.8-pound transitional performance foam provides unrivaled support and motion isolation.
Layer 3: The 6-inch 1.8-pound premium support layer provides a strong base.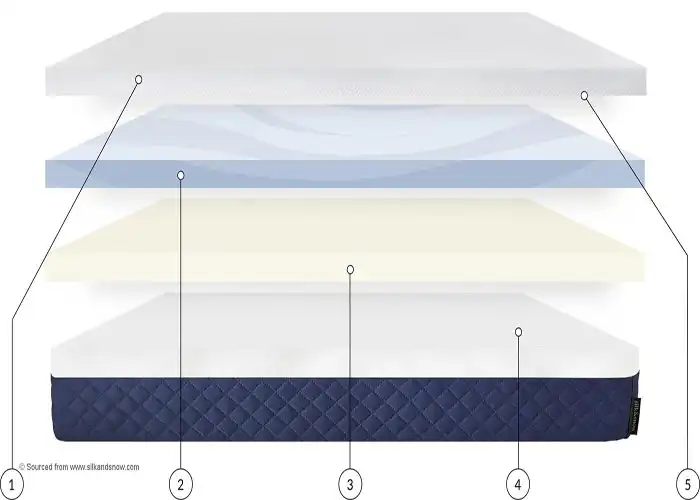 Rating
Silk and Snow Mattress
Materials & Construction (1=Least, 5=Best)
Repositioning (1=Least, 5=Best)
Comfort (1=Least, 5=Best)
Cooling (1=Least, 5=Best)
Motion Isolation (1=Least, 5=Best)
Edge Support (1=Least, 5=Best)
Overall Rating
3.92/5
Rating Scale: 1 = Average, 2 = Good, 3 = Very Good, 4 = Excellent, 5 = Winner
Repositioning
Sleepers who shift themselves during the night will find it easier if they choose the right mattress. Memory foam and softer foam mattresses sink in, making it more difficult to change positions.
The Silk & Snow Mattress comprises three layers of foam, giving it a unique pressure-relieving hug and more responsiveness than many all-foam mattresses. The top layer of memory foam is really sensitive, preventing you from sinking too deeply or being "stuck in foam," as many memory foam mattresses may. With a firmness rating of 5 (medium) on a 10-point scale, most sleepers, regardless of body shape or sleep position, will find the Silk & Snow Mattress to be comfortable.
Comfort, Back Support, Pressure Relief
When buying a mattress, be sure it offers enough back support, spinal alignment, and pressure relief. Maintaining a proper spinal position when sleeping is critical for good back health. This implies the mattress should support your spine like it does while you're standing. When a mattress pushes back against your body with too much force in a concentrated area, it can cause pain, lack of circulation, recurrent tossing-turning, and other problems. Side sleepers, in particular, should be cautious about "pressure points," as this is the position in which your body weight is distributed over the smallest surface area.
Pressure release refers to a bed's ability to reduce stress in the shoulders, hips, and lower back. The ability of a mattress to achieve this is primarily controlled by your weight, sleeping position, and body shape. Another aspect for heavy sleepers is whether the foam version can hold their weight without sagging all the way to the bottom support layer.
No mattress can provide the same spinal alignment and pressure alleviation level to all sleepers. Variable spinal alignment and pressure reduction capabilities will be found in sleepers of diverse weights, body types, and sleep postures.
In the case of foam weight signifies comfort and quality. The S&S Mattress is one of the heaviest on the market. The ultra-dense 4-pound memory foam will provide you with the plushness and pressure alleviation you've been yearning for, and it will last for at least 15 years.
In fact, the Silk & Snow mattress has a very soft and comfy exterior, and the memory foam layers work together to offer a balanced and comfortable resting surface when you lie down on it.
Back Sleepers: Back sleepers need extra support, particularly around the hips and shoulders, which can sink into softer beds and prevent proper spinal alignment.
Back sleepers of average weight should find adequate support in the S&S Mattress. It's an excellent choice for light folks, regardless of their preferred sleeping position. People who weigh less than 130 pounds will not sink too far into the comfort layer, providing them with the comfort and support they require.
Side sleepers: Side sleepers frequently acquire shoulder aches over time.
The velvety comfort layer of the Silk & Snow is especially good for side sleepers. Average-weight people will find lots of relaxation along pressure points in this sleeping position. The Silk & Snow mattress is an excellent choice for light persons, regardless of their preferred sleeping position. People who weigh less than 130 pounds won't sink too far into the comfort layer, providing them with the necessary comfort and support.
Stomach sleepers: Certain mattresses enable the hips to sink too far. Thus, stomach sleepers may find it more challenging to achieve spinal alignment. For them, stability and support are especially important to avoid back and hip pain.
The Silk & Snow isn't a good choice for stomach sleepers of ordinary weight. The hips aren't kept lifted in this bed since it's too soft. It has the potential to induce lower back pain over time. The Silk & Snow mattress is an excellent choice for light guys, regardless of their preferred sleeping position. People who weigh less than 130 pounds won't sink too far into the comfort layer, providing them with the necessary comfort and support.
Heavy sleepers: Overweight folks put a lot of strain on the bed.
Side sleeping on the S&S Mattress should be comfortable for anyone weighing between 230 and 300 pounds. However, most people who are larger and taller will sink through the slow-moving comfort layer and feel more of the support foam beneath. This means that if you rest on this bed for an extended period of time, you may have muscle soreness. People who sleep on their backs or stomachs and weigh more than 230 pounds sink deeper into the mattress and experience increased pressure as a result.
Cooling & Temperature Control
The capacity of memory foam mattresses to retain heat is well-known. As the sleepers sink into the memory foam layer, it creates a snug feeling and traps heat.
Silk&Snow wants to make sure that everyone, especially those who sleep hot, can enjoy the quality and comfort of memory foam. As a result, the company uses a newer generation of open-cell memory foam blended with cooling gel, resulting in a mattress that keeps you cool throughout the night.
Motion Isolation and Sharing a Bed
It assesses a mattress's ability to keep other individuals in the bed from being disturbed when their partner rolls over, or changes positions. You never know when your companion will get up or get out of the bed in such a mattress.
The S&S Mattress is designed to isolate and limit motion transfer significantly. The 2-inch memory foam comfort layer absorbs almost all surface-level vibrations that might otherwise travel across the mattress and wake up your sleeping partner. The 2-inch polyfoam transition layer, also isolates motion well. This mattress is, therefore liked by couples and those sleeping with partners and pets.
Edge Support
Foam mattresses aren't always very supportive along the mattress's very edge, which is important if you wish to sit or sleep on the edge of the bed. Couples should also think about edge support, as poor performance in this area confines both sleeping and sexual activity to the middle of the bed. As you get in and out of bed, the bed may flex if you sit on the edge, causing a disturbance to your partner. This is a common problem with all-foam mattresses.
The Silk & Snow Mattress, like most all-foam types, lacks reinforced edges, allowing sinkage around the perimeter. Some sleepers under 130 pounds may feel secure enough to sit or sleep near the bed's perimeter without fear of rolling off. But those who weigh more than 230 pounds may fear rolling off if they sleep too close to the edge.
Recommendation based on sleeping style
We all need to sleep well in order for our bodies to recover and rejuvenate, regardless of which posture we sleep in. During the day, we shrink by one to two inches. This disorder is caused by the contraction of the intervertebral discs as a result of a lack of fluid. During the night, the fluid repairs the discs. For this to work, you must sleep in a comfortable position. What exactly do we mean when we say we're in a good situation? The three types of sleepers are side, back, and stomach sleepers, as well as those who prefer a combination of these positions. Each of the three people has different needs and thus has different experiences with the level of comfort, support, and flexibility that is provided.
Side Sleepers: Sleeping on one's side is the norm for the great majority of individuals. The body can sink into the mattress, but the waist and spine must be supported and corrected. This helps to keep neck and back problems at bay in the morning. To reduce pressure on the neck and pelvis, the support portions for these areas should be flexible. A mattress that delivers contouring comfort and the solid support is ideal for side sleepers.
The brand's 4lb high-density memory foam mattress is expertly constructed with healthy, non-toxic components to provide exceptional pressure point and pain alleviation for side sleepers.
Back Sleepers: If you sleep on your back, ensure that your shoulders and hips sink deeply enough into the mattress to avoid painful arches. Back sleepers, on the other hand, prefer to feel as if they are "sleeping on" rather than "sleeping in" a mattress. For a back sleeper, sinking too deeply into a mattress can be painful, especially if their hips sink deeper than the rest of their body, putting pressure on their lower back. Back sleepers prefer a mattress that gently cradles their hips while providing enough support to keep their spine in proper alignment.
The Silk & Snow's supportive polyfoam transition layer and core help to avoid spinal strain by preventing excessive drooping. You'll feel a gentle hug from the memory foam around your shoulders, low back, and hips when sleeping on your back, but you won't sink so far into the mattress that your spine becomes crooked.
Stomach Sleepers: A firm mattress with is ideal for sleeping on your stomach. This keeps your stomach from sinking too far, restricting your movements and causing curvature. The shoulders and neck are strained as a result of this. Those who sleep on their stomachs, in particular, require additional support to keep their spine upright and comfortable. A soft mattress may cause a stomach sleeper's midsection to sink into the support core, resulting in lower back pain. A firmer mattress prevents this by providing consistent support.
If you prefer to sleep on your stomach, the S&S Mattress might not be the greatest option because it's excessively soft and can cause spinal misalignment.
Combination Sleepers-Those who switch between different positions: Are you one of those guys who sleeps all night on his back, stomach, side, and back, getting tired of each position? It's not like you're completely alone. The majority of people change positions about 20 times per night. The best combo sleeper mattress is both sensitive to motion and effective at isolating it.
For combination sleepers, the Silk & Snow mattress could be a good choice. Although it has memory foam, it is so dense that you will never feel "trapped" in it. The foam isn't going to stand in your way. It can be used by folks of various weights, including lightweight and average-weight combination sleepers, and it is especially pleasant for average-weight combination sleepers.
Price
| Size | Dimensions | Weight | Price | Sale Price | Discount |
| --- | --- | --- | --- | --- | --- |
| Twin | 38 x 75 x 10 | 43 lbs | $650 | $650 | 0% |
| Twin XL | 38 x 80 x 10 | 48 lbs | $675 | $675 | 0% |
| Full | 54 x 75 x 10 | 65 lbs | $725 | $725 | 0% |
| Queen | 60 x 80 x 10 | 76 lbs | $800 | $800 | 0% |
| King | 76 x 80 x 10 | 91 lbs | $900 | $900 | 0% |
| Cal King | 72 x 84 x 10 | 95 lbs | $900 | $900 | 0% |
Get Coupons
x
Receive a FREE duvet with each mattress purchase (up to $175 value).
Tip:No Code needed
Continue to Store
Silk and Snow Offers
Receive a FREE duvet with each mattress purchase (up to $175 value).
Coupons & Deals
Receive a FREE duvet with each mattress purchase (up to $175 value).
Check Other Silk and Snow Mattress Models