Methodology
We gather information on mattress industry, product, pricing, customer reviews and financial information from more than 50+ websites daily through our automated "bots" and use advanced data analytics techniques to evaluate and rate mattresses.

Updates
Our reviews are updated at least once a week in cases of changes, product releases, and new insights gathered from analyzing our data set.

Format
We present our mattress reviews in a Q&A format with the intent of mirroring the thought process of how customers make mattress purchase decisions
Awara Premier Natural Hybrid Mattress
By Brand: Awara
$

1799

$

1399
Awara deals Coupons
$400 off all eco-friendly hybrids with certified organic latex.

Get Coupons

x

$400 off all eco-friendly hybrids with certified organic latex.

Tip:No Code needed

Continue to Store

Awara Offers

$400 off all eco-friendly hybrids with certified organic latex.
Product Description
The Awara mattress is part of the resident family of brands. They also sell Nectar and Dream Cloud. It is a direct-to-consumer mattress and bedding brand based in the USA. It is an e-commerce company that helps Brands emphasize creating Mattresses with natural materials like latex and wool. Takes care of sustainability and donates a portion of every purchase to Trees for the Future. Along with its luxury mattress, Awara sells pillows and sleep essentials.
Their main motto is "THE BEST SLEEP OF YOUR LIFE, THE WAY NATURE INTENDED."
Awara presently deals with two mattresses
Awara Natural Hybrid Mattress
Awara Premier Natural Hybrid Mattress
You'll wake up refreshed, energized, and ready to take on the day.
This article will look deeply into The Awara Premier Natural Hybrid Mattress's construction performance for various sleeping positions.
Awara Premier Natural Hybrid is made from certified and eco-friendly processed Sri Lanka latex and other materials. It is 12″ thick, with more than many mattresses available in the market. With a sleek look, it has a comfort layer of 4″ for pressure relief. With premium natural latex, cozy organic New Zealand wool, and silky organic cotton, the Awara hybrid mattress provides luxurious sleep and comfort. Without an extravagant price tag.
Material: HYBRID – Foam + Coil
With Awara Premier Natural Hybrid, there is no memory foam, synthetic foam, chemical adhesives, or chemical fire retardants here. Only lush natural and organic materials, such as natural Dunlop latex, are collected from real rubber trees. Plush Euro-top Cover made with smooth organic cotton and soft 100% organic New Zealand wool. Rainforest Alliance certified natural Dunlop latex. A premium coil support core. It also has four robust handles at the support base layer for easy movement of the mattress.
Sizes: Awara Natural Hybrid is available in all regular sizes: Twin, Twin XL, Full, Queen, King, Cal King, Split King
Pricing: Depends on size & firmness
Shipping & Delivery: Free
Trial & Return: 365-day trial, full refund, and pickup
Warranty: Forever warranty
Pros & Cons
The Awara Premier Natural Hybrid is crafted from fresh, natural materials.
Plush Euro-top cover -Silky, smooth, and elastic organic cotton& Soft 100% organic New Zealand wool
Rainforest Alliance-certified 4" natural Dunlop latex collected from real rubber trees.
Premium quality individually wrapped coils 8" for an incredibly blissful sleep.
The mattress is toxic, chemical-free, Certified Clean. Foams are certified by CertiPUR-US & Rainforest.
Besides, it offers a lot.
Awara Premier Natural Hybrid is Ideal for people.
All sleepers
Searching for excellent pressure relief
Enjoying bounce of the innerspring bed
Hot sleepers
Searching natural and eco-friendly mattress
Not so ideal for the persons
 Searching budget-friendly mattress
Searching all foam or latex mattresses without coils
Single firmness- Med Firm. No option for other
Firmness
Whether a mattress feels firm or soft is pretty subjective. All beds should support body weight, promote healthy spinal alignment, and ensure comfortable and restful sleeping. Whether a mattress is fluffy and plush (what mattress companies call soft or plush) or less so (what companies call firm) is purely defined based on personal preferences.
The Awara Premier Natural Hybrid is available in the medium-firm with a rating of 6.5. The rating is on a scale of 1 to 10, where 10 is the most firm.
Luxury Firm/ Medium: Universally likes. Couples and combination sleepers prefer this, with a perfect balance between contouring and sinkage.
Awara relieves your m stressed muscles, Joints, and Back. It is achievable as Awara's adaptive latex foam layer aids reduce pressure points below your shoulders, hips, and legs, encouraging better spinal position. Indeed, stress-free muscles are crucial to dreaming deeper.
Material & Construction
In every Awara Mattress, you'll find:
Cover made with smooth organic cotton and soft 100% organic New Zealand wool. Rainforest Alliance certified natural Dunlop latex. A premium coil support core.
A magnificent cotton mixed cover with four robust handles wrapping the support base layer. The Brand selects each material with buyers in the comfort of sleep. So you get a naturally blissful sleep—all at a reasonable price.
Let's dig into the details of the 4 Lush layers of the mattress –
Layer 1: Cover –the cover is Plush Euro-top made from cotton and organic New Zealand Wool. Together they wick moisture, ensuring you stay cool and dry throughout the night.
Layer 2: Natural Dunlop Latex– This breathable layer is 4 ". Prepared with rainforest alliance certification, this natural latex contours the curves supporting the pressure points and joints. (Dunlop latex undergoes less treatment and is more durable. And unlike memory foam, Dunlop latex helps you sleep naturally. So when you climb into bed on the Dunlop latex, you get a healthy, comfortable sleep)
Layer 3: Premium coil support core–This layer comprises individually wrapped 8" coils. Besides improving breathability, they also reduce the motion transfer.
Layer 4: Easy move base with reinforced handles– Cotton blend covers the supportive ground. With the handles, it is easy to move the mattress as necessary.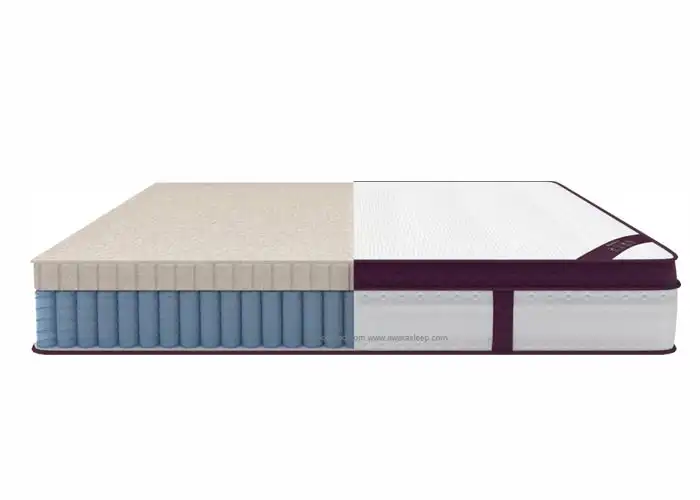 Rating
Awara Premier Natural Hybrid Mattress
Materials & Construction (1=Least, 5=Best)
Repositioning (1=Least, 5=Best)
Comfort (1=Least, 5=Best)
Cooling (1=Least, 5=Best)
Motion Isolation (1=Least, 5=Best)
Edge Support (1=Least, 5=Best)
Overall Rating
4.17/5
Rating Scale: 1 = Average, 2 = Good, 3 = Very Good, 4 = Excellent, 5 = Winner
Repositioning
Repositioning means that sleepers can change position quickly. many people toss and frequently turn while sleeping.
With a medium-firm feel moving on the Awara Premier Natural Hybrid mattress is relatively easy compared to most hybrid prototypes. Most sleepers don't sink deep in the mattress, so the sensation of "quicksand" is not there. Sleepers can switch positions easily as there is a bounce from the spring layer. Overall, Natural Hybrid is highly responsive. The couples particularly like this.
Comfort, Back Support, Pressure Relief
Generally, foam mattresses, particularly memory foam mattresses, tend to cradle the sleeper's body, redistributing body weight. It can help relieve aches and soreness in the areas that exert the most force on the mattress. Usually, latex was among the more affluent mattress materials, but now it has become more reasonable, making latex beds and latex hybrids affordable. The comfort layer is made of natural latex.
Back Sleepers:People who sleep on their back tend to require more support — particularly around the hips, which may sink into softer mattresses and prevent proper spinal alignment. Sleepers sleeping on Awara Premier Natural Hybrid mattress will get enough firmness or back support. It is mainly for the average weight & Heavy group. Lightweight sleepers may sometimes find this mattress a bit firm.
Side sleepers: Side sleepers will significantly appreciate the Awara Premier Natural hybrid med firm. With the comfort and support layers, the mattress will absorb the pressure and provide a comfortable night's sleep. Heavyweight side sleepers will enjoy the relief.
Lightweight side sleepers will find this mattress too firm and not that comfortable.
Stomach sleepers: Achieving good spinal alignment for stomach sleepers can often be trickier as the hips can tend to sink too far with some mattresses. Stability and support are crucial for "stomach sleepers" to not cause back or hip pain. With a Luxury firm configuration, Awara Premier Natural Hybrid is suitable for stomach sleepers; the latex and the coils give the support these sleepers need.
Combination Sleepers: Luxury firm Premier Natural Hybrid is quite comfortable for majority lightweight and average weight combination sleepers. Due to its bouncy nature, it is easy to switch positions while sleeping.
Heavy Sleepers: Folks from the heavy category in all sleeping position finds this Natural hybrid bed comfortable and supportive. They do sink in for pressure relief, but the bounce gives the required spinal alignment.
Cooling & Temperature Control
Awara Premier Natural ensures sleepers Sleep Cool and dry. With Euro-top organic cotton and moisture-wicking, New Zealand wool allows body heat to escape. Moreover, temperature-neutral latex inhibits excess heat from building throughout the night. Individually packed coils also arrange for ample air circulation for a bed-keeping sweat away. Folks who tend to run warm can stay cool throughout the night.
The combination of Dunlop latex and individually packaged coils improve air circulation. So one can sleep cool and dry.
Motion Isolation and Sharing a Bed
This category rates how well a mattress can prevent other sleepers in a bed from feeling when their sleep partner rolls over, shifts, or changes positions.
The Awara Premier Latex Hybrid Mattress offers sound isolation of movement. The latex layer and the coils add some bounce to the bed. However, the separately wrapped coils prevent too much motion transfer. Thus, you won't feel much disturbance when your partner moves.
Edge Support
The coil support system is responsible for preventing the sides from sagging. The Awara Premier Latex Hybrid Mattress offers excellent edge support. The latex layer adds to the firmness to some extent. Thus, there's a minimum chance of you rolling off while sitting or lying near the borders.
Recommendation based on sleeping style
Young or old, nobody is immune to back pain, whether chronic or temporary. It is essential to pay attention to where you put your head (and back, of course).
Awara Premier Hybrid is a 12-inch thick mattress comprised of a 4-inch layer of Rainforest Alliance Certified latex and an 8-inch layer of individually wrapped springs that help deliver the perfect balance of comforting support and bounce. Selecting Awara means making a better choice for the planet because Brand is moving towards more reasonable practices and materials. With Awara, the most comfortable mattress with as many natural and organic materials as possible, you get a sleep more relaxing each night.
Let's get a clear idea about the Sleeping style.
Side Sleepers: The Awara Premier Latex Hybrid Mattress is a good fit for side sleepers across all weight categories. Awara Premier being a medium-firm variant, the mattress prevents heavy folks from sinking too much into the bed, while the pillow top offers a plus feeling to those looking for a softer bed.
Back Sleepers: Average to heavyweight back sleepers up to 230 lbs shall find utmost support and comfort from this mattress. However, folks weighing less than 130 lbs may find this mattress slightly firm.
Stomach Sleepers: Stomach sleepers under 130 lbs shall benefit the most from this mattress as they shall get just the right amount of support required to prevent the spine from bending. Heavier folks may find themselves sinking slightly.
Heavy sleepers: all types of sleepers in this heavy group get the required comfort and support from the Awara Premier Natural Hybrid mattress.
Price
| Size | Dimensions | Weight | Price | Sale Price | Discount |
| --- | --- | --- | --- | --- | --- |
| Twin | 38x75x12 | 56 LB | $1399 | $999 | 29% |
| Twin XL | 38x80x12 | 59 LB | $1599 | $1199 | 25% |
| Full | 54x75x12 | 79 LB | $1699 | $1299 | 24% |
| Queen | 60x80x12 | 100 LB | $1799 | $1399 | 22% |
| Cal King | 72x84x12 | 119 LB | $2099 | $1699 | 19% |
| King | 76x80x12 | 118 LB | $2099 | $1699 | 19% |
Get Coupons
x
$400 off all eco-friendly hybrids with certified organic latex.
Tip:No Code needed
Continue to Store
Awara Offers
$400 off all eco-friendly hybrids with certified organic latex.
Coupons & Deals
$400 off all eco-friendly hybrids with certified organic latex.
Check Other Awara Mattress Models