Methodology
We gather information on mattress industry, product, pricing, customer reviews and financial information from more than 50+ websites daily through our automated "bots" and use advanced data analytics techniques to evaluate and rate mattresses.

Updates
Our reviews are updated at least once a week in cases of changes, product releases, and new insights gathered from analyzing our data set.

Format
We present our mattress reviews in a Q&A format with the intent of mirroring the thought process of how customers make mattress purchase decisions
Brentwood Hybrid Latex Mattress
By Brand: Brentwood Home
$

1499

$

1349
Brentwood Home deals Coupons
Save $150 On Mattresses. USE CODE: FALL.
Save 15% On Our Cypress Mattress. No code needed
Save 15% On Organic Yoga.

Get Coupons

x

Save $150 On Mattresses. USE CODE: FALL.
Save 15% On Our Cypress Mattress. No code needed
Save 15% On Organic Yoga.

Copy and Paste the Promotion Code below

Copy Code Continue to Store

Brentwood Home Offers

Save $150 On Mattresses. USE CODE: FALL.
Save 15% On Our Cypress Mattress. No code needed
Save 15% On Organic Yoga.
Product Description
The Brentwood Hybrid Latex is a latex hybrid mattress that is cozy and environment friendly. It is handmade and is a sustainable mattress. Hybrid latex mattresses are more popular than all-foam mattresses as they are made from renewal, eco-friendly materials and are long-lasting. Latex, a natural product, takes time and resource to cultivate thus making mattresses costly. But Brentwood, a mattresses manufacturer, can innovate accordingly and cut down on costs and overhead. The Hybrid Latex offering from Brentwood is very delicately manufactured at the company's own factories using organic latex, organic wool, cotton from denim cuttings, natural hemp, and soft Repreve made from recycled water bottles. The use of recycled cotton denim sets the Brentwood Hybrid Latex apart from other hybrid latex mattresses. When a mattress is discarded, it creates a lot of waste that pollutes the environment Thus, the use of recycled materials is an add-on feature of this mattress. The mattress is 12 inches thick and has a medium feel. It comes at a moderate price and is available in all regular sizes of Twin, Twin XL, Full, Queen, King, and California King.
In this article, we will review the Brentwood Hybrid Latex in detail. The review below highlights the key attributes, features, and pros/cons of the mattress.
Material: The Brentwood Hybrid Latex mattress begins with a top layer of wool batting over ventilated latex. The transition layer is made of recycled flax fibers, and the support core comprises pocketed coils over a base layer made from recycled denim fibers. The cover is a quilted cover made of cotton and a blend of polyester and recycled plastic bottles.
Sizes: The Brentwood Hybrid Latex is available in six sizes: Twin, Twin XL, Full, Queen, King, and Cal King.
Shipping & Delivery: Free shipping. In-home delivery, set up, and old mattress removal comes at additional costs.
Trial & Return: 365-day trial, full refund, and pickup
Warranty: Brentwood Hybrid Latex offers a 25-year limited warranty
Pros & Cons
The mattress is recommended for sleepers, who
Are eco-conscious
Prefer a soft mattress
Want strong edge support
Want good pressure point relief
Want a durable and long-lasting mattress
Not so ideal for sleepers, who
Prefer a lighter mattress
Strictly sleep on their stomach
Are heavyweight
Firmness
Mattresses have different shapes and sizes, but they should offer you comfort. Some people like them soft; others prefer a little more support; however, it should always provide comfort for sleeping soundly without any pain or discomfort when you lie down on the mattress! Firm mattresses support your back, while soft ones make sleeping easier by cradling your body as no other object can do! Firmness is personal and varies from person to person depending on what feels best when waking up.
The Brentwood Hybrid Latex is a medium-firm mattress that rates 5 on a firmness scale of 10. The comfort layers made of Dunlop latex are cut into convoluted shapes that offer zoned and targeted comfort, i.e., the mattress feels firm beneath the hips and torso and soft beneath the head, neck, and shoulders. The transition layer of flax fiber prevents you from sinking deep into the mattress, and the pocketed coils support your spine, thus allowing a painless sleep. One of the unique features of Hybrid Latex is that it uses recycled denim in the bed's base, which keeps the mattress airy and cool. This layer-by-layer construction of the Hybrid Latex makes it a durable mattress with minimal sinkage near the perimeter. Thus, the mattress firmness is well suited to a variety of sleepers.
Material & Construction
The Brentwood Hybrid Latex Mattress uses eco-friendly and recycled materials for its construction. These include organic cotton and wool, 4 inches of GOLS organic certified latex sourced from rubber trees, GOTS organic certified hemp pad in the transition layer, up to 975 individually-wrapped supportive coils made of recycled steel and recycled denim in the base layer. The mattress weighs between 80 (Twin) to 161 (Cal King) pounds, thus making it a heavy mattress. The mattress comes with six-hand stitched handles, two on each long side and two on foot to facilitate moving or rotating the mattress. The handles are made of recycled plastic bottles from Repreve. Single-use plastic bottles reduce waste, thus preventing the waterways from clogging due to these bottles. These plastic bottles create a soft, durable fabric that has polyester performance.
The different layers of the Brentwood Hybrid Latex are detailed below:
Layer 1: The top layer is made of moisture-wicking wool batting and makes the mattress more breathable. The top layer offers cushioning and bounce to the mattress.
Layer 2: This layer is the comfort layer and consists of 4 inches of organic natural Dunlop latex sourced from India. The first 2-inch layer is cut to a wave design that features three strategic zones. This layer gives a soft feel. Beneath this layer, there is a second 2 -inch latex layer for deep firm support. The latex has received STANDARD 100 by OEKO-TEX plus eco-INSTITUT, FSC, GOLS, and Rainforest Alliance® certifications. The layer is zoned thus provides more support to the body while sleeping. The mattress shall feel firmer near the hips and shoulders and softer near the edges.
Layer 3: This layer is made up of organic certified natural hemp fiber that acts as a barrier between the comfort and support layer and prevents the body from coming in contact with the coils. This layer gives the mattress its durability.
Layer 4: This layer consists of an 8-inch ActivEdge Quantum Edge coil unit that features up to 975 individually pocketed coils made from up-cycled steel that reinforces the perimeter and provides support and stability to the mattress.
Layer 5: This is the base layer and is made of 1-inch cotton from recycled blue denim sourced from the cutting scraps, plus recycled plastic bottles from Repreve. This layer offers durability and makes the mattress more breathable.
These different layers are encased in a cotton cover. The top layer is organic cotton quilted over a foundation layer of fiber stuffing made of polyester and recycled plastic bottles.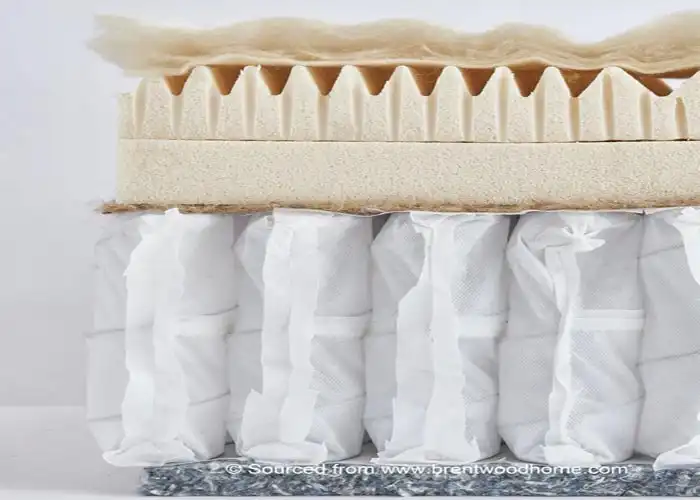 Rating
Brentwood Hybrid Latex Mattress
Materials & Construction (1=Least, 5=Best)
Repositioning (1=Least, 5=Best)
Comfort (1=Least, 5=Best)
Cooling (1=Least, 5=Best)
Motion Isolation (1=Least, 5=Best)
Edge Support (1=Least, 5=Best)
Overall Rating
4.08/5
Rating Scale: 1 = Average, 2 = Good, 3 = Very Good, 4 = Excellent, 5 = Winner
Repositioning
Repositioning describes the ability to change positions easily while sleeping. Latex mattresses are firmer than foam mattresses. But the advantage of latex is that it is the sap from rubber plants thus is natural rubber. Thus, the Brentwood Hybrid Latex is resilient and bounces quickly; thus, changing positions is easy at night. Motion transfer is minimal because of coils that work independently; thus, disturbing your sleeping partner while changing positions is a rare possibility.
Comfort, Back Support, Pressure Relief
Buying a mattress can be difficult with a variety of them available in the market. The right mattress will relieve you from pain upon waking up. So, pain relief is vital for most people looking to buy a new mattress. Back pain can only be relieved when the spine is relaxed.
Spine alignment and pressure relief of a mattress are important in deciding which one to buy. To maintain good back support while you sleep, your spine must remain straight, similar to when you are standing. For a given mattress to do this, it will generally depend on your weight, sleep position, and body shape. When a mattress, which could be extra firm, rather than absorbing body weight, may push back against your body with more force in a focused area resulting in pain, soreness, and other problems.
In general, "pressure points" are of significant concern for side sleepers since the body's weight is distributed over the smallest surface area. Pressure points are less of a problem for back sleepers as the body's weight is spread over the entire body area, and force per unit area is minimized, creating fewer sharp pressure points. Pressure relief refers to a bed's ability to alleviate tension at the pressure points concentrated in the body's shoulders, hips, and lower back region. Unfortunately, no mattress delivers these two things equally well for all sleepers. Spinal alignment and pressure relief capabilities vary with weights, body shapes, and sleep positions across sleepers.
The Brentwood Hybrid Latex with the different layers of certified organic latex, cotton, wool, and pocketed coils gives the ultimate comfort feel and strong support. The organic layers make the mattress highly durable and breathable. The foams are cut to create zig-zag waves that help to reduce motion transfer and create zoned support. The bottom and third layer of the latex contours to the body and relieves pressure from the hips and shoulders. In the middle third, the latex layer is tightened, offering ideal spine support.
The suitability of the mattress for different sleeping positions is detailed below:
Back sleepers: Back sleepers need support under their spine and neck to sleep correctly. The Brentwood Hybrid Latex is highly supportive of light and average weight back sleepers. The study coil and thick zoned latex layers keep the back and hips elevated. The coils also support keeping the spine appropriately aligned. Back sleepers up to 23 pounds found sleeping on the Hybrid Latex very enjoyable, while those above 230 pounds may feel the medium firmness bit too soft.
Side Sleepers: Side sleepers put the majority of their weights on their hips and shoulders; thus, they prefer a soft mattress to cushion their hips and shoulders. Side sleepers whose weight is between 130 and 230 pounds will get the ideal balance of cushioning and support. Their shoulders and hips will receive adequate padding without sinking too deeply, leading to optimal alignment and fewer pressure points. However, side sleepers above 230 pounds may find the mattress too soft to support their hips, thus leading to excessive sinking.
Stomach sleepers: Stomach sleepers need a firm mattress that would enable them to keep their hips elevated to prevent sinkage. The firmness of Brentwood Hybrid Latex is comfortable for stomach sleepers in the weight range of 130 -230 pounds. Stomach sleepers below 130 pounds will find the mattress too stiff, and those above 130 pounds will sink more around their midsection leading to aches in the neck and shoulders.
Heavy sleepers: Heavy sleepers will need a firm mattress for restful sleep. Brentwood Hybrid Latex is not suitable for heavy sleepers due to the mattress's firmness. Heavy sleepers may experience sinking too deeply into the mattress, thus waking up with aches and pains.
Cooling & Temperature Control
The most critical element that measures the quality and duration of the body's recovery during sleep is a substantial decrease in the body temperature. Brentwood Hybrid Latex uses breathable materials like organic latex, organic wool, and organic cotton that help air circulate in the mattress's interior, thus regulating temperature exceptionally. The organic cotton cover is comfortable, and organic wool wicks away moisture, keeping you fresh all night. The pocketed coil unit promotes airflow throughout the mattress, thus maintaining a comfortable temperature. The base layer is made of recycled denim scraps that are naturally breathable and thermoregulating. This helps to keep the mattress airy and cool.
Motion Isolation and Sharing a Bed
Motion isolation describes if movement made across one side of the mattress is felt elsewhere on the mattress or not. A mattress with good motion isolation will neutralize activity made on one side of the bed, thus assisting partners in sleeping peacefully.
The Brentwood Hybrid Latex Mattress offers average motion isolation. Both latex and coils tend to transfer motion. The Hybrid Latex absorbs some motion owing to the latex foam cut into zig-zag shapes, thus eliminating some amount of transfer, but does not entirely isolate motion transfer. The coil layer also tries to make up and prevents motion transfer. So, you may feel some movement when your partners' position changes.
Edge Support
Edge support defines the support that a mattress can offer around its edges. It helps in stabilizing the perimeter of the mattress and is essential for couples sharing their bed with partners, as poor performance may disturb their partners while getting in and out of bed, and limit using the full bed for sleeping together and while having sex.
The Brentwood Hybrid Latex is a durable mattress due to the coil core support system and sturdy latex layers. Multiple layer construction makes the edges strong and the mattress durable. Individually wrapped supportive coils made of recycled steel offers bounce and prevent the mattress from sagging near the edges. Sleeping or sitting near the edges without the fear of falling off is possible on the Brentwood Hybrid Latex.
Recommendation based on sleeping style
Sleeping peacefully at night is as essential as eating good and nutritious food. Each one of us sleeps differently, and our needs for comfort and support are also very unique. The U.S. Center for Disease Control claims that 1 out of 3 people has insomnia leading to various health problems. The
Below is a detailed description of how Brentwood Hybrid Latex is suitable for different sleep positions.
Side Sleepers: Side sleepers prefer a mattress that will allow their hips and shoulders to sink in just the right amount, reducing pressure buildup. The Brentwood Hybrid Latex is best suited to light and average-weight side sleepers as it offers support and cushion to the body, thus allowing hips and shoulders to sink in the right amount. Latex, less compressive, won't sink too much when pressure is applied. Therefore, heavyweight side sleepers may find this mattress slightly firm and prefer something softer.
Back Sleepers: Back sleepers need to look for a mattress that supports their back and spine. The Brentwood Hybrid Latex offers excellent support for average and lightweight back sleepers. However, heavy sleepers may find some sinking-in feel on this mattress.
Stomach Sleepers: Stability and support are essential for stomach sleepers not to cause back or hip pain; thus, they need firmer mattresses. The Brentwood Hybrid Latex is good for average-weight stomach sleepers as it would offer a perfect blend of support and comfort. The mattress may be slightly firm for lightweight people and too soft for heavyweight people.
Combination Sleepers-Those who alternate between various positions: Combination sleepers change positions while sleeping. Combination sleepers who are light to average weight will enjoy sleeping on the Brentwood Hybrid Latex as both comfort and support will be provided by the latex layers, and individually wrapped coils will support the spine appropriately.
Price
| Size | Dimensions | Weight | Price | Sale Price | Discount |
| --- | --- | --- | --- | --- | --- |
| Twin | 75 x 38 x 12 | NA | $1149 | $1034 | 10% |
| Twin XL | 80 x 38 x 12 | NA | $1199 | $1079 | 10% |
| Full | 75 x 54 x 12 | NA | $1379 | $1241 | 10% |
| Queen | 80 x 60 x 12 | NA | $1499 | $1349 | 10% |
| King | 80 x 76 x 12 | NA | $1839 | $1655 | 10% |
| Cal King | 84 x 72 x 12 | NA | $1839 | $1655 | 10% |
Get Coupons
x
Save $150 On Mattresses. USE CODE: FALL.
Save 15% On Our Cypress Mattress. No code needed
Save 15% On Organic Yoga.
Copy and Paste the Promotion Code below
Copy Code
Continue to Store
Brentwood Home Offers
Save $150 On Mattresses. USE CODE: FALL.
Save 15% On Our Cypress Mattress. No code needed
Save 15% On Organic Yoga.
Coupons & Deals
Save $150 On Mattresses. USE CODE: FALL.
Save 15% On Our Cypress Mattress. No code needed
Save 15% On Organic Yoga.
Check Other Brentwood Home Mattress Models