Methodology
We gather information on mattress industry, product, pricing, customer reviews and financial information from more than 50+ websites daily through our automated "bots" and use advanced data analytics techniques to evaluate and rate mattresses.

Updates
Our reviews are updated at least once a week in cases of changes, product releases, and new insights gathered from analyzing our data set.

Format
We present our mattress reviews in a Q&A format with the intent of mirroring the thought process of how customers make mattress purchase decisions
Brooklyn Sedona Hybrid Mattress
By Brand: Brooklyn Bedding
$

2399

$

1799
Brooklyn Bedding deals Coupons
25% Off Sitewide. Use Promo Code FALL25. Sale Ends 9/26/2023.

Get Coupons

x

Brooklyn Bedding Offers

25% Off Sitewide. Use Promo Code FALL25. Sale Ends 9/26/2023.
Product Description
The Arizona-based brand Brooklyn Bedding started its journey in 1995. It is a direct-to-consumer mattress and bedding brand. The brand's long existence has been the key to continued success as a top retailer and manufacturer of private label mattresses nationwide.
Brooklyn Bedding deals with the following mattresses
Brooklyn Signature- High Value
Brooklyn Aurora- Most Popular
Brooklyn Sedona- New
Brooklyn Spartan
Brooklyn Boom
Brooklyn Chill
At Brooklyn Bedding, they inspect personally, crafting every bed on demand just for shoppers. By attentively researching, engineering, and customizing every mattress at their very own factory in Phoenix, Arizona, they create your best sleep experience ever. Most mattresses come in three firmness levels or feature some customizable option to ensure the best sleep solution.
This article will look deeply into The Brooklyn Sedona Hybrid Mattress's construction performance for various sleeping positions.
The Sedona Hybrid is the most luxurious, handcrafted mattress—offering resort-style sleep through an exceptional pairing of premium quality foams and a proprietary, high-end coil system.
Mattress Highlights include
Available in medium firmness that balances just the right amount of pressure point relaxation with the most exemplary support.
Material: Hybrid
The Brooklyn Sedona Hybrid mattress features four layers of foam at the top and individually wrapped coils to provide the perfect combination of comfort, support, and temperature neutrality. The mattress is good at alleviating pressure points. Its firmness lies in the middle of the firmness scale of 10 at 5 (Medium). The mattress is 14 inches thick and is compatible with any support system.
Sizes: Brooklyn Sedona Hybrid is available in all regular sizes: Twin, Twin XL, Full, Queen, King, Cal King.
Pricing: Depends on size
Shipping & Delivery: Free
Trial & Return: 120-day trial, full refund, and pickup
Warranty: 10 years limited warranty
Pros & Cons
The Brooklyn Sedona mattress is an excellent luxury hybrid mattress. The relatively new mattress was introduced in August 2020. With medium firmness that balances the right amount of pressure point relaxation with optimal support.
Besides, it offers a lot.
Brooklyn Sedona is great for people.
Side Sleepers
Hot Sleepers
Couples requiring motion isolation and bounce
Sleepers with back pain
 Not so ideal for the persons 
Preferring only memory foam
Searching budget-friendly mattress
Heavy stomach sleepers will not get a healthy spinal alignment.
Firmness
Whether a mattress is firm or soft is relatively subjective. All mattresses should support body weight, promote healthy spinal alignment, and ensure comfortable and restful sleeping. Whether a bed is fluffy and plush (what mattress companies call soft) or less so (what companies call firm) is purely defined based on personal preferences.
The Brooklyn Sedona Hybrid is available in single firmness choices: Medium. The rating is on the firmness scale of 1-10. The Medium is at a 5, ideal medium firm. This firmness is regulated with variations in constructions for the intended feel.
Medium is ideal for people.
Combination Sleepers- switching between back, stomach, and side sleeper searching for a balance between contouring and support
Material & Construction
The Brooklyn Sedona Hybrid is a 14-inch-tall hybrid mattress.
It comes with a premium quilted top that provides optimal breathability. Moreover, the upper four foam layers generate an elite quad of comfort, support, and cooling benefits.
Let's dig into the details of the constitution of the mattress –
Layer 1: COVER: The Mattress features an advanced cooling fabric cover with a soft feel. The breathable cover helps sleep more deeply with temperature regulation and cooling sensation on touch.
Layer 2: Premium comfort foam: This comfort layer below the cover consists of 1-inch patented foam. This comfort layer helps adjust to the body with immediate response technology every time one moves.
Layer 3: High-density Gel Memory foam: This 2 -inch comfort layer of memory foam is gel infused. This layer also combines comfort with enhanced cooling support.
Layer 4: Max density Memory Foam: This 1-inch layer of slow-moving memory foam with cooling gel infusion provides deep compression support.
Layer 5: Transition Foam: This 1-inch layer of dense foam provides a transition between the comfort foams and the base coil layers.
Layer 6: 8" zoned coil core: This layer has 8-inch Ascension X™ with 1032 wound coils that provide care, durability, and stability. The rings also promote responsiveness and motion isolation, curtailing partner disturbance.
Layer 7: 1" base Support Foam: This layer forms the supportive base under the coil layer. Besides adding durability to the mattress, it reinforces the individually packed springs as they compress.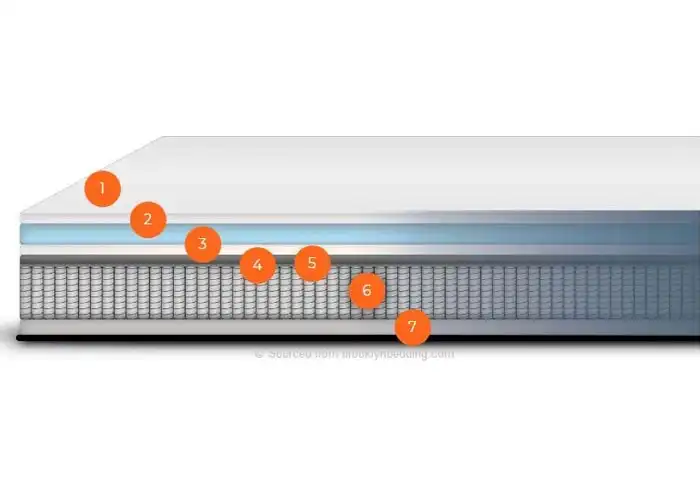 Rating
Brooklyn Sedona Hybrid Mattress
Materials & Construction (1=Least, 5=Best)
Repositioning (1=Least, 5=Best)
Comfort (1=Least, 5=Best)
Cooling (1=Least, 5=Best)
Motion Isolation (1=Least, 5=Best)
Edge Support (1=Least, 5=Best)
Overall Rating
4.42/5
Rating Scale: 1 = Average, 2 = Good, 3 = Very Good, 4 = Excellent, 5 = Winner
Repositioning
Repositioning means sleepers can change position quickly. Many people frequently toss and turn while sleeping.
Sedona is a hybrid mattress that excels in responsiveness and support. It is chiefly due to its construction with responsive foam layers combined with wrapped coils. With Sedona majority of sleepers can move quickly without getting the sensation of being trapped while switching positions.
The comfort layers of Sedona consists of Memory foams of various thickness and density. Memory foam is famous for the slow response, but this is countered with the coils in the base. Memory foam layers also resist deep sinkage giving support to the sleepers. This feature of Sedona is conducive to the movement on the mattress. Moreover, the bounce from springs also helps the sleeper to have comfortable movement on the Sedona.
Comfort, Back Support, Pressure Relief
Generally, foam mattresses, particularly memory foam mattresses, tend to cradle the sleeper's body, redistributing body weight. It can help relieve aches and soreness in the Mattress areas that exert the most force.
Back Sleepers: People sleeping on their back tend to require more support — particularly around the hips, which may sink into softer mattresses and prevent proper spinal alignment. Sleepers sleeping on Brooklyn Sedona with medium firmness mattresses support the lumbar region to avoid aches and pains. It is particularly good for the average-weight group.
Side sleepers:Side sleepers will greatly appreciate Brooklyn Sedona. The requisite support in the mid-section and the shoulder sink appropriately for optimal pressure relaxation.
Stomach sleepers: Attaining good spinal alignment for stomach sleepers can often be trickier as the hips can tend to sink too far with some mattresses. Stability and support are crucial for "stomach sleepers" not to cause back or hip pain. The Sedona medium is not suitable for most stomach sleepers, particularly heavy sleepers.
Combination Sleepers:  Versatile Sedona hybrid is most comfortable for most combination sleepers in any weight group. With a quick response, it doesn't hinder the movement.
Heavy sleepers: These categories need firmer beds to avoid getting too deep into the mattress. The Brooklyn Sedona hybrid supports folks with individual weights of 230 pounds, but anyone significantly heavier might opt for the firmer models for more support.
Cooling & Temperature Control
The Sedona Hybrid comes with many cooling features. First, an exclusively woven cover with a cooling panel extracts body heat. Second, the top three foam layers are made with cool gel infusions, helping to confirm a temperature-neutral sleeping experience.
Motion Isolation and Sharing a Bed
This category rates how well a mattress can prevent other sleepers in a bed from feeling when their sleep partner rolls over, shifts, or changes positions.
The comfort system in Sedona Hybrid comes with three separate layers of foam: a 1-inch layer of polyfoam, a layer of 2-inch memory foam, and another layer of 1-inch memory foam. All these together can absorb most sensations when one sleeper switches position or moves during the night, protecting their partner from needless sleep disruptions.
With a coil core, the spring back of the system could lead to some motion transfer. However, with the individually encasing of the coils, the motion transfer is minimized to a great extent.
Compared to other hybrid models, the motion isolation of the Sedona Hybrid is splendid.
Edge Support
All Brooklyn Bedding hybrid mattresses are created with higher gauge coils on the borders to allow for enhanced edge support. Signature is no exception.
Recommendation based on sleeping style
Young or old, nobody is immune to back pain, whether chronic or temporary. It is essential to pay attention to where you put your head (and back).
Let's get a clear idea about the Sleeping style depending on the firmness variations.
Side Sleepers: The Sedona is best suited for side sleepers. The hips and the shoulders are expected to sink in just the right amount, relieving the pressure points. However, individuals weighing more than 230 lbs. may experience more sagging than necessary.
Back Sleepers: The mattress is quite comfortable for back sleepers. The mattress provides the exact amount of sinkage and cradles the body. The individually encased coils also provide support so that your spine remains properly aligned. However, this mattress is not a great option for heavy back sleepers.
Stomach Sleepers: The mattress can be ideal for stomach sleepers weighing less than 230 lbs. The mattress will not let you sink too far and provide ample support.
Price
| Size | Dimensions | Weight | Price | Sale Price | Discount |
| --- | --- | --- | --- | --- | --- |
| Twin | NA | NA | $1249 | $936 | 25% |
| Twin XL | NA | NA | $1549 | $1161 | 25% |
| Full | NA | NA | $1999 | $1499 | 25% |
| Queen | NA | NA | $2399 | $1799 | 25% |
| King | NA | NA | $2899 | $2174 | 25% |
| Cal King | NA | NA | $2899 | $2174 | 25% |
Get Coupons
x
25% Off Sitewide. Use Promo Code FALL25. Sale Ends 9/26/2023.
Copy and Paste the Promotion Code below
Copy Code
Continue to Store
Brooklyn Bedding Offers
25% Off Sitewide. Use Promo Code FALL25. Sale Ends 9/26/2023.
Coupons & Deals
25% Off Sitewide. Use Promo Code FALL25. Sale Ends 9/26/2023.