Methodology
We gather information on mattress industry, product, pricing, customer reviews and financial information from more than 50+ websites daily through our automated "bots" and use advanced data analytics techniques to evaluate and rate mattresses.

Updates
Our reviews are updated at least once a week in cases of changes, product releases, and new insights gathered from analyzing our data set.

Format
We present our mattress reviews in a Q&A format with the intent of mirroring the thought process of how customers make mattress purchase decisions
Leesa Studio Mattress
By Brand: Leesa
$

799

$

699
Leesa deals Coupons
$700 Off Select Mattresses + 2 FREE Pillows (Up to $120 Value).

Get Coupons

x

$700 Off Select Mattresses + 2 FREE Pillows (Up to $120 Value).

Tip:No Code needed

Continue to Store

Leesa Offers

$700 Off Select Mattresses + 2 FREE Pillows (Up to $120 Value).
Product Description
Leesa Studio is Leesa's newly launched all-foam mattress that debuted in 2020. It is a high-quality mattress for sound sleep at an affordable price. While its core layer is the same as the Leesa Original's, the top two layers are made from memory foam. These high-quality premium foams offer comfort and support at an unbeatable price. The foams used in the Leesa are CertiPUR-US certified, implying harmful chemicals are not used in the making. The brand also boasts about being B Corp certified, meaning that they maintain the highest environmental and social standards.
In this article, we will review the Leesa Studio in detail. The review below highlights the key attributes, features, and pros/cons of the mattress.
Material: The Leesa Studio is a budget mattress that uses proprietary memory foam for its construction. The three foam layers are a breathable, responsive memory foam top layer, a pressure-relieving foam middle layer, and a core that offers support and mattress durability.
Sizes: The Leesa Studio is available in all regular sizes: Twin, Twin XL, Full, Queen, California King, and King.
Shipping & Delivery: Free shipping and delivery offered.
Trial & Return: 100 nights trial period. Free returns are available
Warranty: The Leesa Studio offers a 10-year full replacement limited warranty
Pros & Cons
The mattress is recommended for sleepers looking for
high-quality mattress at an affordable price
Are light and average weight
Not so ideal for sleepers, who
Want to sleep on a very soft or extra-firm mattress
Are heavyweight and sleep hot
Firmness
Firmness is very subjective. It defines how soft or hard a mattress can be. The same bed may be soft to some and firm to others. It depends not only on personal choice but also on body weight and body type. Whether a mattress is soft or firm, it should be such that it supports body weight, promote healthy spine alignment, and ensure comfortable and restful sleeping.
Like all other variants from Leesa, the Leesa Studio is a medium-firm mattress with a plush comfort layer. The firmness lies in the range 5-7 on a firmness scale of 10. It suits all sleeping positions, back, side or stomach. Its design provides maximum support and comfort and relieves pressure and lower back pain.
Material & Construction
The Leesa Studio is an all-foam high-quality mattress at an affordable price. The core is the same as the Leesa Original, while the top two layers are memory foam made. The first layer is memory foam, followed by a transitional foam layer for pressure relieving. High-density polyfoam is used in the support core, giving the mattress stability and making it durable.
The different layers in the mattress are detailed below:
Layer 1: This layer is 1.5-inches thick and has a density of 2.5 pounds per cubic foot (PCF). It is a layer of responsive memory foam that keeps the temperature in check. This memory foam layer differs from the Original Leesa mattress as that is slightly less dense and thick. The Original Leesa uses proprietary comfort foam, and the Studio variant uses memory foam.
Layer 2: Beneath the top layer, another 1.5 inches thick layer has a density of 2.5 PCF. This layer is a pressure-relieving foam layer that helps relieve pressure from the hips and shoulders, regardless of the sleeping position. Again, this layer differs from the Original Leesa Mattress as the Original is a bit less dense and less thick.
Layer 3: The bottom layer is 7 inches thick with a density of 1.8 PCF, which provides support and stability. It is made of the same foam base offered in the Original Leesa mattress.
The Studio is encased in a blue stripe cover that is polyester-blend made. The fabric is very soft and breathable.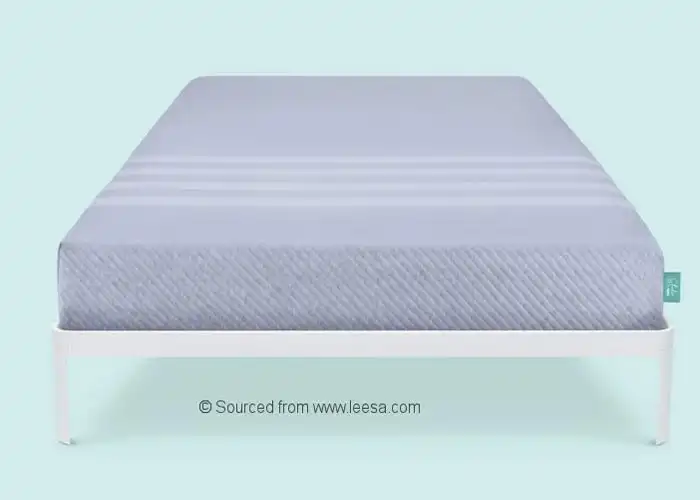 Rating
Leesa Studio Mattress
Materials & Construction (1=Least, 5=Best)
Repositioning (1=Least, 5=Best)
Comfort (1=Least, 5=Best)
Cooling (1=Least, 5=Best)
Motion Isolation (1=Least, 5=Best)
Edge Support (1=Least, 5=Best)
Overall Rating
3.58/5
Rating Scale: 1 = Average, 2 = Good, 3 = Very Good, 4 = Excellent, 5 = Winner
Repositioning
Repositioning describes the ability to change positions easily while sleeping. Memory foam is known for its slow response compared to polyfoam and latex. The memory foam made of the Studio thus offers very little bounce on the surface, allowing you to move on the bed quickly without disturbing your sleeping partner. People weighing up to 230 pounds because of the medium firmness and minimal sinkage offered by the mattress will be able to make movements easily.
Those weighing above 230 pounds will sink too much into the mattress thus will struggle to move across the bed. They should look for firmer mattresses.
Comfort, Back Support, Pressure Relief
Buying a mattress is difficult as there is a wide variety available in the market. The right mattress will help you have a good night's sleep and give you relief from pains especially when you wake up in the morning. So, pain relief is an important feature that most people look for while buying a mattress. Back pain can be relieved only when the spine is relaxed.
Since the top layer of Leesa Studio is made up of memory foam, undoubtedly, the mattress gives a light memory foam feel. It is a comfortable, supportive mattress that is neither too soft nor firm. The Leesa Studio has decent performance in the areas of pressure relief. The three layers of memory foam support the body and relieve pressure around the joints of the hips and shoulders. The mattress is suitable to all types of sleepers. The soft memory foam on the top layer offers a good amount of pressure relief for the hips and shoulders for side sleepers. The mattress as a whole offers fundamental support needed under the lumbar region for back and stomach sleepers. Like all the mattresses in the Leesa lineup, the Studio is also a temperature-neutral mattress and will not let the sleeper feel particularly hot or cold.
The suitability of the mattress for different sleeping positions is detailed below:
Back sleepers: Back sleepers need support under their spine and neck to sleep properly. Light and average-weight back sleepers will get enough body contouring sleeping in the Studio. The medium firmness of the mattress will allow alleviating pressure from the back of these sleepers. However, back sleepers above 230 pounds will find the bed too soft, and their midsection will sink too deep into the mattress.
Side Sleepers: Side sleepers put the majority of their weights on their hips and shoulders. Thus, pressure relief and body contouring are the two essential features they look for while buying a mattress. Light and average-weight side sleepers will find sleeping in the Studio pretty comfortable, as the memory foam layer would conform and provide sufficient cushion for the hips and shoulders. This will promote spine alignment and reduce pressure around the joints. Side sleepers above 230 pounds will sink into the mattress too deep and aggravate pressure points.
Stomach sleepers: Stomach sleepers need a firm mattress that would enable them to keep their hips elevated to prevent sinkage. Light and average-weight stomach sleepers will find sufficient support along the midsections, but heavyweight stomach sleepers will need a firmer surface along their midsections to sleep comfortably.
Heavy sleepers: Heavy sleepers need a firm mattress for restful sleep. Being an all-foam medium-firm mattress, the Leesa Studio is not suitable for heavyweight people over 230 pounds.
Cooling & Temperature Control
The most critical condition determining the quality and duration of the body's recovery during sleep is a considerable decrease in the core body temperature. The Leesa Studio uses low-density memory foam, thus offering reasonable temperature regulation compared to other memory foam mattresses with high-density comfort layers. Most sleepers will experience less heat retention capability of the mattress while sleeping on it. People weighing up to 230 pounds will sleep cool as they won't sink too much, but those weighing over 230 pounds will feel warm sleeping on the mattress as their sink will be too much to allow significant airflow through the mattress.
Motion Isolation and Sharing a Bed
Motion isolation describes if movement made across one side of the mattress is felt elsewhere on the mattress or not. Mattress with good motion isolation will help to neutralize activity made on one side of the bed, thus assisting partners in sleeping peacefully.
The Leesa Studio performs decently in this area. Studio absorbs motion and does not let movements from transferring across the surface. Low-density foams in the comfort and transitional layer do not eliminate motion completely. Still, partners sharing their beds will experience minimal movement when they change positions or get in and out of bed.
Edge Support
Edge support defines the support that a mattress can offer around its edges. The edge support helps in stabilizing the perimeter of the mattress. It is an important consideration for couples sharing their bed with partners, as poor performance may disturb their partners while getting in and out of bed, and limit using the full bed for sleeping together and while having sex.
Studio by Leesa offers average edge support as it is an all-foam mattress. All-foam mattresses sink a bit along the perimeter as the foams cannot withstand compression as much as latex or steel coils. The medium-firm feel of the Studio offers enough support such that sleepers up to 230 pounds won't sink much; thus, getting in and out of bed will be easy, and people in this weight group can also sit or sleep near the edges securely. However, those weighing above 230 pounds will sink deep into the mattress as it does not offer them the necessary edge support. If edge support is one of your primary concerns while purchasing a mattress, this might not be your best option.
Recommendation based on sleeping style
Sleeping peacefully at night is as essential as eating good and nutritious food. Sleeping peacefully helps in maintaining a healthy lifestyle. Each one of us sleeps differently, and our needs for comfort and support are also very different and unique. According to the U.S. Center for Disease Control, 1 out of 3 people has insomnia leading to different health problems.
Below is a detailed description of how Leesa Studio is a good fit for different sleep positions.
Side Sleepers: Studio by Leesa is suitable for all sleeping positions but may work best for sleepers with petite to the average built structure.
Back Sleepers: People who sleep on their back tend to require more support — particularly around the hips, which may sink into softer mattresses and prevent proper spinal alignment. Back sleepers also need less pressure relief, as the position causes fewer pressure points than other sleep styles. Back Sleepers of petite to average size built may feel comfortable and supported in the Studio by Leesa. However, sleepers with heavy built who tend to sleep on their back will have to look for better options.
Stomach Sleepers: Stability and support are essential for stomach sleepers not to cause back or hip pain. The Leesa Studio mattress will work fine for the stomach sleepers but may not be the best option, especially for heavier people, as they may not find good spinal alignment and may sink too deep while sleeping.
Combination Sleepers-Those who alternate between various positions: Combination sleepers tend to change positions while sleeping. Light and average-weight combination sleepers will feel well supported sleeping in the Studio. They will not sink too deep into the mattress; however, heavyweight combination sleepers will find it challenging to move around and sleep comfortably in the Studio.
Price
| Size | Dimensions | Weight | Price | Sale Price | Discount |
| --- | --- | --- | --- | --- | --- |
| Twin | 39 x 75 x 10 | 46lbs | $549 | $529 | 4% |
| Twin XL | 39 x 80 x 10 | 49lbs | $599 | $579 | 3% |
| Full | 53 x 75 x 10 | 59lbs | $699 | $599 | 14% |
| Queen | 60 x 80 x 10 | 68lbs | $799 | $699 | 13% |
| King | 76 x 80 x 10 | 83lbs | $999 | $899 | 10% |
| Cal King | 72 x 84 x 10 | 82lbs | $999 | $899 | 10% |
Get Coupons
x
$700 Off Select Mattresses + 2 FREE Pillows (Up to $120 Value).
Tip:No Code needed
Continue to Store
Leesa Offers
$700 Off Select Mattresses + 2 FREE Pillows (Up to $120 Value).
Coupons & Deals
$700 Off Select Mattresses + 2 FREE Pillows (Up to $120 Value).
Check Other Leesa Mattress Models