Methodology
We gather information on mattress industry, product, pricing, customer reviews and financial information from more than 50+ websites daily through our automated "bots" and use advanced data analytics techniques to evaluate and rate mattresses.

Updates
Our reviews are updated at least once a week in cases of changes, product releases, and new insights gathered from analyzing our data set.

Format
We present our mattress reviews in a Q&A format with the intent of mirroring the thought process of how customers make mattress purchase decisions
Nectar Premier Copper Mattress
By Brand: Nectar
$

1799

$

1205
Nectar deals Coupons
33% Off Everything! Prices Starting From $359.

Get Coupons

x

Nectar Offers

33% Off Everything! Prices Starting From $359.
Product Description
Nectar is yet another bed-in-a-box mattress brand focusing on high-quality memory foam models. The brand started in 2017. This American company has offices in San Francisco, New York, Tel Aviv, and London. However, mattresses are not manufactured in the United States.
Nectar deals with the following mattresses
The Nectar Mattress (POPULAR) – 12 inch
The Nectar Premier Mattress – 13 inch
The Nectar Premier Copper Mattress- 14 inch
Nectar mattresses are sourced and crafted from premium materials. And yet still more affordable than competitors. Nectar's foams comply with CertiPUR-US® standards for content, emissions, and durability.
Since January 2022, all Nectar mattresses have been 100% Carbon Neutral! This brand has been working with sustainability experts to evaluate the carbon footprint of their beds from production to delivery. They have now offset all Carbon by supporting environmental projects in the US & Amazon rainforest.
For ultimate comfort, every sleeper wants a nectar mattress. The secret – Nectar's memory foam mattress layers have the perfect ratio of softness, firmness, and support most people wish to. It's a delicate balance but carefully crafted.
Nectar's adaptive memory foam layer helps relax pressure points underneath your shoulders, hips, and legs, boosting spinal alignment. The relaxed muscles are the key to healthier rejuvenating sleep.
This article will look deeply into The Nectar Premier Copper Memory Foam Mattress in construction performance for various sleeping positions.
Nectar Premier Copper is the latest offering by the Nectar brand. This mattress is famous as the brand's most extraordinary mattress, which is 14″ high, having three layers. It comes with a soft poly-blend cover infused with copper fibers, giving the mattress the name. The comfort layer is with a Phase Change Material, due to which the bed doesn't store heat and helps the sleeper sleep cool at night.
Material: FOAM
The Nectar Premier Copper Memory Foam mattress has 5-Layer Construction with Premium Materials, Contouring & Comforting Gel Memory Foam with Phase Change Material, Soft, Adaptive Response Transition Foam, Supportive Base Layer Foam, Cooling Poly-Blend Top Cover with Polyethylene and Copper.
Sizes: Nectar Memory Foam is available in all regular sizes: Twin, Twin XL, Full, Queen, King, Cal King, Split King
Pricing: Depends on size & variety
Shipping & Delivery: Free
Trial & Return: 365-day trial, full refund, and pickup
Warranty: Lifetime mattress warranty
Pros & Cons
Nectar is crafted with sleeper's comfort in mind, whether you sleep on your stomach, back, or side. The mattress' CertiPUR-US® Certified foams and breathable Quilted Cooling Cover work together to stay calm, evenly distribute your weight, and contour the body's unique shape to help relieve pressure points and tired muscles.
The Nectar Premier Copper mattress has been specifically designed to create the perfect balance of firm support and soft, cradling comfort with super cooling.
Besides, it offers a lot.
Nectar Premier Copper Memory foam is Ideal for the people
All sleepers/Combination sleepers
Hot sleepers
Searching comfortable design –a balance between softness & support
Not so ideal for the persons
 Stomach Sleepers
Extensive hot sleepers
Searching mattress on a low budget
Firmness
Whether a mattress feels firm or soft is relatively subjective. All beds should support body weight, promote healthy spinal alignment, and ensure comfortable and restful sleeping. Whether a mattress is fluffy and plush (what mattress companies call soft or plush) or less so (what companies call firm) is purely defined based on personal preferences.
Nectar mattresses are medium-firm beds. The brand has designed them to feel this way by crafting a blend of firm support and comfort layers that should match most sleepers. Medium-firm beds are the most popular choice accommodating the majority of sleepers. As per industry standards, Medium-firm beds are within a 6 or 6.5 on a firmness scale of 10. The Nectar's medium-firmness may not suit some sleepers, like heavy folks over 300 pounds. Heavier sleepers usually enjoy firmer beds to prevent sinking too deep into the bed.
Nectar Premier Copper is luxurious but highly supportive. Nectar is intended for excellent long-term support with true top layer comfort infused with copper fiber -the latest sleep fabric technology.
Material & Construction
To experience a calm delightful sleep, the Nectar Premier Copper Memory Foam mattress is a great choice. The thickness of the Nectar Premier Memory Foam mattress is  14-inch.
Each Nectar mattress has a distinctive design to help enrich sleep quality. Sleep quality and duration are essential to improve physical, mental, and emotional health. Having more energy, better cognitive function, and a happier mood are all linked to an individual's sleep. For a refreshing sleep, you must decide which Nectar model best suits your needs.
The Nectar Premier Copper has five performance layers, comprising a poly-blend cover with polyethylene and copper, which provides that cool-to-the-touch feeling to keep you cooler while you sleep. The Nectar Premier copper's foam layers consist of 4-inch gel-infused memory foam with phase change material enhanced cooling, a 1-inch soft transition foam for that "just right" feeling, and a 9-inch firm base foam, all supported held tightly together by the bottom cover layer. The Nectar Premier Copper mattress has been specifically designed to create the perfect balance of firm support with soft, cradling comfort. Moreover, all of the foams used in the Nectar mattress are CertiPUR-US® certified.
Let's dig into the details of the constitution of the mattress –
Layer 1: Quilted Cool Cover with Copper

The soft, breathable poly-blend cover is heat-wicking and infused with cooling technology.

Layer 2: Nectar Smart Layer With ActiveCool HD

This 4 inches of gel-infused memory foam with phase-change material. (Designed in labs to react to your rising and dropping body temperatures, auto-adjusting to your body heat as you sleep.)

Layer 3: Dynamic Support Layer

With 1 inch of dynamically adjusting foam, there is a more excellent bounce. This gives the adequate support one's body needs to relax into a deep sleep.

Layer 4: Stay-Stable Baselayer

This sturdy 9-inch layer of standard foam ensures the comfort and support layers above it perform at their best.

Layer 5: Shift-Resistant Lower Covering

No slip-and-slide here. Your mattress stays compact, no matter how much you jump on it.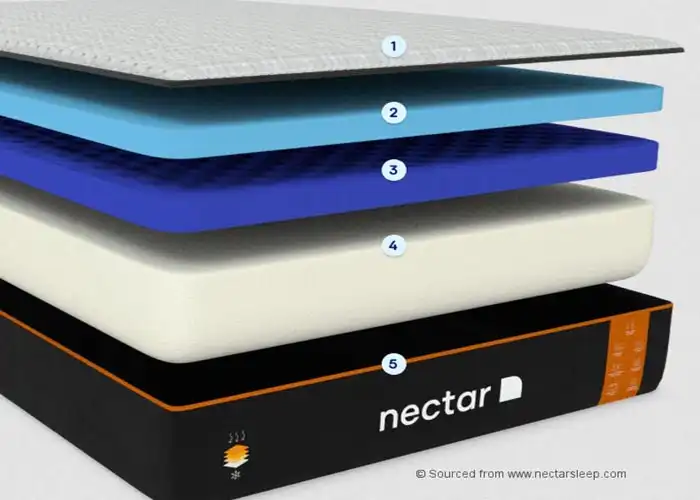 Rating
Nectar Premier Copper Mattress
Materials & Construction (1=Least, 5=Best)
Repositioning (1=Least, 5=Best)
Comfort (1=Least, 5=Best)
Cooling (1=Least, 5=Best)
Motion Isolation (1=Least, 5=Best)
Edge Support (1=Least, 5=Best)
Overall Rating
4.13/5
Rating Scale: 1 = Average, 2 = Good, 3 = Very Good, 4 = Excellent, 5 = Winner
Repositioning
Repositioning means that sleepers can change position easily. many people toss and frequently turn while sleeping.
To move around on the mattress should not be tough as layers offer natural bounce and the denser support layer.
Nectar mattresses offer good ease of movement. Beds with latex material or inner springs are more bouncy. While Nectar is without these materials, it is firm enough that sleepers are not trapped in the bed and can move easily. Combination sleepers and couples like the mattress for responsiveness and repositioning.
While sleeping on a traditional memory foam mattress, sleepers experience the sensation of changing positions. The slow reaction of memory foam comes with the territory of deeply contouring and conforming foams, but the responsiveness of the Nectar Premier Copper mattress is excellent. Though not the bounciest, sleepers will not find difficulty changing positions while sleeping.
Comfort, Back Support, Pressure Relief
Generally, foam mattresses, particularly memory foam mattresses, tend to cradle the sleeper's body, redistributing body weight. This can help relieve aches and pains in the mattress areas that exert the most force.
Nectar has around 5 inches of layered memory foam with strong contouring as an all-foam mattress. The sleeper's body heat, as well as the body weight, get well distributed. It wraps the sleeper into a sleeping position rather than resisting it. The "wrapping-in" of the mattress results in a heat trap that may make some of the sleepers slightly uncomfortable. Nectar tries to make up for this with its poly blend cover, allowing increased airflow. It also has the quilted gel memory foam layer, intended to pull away heat from the body. This makes it superior to other memory foam mattresses.
Back Sleepers: People who sleep on their back tend to require more support — particularly around the hips, which may sink into softer mattresses and prevent proper spinal alignment. A nectar mattress is a medium-firm mattress that allows good upward thrust to the hip area to keep the spine aligned. Back sleepers also require minor pressure relief, as the position causes fewer pressure points than other sleep styles.
Side sleepers: Side sleepers may have a challenge with Nectar. Since the top comfort layer is made entirely of foam, which is firm across the entire surface area, it may reflect pressure on the shoulder area and not allow the body's upper portion to sink in. It may create pressure points and reduce pressure relief.
Stomach sleepers: Ensuring good spinal alignment for stomach sleepers can often be trickier as the hips can tend to sink too far with some mattresses. Stability and support are crucial for "stomach sleepers" not to cause back or hip pain. A medium-firm configuration prevents lightweight stomach sleepers from sinking in and creating a spinal curvature.
Heavy sleepers: Nectar Premier Copper Med-Firm with 14-inch thickness for heavy people. In general, the 14-inch Nectar supports weights over 300 pounds.
Cooling & Temperature Control
Nectar mattresses have good temperature control regulation. Although cooling is not as good as a hybrid, Nectar still emphasizes cooling in its designs. All Nectar beds have gel-infused memory foam layers. The infused gel acts as a cooling mechanism that prevents the memory foam from trapping heat. Nectar has two upgrade options with other cooling features for extra hot sleepers. These are the Nectar Premier and Nectar Premier Copper.
While Nectar uses cooling materials in the cover, Nectar Premier Copper builds on this by using ActiveCool memory foam with Copper fiber, which dynamically adjusts to individual body heat. So if you sleep hot, it wicks your heat and stores it. If you sleep cool, it discharges stored heat to help warm you. The brand ensures all sleep uniformly and wakes up refreshed to carry on with life.
Motion Isolation and Sharing a Bed
This category rates how well a mattress can prevent other sleepers in a bed from feeling when their sleep partner rolls over, shifts, or changes positions.
Nectar Premier Copper will be the right choice for those who want undisturbed sleep, particularly in bed-sharing. Generally, foam mattresses are ideal for their motion isolation properties. The gel-infused memory foam in Nectar Premier Copper minimizes the impact of moving from one area to the other. This helps in the sound sleep of each bed-sharing partner while one is getting down the bed or changing positions.
Edge Support
The Nectar Premier Copper offers steady and firm support edge to edge. Unlike traditional spring mattresses, those may sag or dip at the border or in the middle – wherever there is a lot of force- Nectar's unique foam technology provides consistent and perfect firmness from the perimeter right up to the center.
Recommendation based on sleeping style
Young or old, nobody is immune to back pain, whether chronic or temporary. It is essential to pay attention to where you put your head (and back).
Let's get a clear idea about the Sleeping style.
Side Sleepers: Side sleepers weighing over 130lbs shall find this mattress exceptionally comfortable. The soft memory foam layers enable the sleeper to sink into the bed and relieve pressure near the shoulder and hips. The mattress is medium-firm in feel and offers the right amount of spinal alignment while sleeping.
Back Sleepers: Back sleepers generally require a medium-firm mattress that promotes comfortable spinal alignment. People who weigh less than 230lbs shall find this mattress suitable and comforting. But those weighing over 230lbs might feel the Nectar Premier Copper Mattress is too soft and prefer a firmer variant.
Stomach Sleepers: A firm mattress offers stomach sleepers more support and prevents the spine from bending uncomfortably. Stomach sleepers weighing over 130lbs might not find this mattress as comforting. However, the Nectar Premier Copper Mattress is firm enough for those considering less than 130lbs and offers the right amount of support required by stomach sleepers.
Heavy Sleepers: Nectar is better for people with over 150 lb weight, especially if they side sleepers. People with lighter weight may experience pressure buildup around hips and shoulders.
Combination sleepers: Premier Copper is more responsive than a traditional memory foam mattress. It means movement on the bed is accessible without any trapped in feeling. So, its property makes it worthy for combination sleepers. Specifically, it is suitable for back and side sleepers.
Price
| Size | Dimensions | Weight | Price | Sale Price | Discount |
| --- | --- | --- | --- | --- | --- |
| Twin | 39x75x14 | NA | $1399 | $937 | 33% |
| Twin XL | 39x80x14 | NA | $1449 | $970 | 33% |
| Full | 54x75x14 | NA | $1699 | $1138 | 33% |
| Queen | 60x80x14 | NA | $1799 | $1205 | 33% |
| King | 76x80x14 | NA | $2099 | $1406 | 33% |
| Cal King | 72x84x14 | NA | $2099 | $1406 | 33% |
Get Coupons
x
Nectar Offers
33% Off Everything! Prices Starting From $359.
Coupons & Deals
33% Off Everything! Prices Starting From $359.
Check Other Nectar Mattress Models