Methodology
We gather information on mattress industry, product, pricing, customer reviews and financial information from more than 50+ websites daily through our automated "bots" and use advanced data analytics techniques to evaluate and rate mattresses.

Updates
Our reviews are updated at least once a week in cases of changes, product releases, and new insights gathered from analyzing our data set.

Format
We present our mattress reviews in a Q&A format with the intent of mirroring the thought process of how customers make mattress purchase decisions
FIRMER WinkBed
By Brand: WinkBed
$

1799

$

1499
WinkBed deals Coupons
$300 off on all mattresses.
Product Description
The New York based brand Winkbeds started its journey in 2014. It is a direct-to-consumer mattress and bedding brand. Winkbeds is an e-com company that creates luxury mattresses at an unbelievable price tag.
The Winkbed mattress is made with scientific technology that provides optimum cooling, comfort. Manufacturing is with ECO friendly materials that are safe for us as well as mother Earth.
Winkbeds deals with the following mattresses
GravityLux- all-foam model
Eco Cloud- latex hybrid mattress
WinkBed– Hybrid Model
The Winkbeds are manufactured by seasoned mattress professionals who have been designing and producing mattresses for decades. The Winkbeds is committed to improving sleep quality. Their innovation lies in lifetime-durable hybrid design, 3-step back-relief system™, Triple-Layer HeatDisperse™ material, and patented coolControl™ base. You'll wake up fully rejuvenated and ready for the day.
This article will look deeply into The Winkbed Mattress's construction performance for various sleeping positions.
Material: HYBRID – Foam + Coil
The WinkBed is a hybrid mattress made up of both springs and foam. A bestseller from the brand. It is available in four different types: —softer, luxury firm, firmer, and the Plus, which is specifically designed for heavier sleepers. The Winkbed is for all. Depending on the sleeping style and body weight, folks get the option to select theirs.
Sizes: Winkbed is available in all regular sizes: Twin, Twin XL, Full, Queen, King, Cal King, Split King
Pricing: Depends on size
Shipping & Delivery: Free
Trial & Return: 120-day trial, full refund, and pickup
Warranty: Lifetime mattress warranty
Pros & Cons
The Winkbeds brand truly believes in providing a better night's sleep, leading to better health and quality of life. The brand designs its mattresses with that goal in mind.
Besides, it offers a lot.
Winkbed is Ideal for the people
All sleepers- option to select a firmness
Hot Sleepers
Tends to sit or sleep at the edge
Searching perfect equilibrium in bounce, pressure relaxation
 Not so ideal for the persons
Preferring only memory foam
Searching budget-friendly mattress
Firmness
Whether a mattress is firm or soft is relatively subjective. All mattresses should support body weight, promote healthy spinal alignment, and ensure comfortable and restful sleeping. Whether a bed is fluffy and plush (what mattress companies call soft) or less so (what companies call Firm) is purely defined based on personal preferences.
The WinkBed is available in four firmness choices: Softer, Luxury Firm, Firmer, and PLUS. The rating is on the firmness scale of 1-10. The Softer version scores 4.5 on the 10-point firmness scale, indicating a medium-soft feel. The Luxury Firm is at a 6.5, ideal medium firm. The Firmer option is at 7.5, and PLUS scores 8, making both a really firm and hardier.
This firmness is regulated with variations in constructions for the intended feel. The Softer, Luxury Firm and Firmer options contain polyfoam, micro-coils, and a pocketed coil core. Only the PLUS version of the mattress includes latex along with polyfoam and a pocketed coil core.
Softer for people
Lightweight under 130 pounds
Searching for a softer sleep surface
Require more motion isolation
Luxury Firm is ideal for
Back sleepers under 130 lbs
Average weight group Side Sleepers
Couples who have dissimilar weights and sleeping positions
Firm is for
Heavy people within 230 pounds
Average weight Back & stomach sleepers
Plus is for people
Heavy people weighing more than 230 pounds
Average weight stomach sleepers.
Material & Construction
The Winkbed is a 14-inch tall hybrid mattress. It comes with a Tencel cover for improvising sleep and speeding up muscle relaxation. The beds constituted gel-infused memory foam (to promote cooling) and encased coil layer. It has four firmness kevels with a slight difference in the construction.
Softer, Luxury Firm and Firmer options consist of polyfoam, micro-coils, and pocketed coils.
The PLUS contains polyfoam, latex, and pocketed coils.
Let's dig into the details of the constitution of the mattress –
Layer 1: TENCEL® COVER: The Mattress comes with a cover derived from Tencel©, a eucalyptus-based performance fabric. This cover is designed to wick body heat from the sleeper's body. It helps sleep more deeply with temperature regulation.
Layer 2: Euro-Pillow Top with Gel Infused Foam: This comfort layer consists of plush quilted Euro-pillowtop ensures sleepers' back, hips and shoulders receive superior cushioning and support — and eases muscle tension.
Layer 3: Individually Wrapped Pocketed Coils: This Support core layer is with numerous support zones provide targeted back support that pushes back in areas with more significant pressure while plying in areas with lighter pressure. The coil system increases airflow in the mattress, which is one of the benefits of a hybrid mattress, adding to temperature regulation.

Softer
Pocketed Coils (5 Zones)
Luxury Firm
Pocketed Coils (5 Zones)
Firmer
Pocketed Coils (7 Zones)
PLUS
Pocketed Coils (3 Zones)

Layer 4: Extra Edge support System: This ensures people Sleep all the way to the periphery of the bed and no sagging or feeling like you may roll off.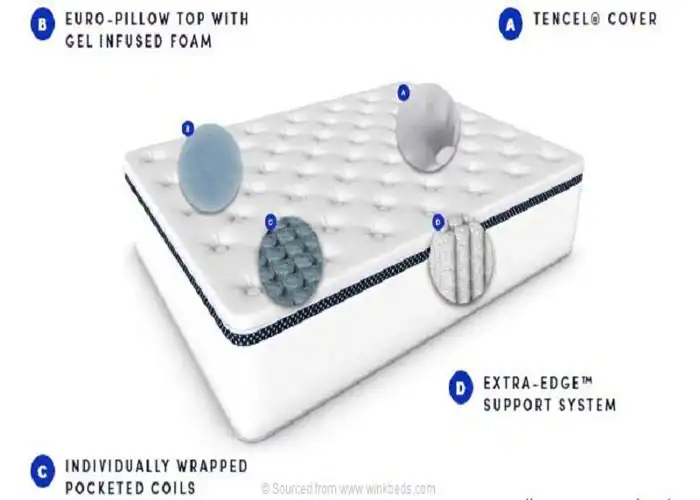 Rating
FIRMER WinkBed
Materials & Construction (1=Least, 5=Best)
Repositioning (1=Least, 5=Best)
Comfort (1=Least, 5=Best)
Cooling (1=Least, 5=Best)
Motion Isolation (1=Least, 5=Best)
Edge Support (1=Least, 5=Best)
Overall Rating
4.17/5
Rating Scale: 1 = Average, 2 = Good, 3 = Very Good, 4 = Excellent, 5 = Winner
Repositioning
Repositioning means sleepers can change position quickly. many people toss and frequently turn while sleeping.
Comfort layers in the three softest versions of the Winked Mattress combine polyfoam and micro coils .this comfort layer bounces to its original shape quickly when a sleeper moves. Winkbeds get a more responsive feel than many hybrid mattresses, especially those with dense comfort systems of close-conforming memory foam, making it easier to move around on the surface.
In the case of the softer version, another extra layer of transition polyfoam is present. It increases comfort, but sleepers may experience a bit more opposition while moving or switching positions.
Comfort, Back Support, Pressure Relief
Generally, foam mattresses, particularly memory foam mattresses, tend to cradle the sleeper's body, redistributing body weight. It can help relieve aches and soreness in the Mattress areas that exert the most force.
Back Sleepers: People sleeping on their back tend to require more support — particularly around the hips, which may sink into softer mattresses and prevent proper spinal alignment. Sleepers sleeping on Winkbeds mattress will get enough firmness or back support. It is mainly for all weight groups with four firmness levels.
Side sleepers: Side sleepers will significantly appreciate the Winkbed hybrid. They get a chance to select the firmness level as per their lifestyle preference. The zoned support in the coil system allows the mid-section and the shoulder to sink appropriately for optimal pressure relaxation.
Stomach sleepers: Attaining good spinal alignment for stomach sleepers can often be trickier as the hips can tend to sink too far with some mattresses. Stability and support are crucial for "stomach sleepers" not to cause back or hip pain. Winkbed- the luxury firm is suitable for the majority of stomach sleepers but may create challenges for heavy sleepers who may select the firmer models. With seven zones of backing in the spring system and comfort layers for pressure relaxation, this bed maintains a healthy spinal alignment.
Combination Sleepers:  Winkbeds is quite comfortable for the majority of combination sleepers in any weight group. This is mainly due to the quick response and the extra bounce.
Heavy sleepers: These categories classically need firmer beds to avoid getting too deep into the mattress. The Luxury Firm is excellent for most sleepers, but anyone significantly heavier might opt for the Plus or the Firmer model for more support.
Cooling & Temperature Control
Hybrid mattresses are considered more breathable compared to all-foam models. This happens with the WinkBed. The WinkBed helps the majority of sleepers enjoy a calm, relaxed sleep.
A Tencel cover is present in all the firmness types. A fabric capable of pulling heat away from the sleeper's body, giving a fantastic night's sleep.
The pillow tops present in the Softer, Luxury Firm, and Firmer choices use polyfoam with gel infusion. This helps to reallocate body heat instead of trapping it against the sleeper's body. The nano coil layer permits further air circulation, so that heat dissipation is faster from the mattress.
The PLUS version comfort system consists of polyfoam and latex. Breathable polyfoam does not trap a lot of heat compared to memory foam. The latex layer with an open-cell structure increases the air circulation through the material can help remove heat buildup.
As a hybrid mattress, it has a coil core, which promotes significant airflow, further cooling the bed.
Motion Isolation and Sharing a Bed
This category rates how well a mattress can prevent other sleepers in a bed from feeling when their sleep partner rolls over, shifts, or changes positions.
Being a hybrid mattress, there are coils in the base/support layer, but the motion transfer felt across the soft, luxury firm, and firm mattresses are virtually negligible. The bed tends to engross motion and helps reduce the sensation of movement across the other side of the mattress. The best performer label here goes to the softer variant. The plus-type mattress also absorbs motion transfer, but not as good as the former one. Partners should definitely be mindful when planning to buy a bed and keep in mind the above-stated experience.
SLEEPCALM™ MOTION ISOLATION TECHNOLOGY-Speciality of Winkbed. Here a coating of stabilizing gel foam on top high-grade steel pocket coils lowers motion transfer and disturbance from a restless partner.
Edge Support
The Winkbed mattress is with a reinforced coil system, which helps provide a feeling of stability and safety to the sleeper. The mattress neither collapses nor makes you roll off near the border. Though the softer version might crumple down a bit when one is sitting, that would be it. All Winkbed mattresses offer a decent amount of edge support in comparison to a lot of hybrid mattresses available in town.
The exceptional EXTRA-EDGE™ ANTI-SAG SUPPORT Provides firm support at the outer edges of your mattress, so you can sleep all the way to the edge without feeling like you may roll off.
Recommendation based on sleeping style
Young or old, nobody is immune to back pain, whether chronic or temporary. It is essential to pay attention to where you put your head (and back).
Let's get a clear idea about the Sleeping style depending on the firmness variations.
Side sleeper:  There are four different variants of the mattress to cater to the needs of people; some variants are more suitable for certain people than others.
The softer mattress is an ideal mattress for lightweight side sleepers (below 130 pounds)
The luxury firm caters to nearly all types of sleepers but is an ideal choice for average-weight sleepers (130-230 pounds)
The Firm and plus variety are a good choice for anyone who weighs above 230 pounds to let them enjoy optimum pressure relaxation on their sides
Back sleeper:  Heavier weight people, i.e., weighing more than 230 pounds, find comfort while sleeping on their back on either the Firm or the Plus
Average weight people, i.e., between 130-230 pounds, shall find the Luxury firm catering best to their needs. They won't experience excessive sinkage, and their body shall remain in healthy alignment.
Lightweight people (Below 130 pounds) shall opt for the softer version since it is plush and would offer the perfect contouring and support they are looking for.
Stomach sleeper:  In general, people tend to carry a lot of weight around their mid-section, and they need a mattress that offers them optimum support near that section and also offers healthy spinal alignment. All the Winkbed beds come with a zoned support coil system, which supports the lower body of the sleeper while sleeping.
Lightweight stomach sleepers (below 130 pounds) shall opt for the softer version.
The average or heavier weight people might prefer options from Luxury firm to Plus, depending upon their personal requirements.
Price
| Size | Dimensions | Weight | Price | Sale Price | Discount |
| --- | --- | --- | --- | --- | --- |
| Twin | 13.5 x 38 x 75 | 75 lbs | $1149 | $849 | 26% |
| Twin XL | 13.5 x 38 x 80 | 85 lbs | $1249 | $949 | 24% |
| Full | 13.5 x 54 x 75 | 120 lbs | $1499 | $1199 | 20% |
| Queen | 13.5 x 60 x 80 | 135 lbs | $1799 | $1499 | 17% |
| King | 13.5 x 76 x 80 | 145 lbs | $1999 | $1699 | 15% |
| Cal King | 13.5 x 72 x 84 | 145 lbs | $2049 | $1749 | 15% |
Coupons & Deals
$300 off on all mattresses.
Check Other WinkBed Mattress Models