Methodology
We gather information on mattress industry, product, pricing, customer reviews and financial information from more than 50+ websites daily through our automated "bots" and use advanced data analytics techniques to evaluate and rate mattresses.

Updates
Our reviews are updated at least once a week in cases of changes, product releases, and new insights gathered from analyzing our data set.

Format
We present our mattress reviews in a Q&A format with the intent of mirroring the thought process of how customers make mattress purchase decisions
Amerisleep AS2 Mattress
By Brand: Amerisleep
$

1299

$

849
Amerisleep deals Coupons
$450 off on all mattresses using coupon.
Save 30% on Adjustable Bed Packages.

Get Coupons

x

$450 off on all mattresses using coupon.
Save 30% on Adjustable Bed Packages.

Copy and Paste the Promotion Code below

Copy Code Continue to Store

Amerisleep Offers

$450 off on all mattresses using coupon.
Save 30% on Adjustable Bed Packages.
Product Description
Amerisleep is another renowned name in the bed-in-box brands. With a simple design and proprietary memory foam and hybrid mattresses, they cater to a vast majority of sleepers.
Amerisleep has expanded its mattress range and now supports six mattress lines:
Amerisleep AS1 – Firmest
Amerisleep AS2 – firm (Best for Back Sleepers)
Amerisleep AS3 – medium (most popular)
Amerisleep AS4 – soft
Amerisleep AS5 – extra soft and most advanced
Organica Mattress- Hybrid mattress with Natural Latex
This article will review the Amerisleep AS2 in-depth in terms of firmness, cooling, construction, pricing, etc. Do keep reading to help you decide if it suits you or not.
The AS2 from Amerisleep is a medium-firm mattress. It offers pressure relief at the right points with a reduction in heat build-up. The thickness of the mattress is 12 inches, and it is compatible with many different bed frames. It is most suitable for back sleepers. AS2 is a good choice for those who like how memory foam feels but is not comfortable sinking too much into it. The AS2 offers some contouring, but you can still move quickly.
There is no unusual noise from the mattress that can disturb your sleep.
Materials: Foam and Hybrid
Sizes: Twin, Twin XL, Full, Queen, King, Cal King, Split King
Pricing: Depends on size & variety
Shipping & Delivery: Free
Trial & Return: 100-day trial, full refund, and pickup
Warranty: 20 years limited mattress warranty
Pros & Cons
AS2 mattress from Amerisleep offers a lot to the shoppers.
The ideal customers for AS2 mattresses are
those suffering from back pain
those who like an option between all foam and hybrid
those who are heavyweight
those who love plant-based natural products
hot sleepers
those who suffer from pain in the neck and lumbar areas
The not so ideal customers for AS2 mattresses are
those who prefer thick mattresses over thin
strict side or combination sleepers preferring Side sleeping
Those who want to sink in rather than feel like floating.
Firmness
AS2 from Amerisleep is a medium-firm mattress. It falls evenly between firm and medium. AS2 mattress gets a score of 5-6 on a scale of 10. It provides a bit more compliance than its brother AS1.
AS2 caters to back and stomach sleepers. Few side sleepers feel comfortable using AS2 as they switch sides frequently.
AS2 Hybrid: In principle, the same mattress, the AS2 hybrid has an extra feature – a coil system. The difference is minor. The bounciness is more compared to the full-foam AS2. It is a good option for heavier individuals that need more support.
Material & Construction
The AS2 from Amerisleep is a three-layer mattress with 12-inch in height.
Cover: The top layer is ultra-breathable material to prevent heat build-up. It makes the mattress ideal for people who sleep hot. It is a zippered cover, removable and washable. Washing makes it hygienic, and it's easy to remove the stains from spills. You can choose any mattress protector for the new mattress for extra safety. Celliant, a cooling and blood flow-promoting substance, is used in this product.
Layer 1: This 2-inch layer offers an attractive cooling effect due to Bio-Pur's open-cell structure. It contours to the body and is instrumental in relieving pressure points. It bounces back so fast that you won't feel stuck at night.
Layer 2: HIVE technology helps to enable the 3-inch HIVE transition layer. It has hundreds of foam hexagons with five distinct comfort zones. The comfort zones provide extra cushioning to the head, shoulders & back, hips, upper leg &knee, and lower leg.
Layer 3: The Bio-core 7-inch layer makes the mattress durable and provides overall support. It has a density of 1.8lbexcessive sinkage and sagging due to pressure.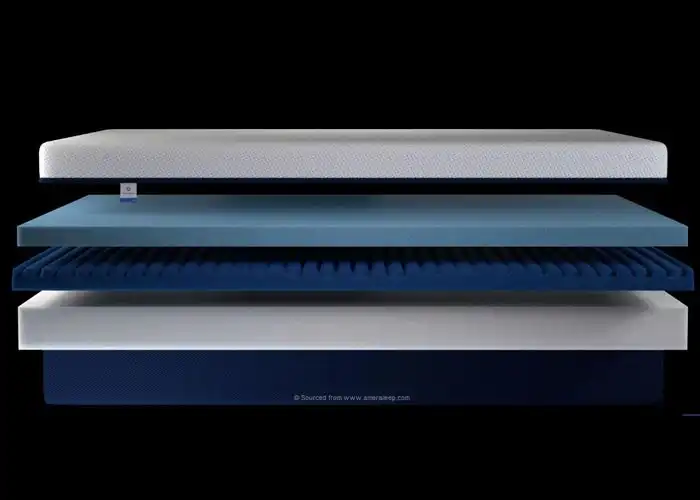 The Hybrid variety has a different structure after Layer 1—
The height is 12-inch.
Layer 2: This Affinity Foam transition layer, which is firm and supportive, adds durability to the mattress and gives general support to the coils. It inhibits excessive sinkage and drooping and the formation of soft patches due to pressure over time. The mattress is popular with back and stomach sleepers due to its layer.
Layer 3: This 8-inch pocketed coil layer provides responsive bounce. This layer provides comfort, pressure reduction, and motion isolation for the sleeper. It features a sturdy coil edge support that makes it simpler to get in and out of bed. For further help, a small layer of transition foam runs down the sidewalls. It also improves the bed's durability and resilience.
Layer 4: This 1-inch layer adds durability to the mattress and offers general support for the coils. It avoids excessive drooping and sinkage as a result of pressure.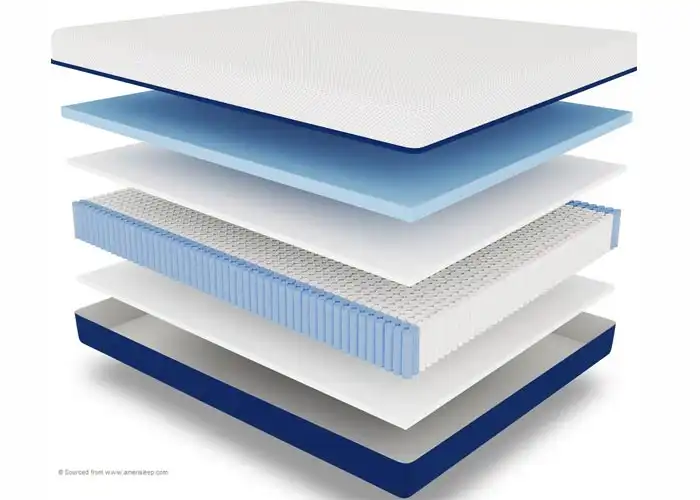 Rating
Amerisleep AS2 Mattress
Materials & Construction (1=Least, 5=Best)
Repositioning (1=Least, 5=Best)
Comfort (1=Least, 5=Best)
Cooling (1=Least, 5=Best)
Motion Isolation (1=Least, 5=Best)
Edge Support (1=Least, 5=Best)
Overall Rating
3.92/5
Rating Scale: 1 = Average, 2 = Good, 3 = Very Good, 4 = Excellent, 5 = Winner
Repositioning
The all-foam model AS2 is average in repositioning and responsiveness.
In the Hybrid variant, pocket-coil springs give responsive support with additional bounce.
Comfort, Back Support, Pressure Relief
The all-foam mattress is specially grouped into five targeted comfort zones to provide extra support to the pressure points at your head, shoulders, back, hip and legs. It helps in the alignment of the spine. The ultra-breathable layer on the top and the Bio-Pur layer helps to sleep cool all night. The Bio-Pur layer responsiveness relieves pressure sores and prevents heat build-up.
Pocket-coil springs give responsive support with an additional bounce in the Hybrid version. The spring layer comprises long-lasting pocket coils that won't droop or develop soft areas over time. Amerisleep's pocketed coil technology, on the other hand, provides bouncing support from head to toe, keeping the body straight and raised. These coils gently compress to alleviate pressure spots that cause discomfort. The pocketed coil design includes double-density coils on your mattress's left and right edges to provide edge support.
Cooling & Temperature Control
Temperature control on the AS2 is slightly better for a memory foam bed. It is due to a blend of factors like
The Medium Firmness and mild contouring leave space for cold air to circulate the body.
The open-cell of proprietary Bio-Pur memory foam cuts down, to a great extent, the heat retention in the top layer.
On the top, the cover is very breathable, helping in cooling.
In the Hybrid variant, individual coils allow for more ventilation beneath the higher foam layers to keep you cool.
Motion Isolation and Sharing a Bed
The mattress is particularly good at keeping motion transfer at the minimum. The Bio-Pur layer gives a bouncy effect and is very responsive. This layer absorbs the motion, and the mattress regains its original shape in a few seconds of disturbances. The foam layers inhibit any noise produced by moving around.
Individual coils limit motion transfer and provide a more localized cushion in the Hybrid version.
Edge Support
The AS2 mattress offers proper edge support around its perimeter. The HIVE layer's extra backing at the head and foot provides more excellent edge support around those regions. The 7-inch base layer gives ample all-over support along the edges. It does not let to feel sinkage when sitting or sleeping along the perimeter.
The Hybrid Model also has firm coil edge support.
Recommendation based on sleeping style
No matter what position we sleep in, we all need to sleep well so our bodies can heal and rejuvenate. There are three sleep postures: Side, back, and stomach sleepers. Therefore, all three have different needs and specific experiences regarding the comfort, support, and flexibility that the mattress should offer them.
Side sleepers: This mattress might not be the right choice for side sleepers. Side sleepers might experience pressure sores at their hips and shoulders. It can hamper their spinal alignment.
Back Sleepers: The AS2 mattress is best suited for back sleepers. It provides ample support to the back and hips. The hips also get proper cushioning and keep the spine properly aligned.
Stomach sleepers: Stomach sleepers can get optimum support and cushion at their hips. However, stomach sleepers might as well like a firmer mattress than AS2.
Combination Sleepers: Sleepers changing positions frequently also can comfortably use the AS2. Combination sleepers preferring side sleeping positions can choose from AS3 or AS3 hybrid.
Heavy Sleepers: an AS2 Hybrid is a good option.
Price
| Size | Dimensions | Weight | Price | Sale Price | Discount |
| --- | --- | --- | --- | --- | --- |
| Twin | 38 W x 74 L x 12 H | NA | $1049 | $599 | 43% |
| Twin XL | 38 W x 80 L x 12 H | NA | $1099 | $649 | 41% |
| Full | 54 W x 75 L x 12 H | NA | $1249 | $799 | 36% |
| Queen | 60 W x 80 L x 12 H | NA | $1299 | $849 | 35% |
| King | 76 W x 80 L x 12 H | NA | $1599 | $1149 | 28% |
| Cal King | 72 W x 84 L x 12 H | NA | $1599 | $1149 | 28% |
Get Coupons
x
$450 off on all mattresses using coupon.
Save 30% on Adjustable Bed Packages.
Copy and Paste the Promotion Code below
Copy Code
Continue to Store
Amerisleep Offers
$450 off on all mattresses using coupon.
Save 30% on Adjustable Bed Packages.
Coupons & Deals
$450 off on all mattresses using coupon.
Save 30% on Adjustable Bed Packages.
Check Other Amerisleep Mattress Models