Methodology
We gather information on mattress industry, product, pricing, customer reviews and financial information from more than 50+ websites daily through our automated "bots" and use advanced data analytics techniques to evaluate and rate mattresses.

Updates
Our reviews are updated at least once a week in cases of changes, product releases, and new insights gathered from analyzing our data set.

Format
We present our mattress reviews in a Q&A format with the intent of mirroring the thought process of how customers make mattress purchase decisions
Amerisleep AS3 Mattress
By Brand: Amerisleep
$

1749

$

1299
Amerisleep deals Coupons
$450 off on all mattresses using coupon.
Save 30% on Adjustable Bed Packages.

Get Coupons

x

$450 off on all mattresses using coupon.
Save 30% on Adjustable Bed Packages.

Copy and Paste the Promotion Code below

Copy Code Continue to Store

Amerisleep Offers

$450 off on all mattresses using coupon.
Save 30% on Adjustable Bed Packages.
Product Description
Amerisleep is another renowned name in bed-in-box brands. With a simple design and proprietary memory foam and hybrid mattresses, they cater to a vast majority of sleepers.
Amerisleep has expanded its mattress range and now supports six mattress lines:
Amerisleep AS1 – Firmest
Amerisleep AS2 – firm (Best for Back Sleepers)
Amerisleep AS3 – medium (most popular)
Amerisleep AS4 – soft
Amerisleep AS5 – extra soft and most advanced
Organica Mattress- Hybrid mattress  with Natural Latex
This article will review the features of Amerisleep AS3 in-depth in terms of firmness, cooling, construction, pricing, pros, and cons, etc. Do keep reading to help you decide if it suits you or not.
The Amerisleep AS3 mattress is a medium memory foam mattress. It is suitable for all sleeping positions. The bed offers balanced comfort and support. The 12-inch thick mattress also gives a cooling effect with maximized airflow.
AS3 is available in 2 versions: All foam and Hybrid
Both the variants offer sleepers options based on sleeping position, weight, and personal preferences.
Material: All-Foam and Hybrid
All-Foam: The All-Foam model has a soft and ultra-breathable cover. It has a Comfort Layer made of plant-based and open-celled Bio-Pur foam, a zoned Hive Transition Layer, and a dense Bio-core foam support layer.
Hybrid: The Hybrid model has a soft and ultra-breathable cover. It has a Comfort Layer made of plant-based and open-celled Bio-Pur foam, Pocketed Coil Layer for a responsive bounce with a firm Coil Edge Support, and a thin Transition Foam Layer for boosted support & structure for integrity.
Sizes: Amerisleep AS3 is available in regular sizes: Twin, Twin XL, Full, Queen, King, Cal King, Split King
Pricing: Depends on size & variety
Shipping & Delivery: Free
Trial & Return: 100-day trial, full refund, and pickup
Warranty: 20 years limited mattress warranty
Pros & Cons
AS3 from Amerisleep is a pretty simple model, yet it is the brand's best-seller. It is so popular amongst the shoppers that there is always a supply shortage. It offers a lot to its customers.
Recommendation for sleepers, who
Sleep in different styles
Like to choose from the all-foam and Hybrid options available
Use plant-based natural material
Are Hot Sleepers (particularly the AS3 Hybrid)
Prefer deeper contouring
Enjoy a bouncy bed (the AS3 Hybrid)
And less ideal for sleepers, who
Are edge sleepers as edge support is not that great
Preferring a slow-moving foam feel
Lie down on their stomachs
Like a too soft or too firm mattress
Firmness
It might be subjective to tell if a mattress is firm or soft. All beds should support weight, promote appropriate spinal alignment, and give a comfortable and restful night's sleep. Whether a mattress is fluffy and spongy (what mattress companies call soft or plush) or less so is a matter of personal preference (what firms call firm).
AS3 comes in 2 varieties– an all-memory foam mattress and a hybrid.
AS3 All-Foam is defined as medium-firm compared to the industry standard for determining firmness with s. For back sleepers, this is the firmness that works best. The top layer of Bio-Pur foam provides mild body contouring and pressure alleviation, while the spine feels well supported. The AS3 is one of the finest mattresses for back sleepers among the Amerisleep series.
AS3 Hybrid is also a medium-firm memory foam hybrid mattress that offers a great combination of comfort and support. The AS3 Hybrid is neither too hard nor too soft. The Bio-Pur foam comfort layer is quite soft, yet you can immediately feel the more rigid support layers beneath as you press into the foam. The AS3 Hybrid provides a fantastic blend of comfort and support, ideal for back sleepers. Our hips sank precisely the appropriate amount into the foam comfort layer, and the foam gives some lovely body contouring. Meanwhile, the coils' zoning provides extra support under the lumbar area, assisting in maintaining good spinal alignment.
Material & Construction
The AS3 from Amerisleep is a three-layer mattress with 12-inch in height.
Cover: The top layer consists of ultra-breathable material called Celliant to prevent heat retention. It makes the mattress ideal for people who sleep hot. The coating is also soft-to-touch and lightweight.
Layer 1: This 3-inch layer contours around the body offers an attractive cooling effect due to Bio-Pur's open-cell structure. It also helps in relieving pressure points. It's also CertiPUR-US certified, which means it's low in volatile organic compounds (VOCs).
Layer 2: This 2-inch Hive Transition layer provides added firmness and support through its zoned system. This layer gives extra comfort to your hips and shoulders and support to your head, back, and legs. This layer also reinforces the responsiveness of the Bio-Pur layer.
Layer 3: This 7-inch layer of dense Bio- Core base makes the mattress durable and provides overall support. It prevents excessive sinkage and sagging due to pressure over time.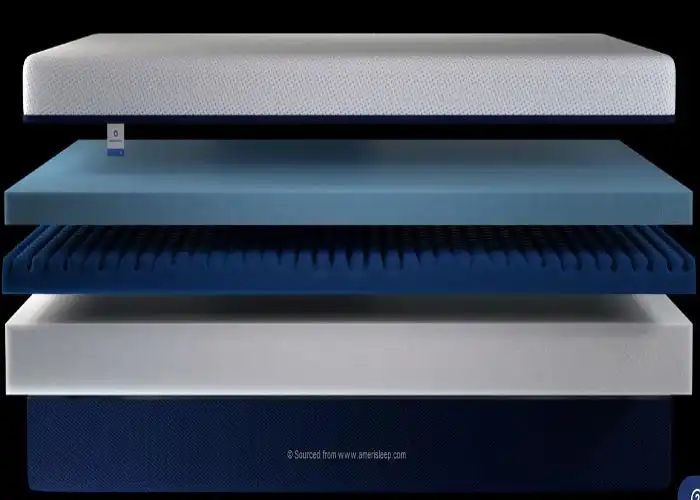 The Hybrid variety has a Pocketed Coil Layer and another additional layer. It is also 12-inch in height.
The Cover and Layer 1 are the same for the Hybrid model.
Layer 2: The Amerisleep AS3 Hybrid has a primary support layer comprised of zoned, pocketed coils beneath the Bio-Pur foam comfort layer. The springs give general structure, bounce, and support, while the zoning provides extra lumbar support by making the core of the mattress stiffer than the remainder of the bed. The coils are encased in foam, which serves to improve the mattress's edge support.
Layer 3: Underneath the coils is a base layer comprised of high-density foam. This layer is for more support and structure in order to maintain integrity.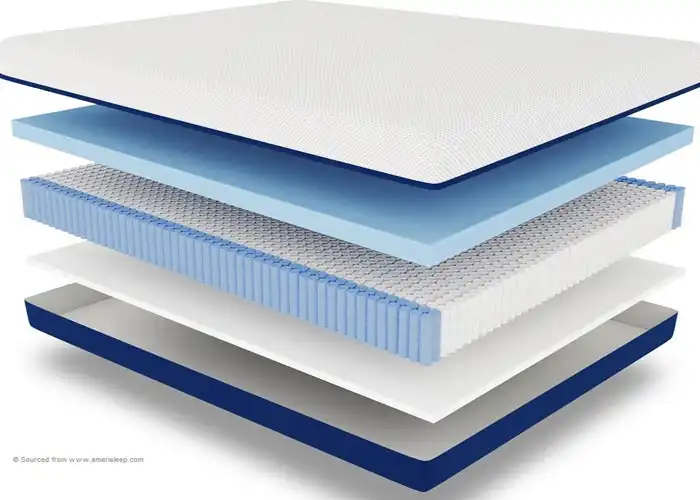 Rating
Amerisleep AS3 Mattress
Materials & Construction (1=Least, 5=Best)
Repositioning (1=Least, 5=Best)
Comfort (1=Least, 5=Best)
Cooling (1=Least, 5=Best)
Motion Isolation (1=Least, 5=Best)
Edge Support (1=Least, 5=Best)
Overall Rating
3.92/5
Rating Scale: 1 = Average, 2 = Good, 3 = Very Good, 4 = Excellent, 5 = Winner
Repositioning
Tossing and turning on the AS3 (both models) while sleeping is neither effortless nor particularly difficult. Even though the memory foam takes time to return to its original shape, the mattress is still medium in firmness. AS3 does not give sleepers trapped in feeling lying in one specific position on the bed. AS3 has moderate responsiveness.
Comfort, Back Support, Pressure Relief
Thanks to this AS3 mattress, the joints are cushioned, and pressure is eased in crucial areas. The mattress's zoned firmness relieves the shoulders and hips while also supporting the head, back, and legs—this aids in maintaining proper spine alignment. The top layer is ultra-breathable, while the Bio-Pur layer keeps you cool all night. The responsive Bio-Pur coating not only prevents heat build-up but also reduces pressure sores.
Maintaining a good spinal position while sleeping is essential for healthy back support. This implies that the mattress must carry the same posture of the spine as when you are standing. Pain, discomfort, lack of circulation, repeated tossing, and other issues can occur when a mattress pushes back against your body with too much power in a concentrated region. In general, side sleepers should be most concerned with "pressure points," as this is the position in which your body's weight is dispersed across the lowest surface area. The capacity of a bed to relieve stress in the shoulders, hips, and lower back is referred to as pressure release. The ability of a mattress to accomplish this is often determined by your weight, sleeping position, and body structure.
Unfortunately, no mattress will provide both of these things equally well to all sleepers. In particular, spinal alignment and pressure-relieving abilities vary among sleepers with different weights, body shapes, and sleep positions.
Back Sleepers: The AS3 is Amerisleep's medium-firm mattress, which is the firmness that most back sleepers prefer. The top layer of Bio-Pur foam provided moderate body contouring and pressure alleviation, while the spine felt well supported. The AS3 is one of the finest mattresses for back sleepers among the Amerisleep series.
The AS3 Hybrid also is medium-firm. It provides a fantastic blend of comfort and support, making it ideal for back sleeping. Furthermore, the coils' zoning provides additional support under the lumbar area, which aids in maintaining good spinal alignment.
Side sleepers: Side sleeping on the Amerisleep AS3 and AS3 Hybrid is also quite pleasant. The thick layer of Bio-Pur foam cushions the joints, resulting in nearly no strain on the shoulders and hips for sleepers. Folks who like a plusher mattress may look at the AS4 or AS5 versions.
Stomach sleepers: Both the all-foam and hybrid varieties of the Amerisleep AS3 do not feel like a good fit for stomach sleeping. The hips sink deep into the mattress due to the thick layer of Bio-Pur foam, which pushes the spine out of alignment. Folks who sleep on their stomach may want to opt for a more supportive mattress for stomach sleepers.
Heavy sleepers: On the Amerisleep AS3, heavyweight sleepers who weigh more than 230 pounds should get spinal support and pressure reduction. Folks who weigh more than that should opt for a mattress that is more supportive for heavy people.
The Amerisleep AS3 Hybrid, with its zoned coils, provides appropriate spinal support for heavyweight back sleepers. Heavyweight side sleepers are more likely to have discomfort around the shoulder and hip because they may press through the softer layers into the more rigid support layers underneath. For heavyweight stomach sleepers, the Amerisleep AS3 Hybrid is definitely not supportive enough; they'll do better on a more supportive mattress for heavier persons.
Cooling & Temperature Control
With excellent motion isolation and contouring, there is a flip side too. AS3 from Amerisleep holds more body heat than AS1 or AS2. As the body sinks deep into the mattress, air circulation around the body is minimized, and cooling is affected. Moreover, as the memory foam is thicker, that layer can hold up more heat during sleeping at night.
With the open-cell design and cotton-blend cover, the AS3 dissipates heat. With this, AS3 is ordinary for temperature control and a problem for hot sleepers.
There are various design aspects on the Amerisleep AS3 Hybrid mattress that help it sleep cooler: The open-celled Bio-Pur foam provides for superb ventilation than standard foams, and the coils allow for plenty of airflows throughout the mattress's middle.
Motion Isolation and Sharing a Bed
The mattress is pretty good at minimizing motion transfer. A thicker memory foam layer enhances motion isolation capabilities. The Bio-Pur layer is very responsive and gives a bouncy effect. The foam layers also inhibit any kind of noise produced due to moving around.
The AS3 Hybrid is excellent at reducing motion transmission. This should be a nice mattress for couples since partners should not disturb each other too much throughout the night.
Edge Support
The AS3 mattress offers adequate edge support around its perimeter. The thicker foam layer makes the bed edges a bit softer. Especially heavier people may find the edges somewhat unstable. However, the 7-inch base layer gives all-over support along the edges.
Strong coils and a foam encasement combine in the Amerisleep AS3 Hybrid mattress to help users feel safe while sitting and resting near the mattress's borders.
Recommendation based on sleeping style
No matter what position we sleep in, we all need to sleep well so our bodies can heal and rejuvenate. The fact is, we shrink by one to two inches during the day. This phenomenon is explained by the compaction of the intervertebral discs following a loss of liquid. The fluid restores the discs during the night. For this to work, sleeping in a good position is essential. What do we mean by a good position? There are three sleep postures: Side, back, and stomach sleepers, and then some who may prefer a combination of such postures. All three have different needs and, therefore, specific experiences regarding the comfort, support, and flexibility that the mattress should offer them.
Side sleepers:The majority of people sleep on the side. In this position, most of the weight of the body rests on the shoulders, hips, and legs. It is, therefore, important that the area of the body can sink properly into the mattress while the waist needs to be supported and the spine aligned. This avoids waking up with pain in the neck and back. The areas that support the neck and pelvis should be flexible and reduce pressure on these areas.
For side sleepers, the AS3 mattress (both variants) is ideal. The transition layer gives the hips and shoulders more support. This prevents pressure from building up in critical areas. If you're a bigger person, though, you might choose softer mattresses than AS3.
Back Sleepers:If you are more of a sleeper lying on your back, it is also necessary that your shoulders and hips can sink far enough into the mattress to avoid painful arches.
Back sleepers will benefit from the AS3 mattress. The body's weight is distributed uniformly, which aids in good spinal alignment. The lower back gets extra padding because of the zoned support.
The zoned support in the coils of the Hybrid version is meant to retain the spine in a neutral posture and provide the pushback support that most guys want. For added support, some heavy-back sleepers may prefer something a little firmer.
Stomach sleepers: In the case of sleeping on your stomach, a less flexible mattress with a good level of firmness is most suitable. This prevents your stomach from sinking in too far, which would reduce your body movements and lead to curvature. This leads to shoulder problems and tension in the neck.
AS3 should provide optimal support and cushion at the hips for stomach sleepers. The hips should not sag excessively. This maintains good spine alignment. A firm mattress, alternatively, can be better for strict stomach sleepers.
The pocketed coils in the Hybrid model should provide some support, but larger stomach sleepers may find this bed to be excessively soft for this posture.
Combination Sleepers-Those who alternate between various positions: Are you one of those people who exhaust the entire range of styles by going from back to stomach, then to the side, then back again in a single night? You are not alone. Studies reveal that majority of people change their position about 20 times a night.
AS3 is appropriate for persons who toss and turn when sleeping, especially those who are low weight or medium weight.
Because it features a fantastic blend of pressure relief and support, the AS3 Hybrid has a lot to offer combination sleepers. Sleepers should be able to move about without feeling trapped in the bed if the mattress is more responsive.
Heavy Sleepers:  Heavy folks, especially those who weigh more than 250 pounds, will not find AS3 to be very comfortable. They can certainly choose different varieties, such as AS4 or AS5, depending on their needs.
With the added support provided by the coils, the AS3 Hybrid is preferable for heavyweight back sleepers.
Price
| Size | Dimensions | Weight | Price | Sale Price | Discount |
| --- | --- | --- | --- | --- | --- |
| Twin | 38 W x 74 L x 12 H | NA | $1499 | $1049 | 30% |
| Twin XL | 38 W x 80 L x 12 H | NA | $1549 | $1099 | 29% |
| Full | 54 W x 75 L x 12 H | NA | $1699 | $1249 | 26% |
| Queen | 60 W x 80 L x 12 H | NA | $1749 | $1299 | 26% |
| King | 76 W x 80 L x 12 H | NA | $2049 | $1599 | 22% |
| Cal King | 72 W x 84 L x 12 H | NA | $2049 | $1599 | 22% |
Get Coupons
x
$450 off on all mattresses using coupon.
Save 30% on Adjustable Bed Packages.
Copy and Paste the Promotion Code below
Copy Code
Continue to Store
Amerisleep Offers
$450 off on all mattresses using coupon.
Save 30% on Adjustable Bed Packages.
Coupons & Deals
$450 off on all mattresses using coupon.
Save 30% on Adjustable Bed Packages.
Check Other Amerisleep Mattress Models