Methodology
We gather information on mattress industry, product, pricing, customer reviews and financial information from more than 50+ websites daily through our automated "bots" and use advanced data analytics techniques to evaluate and rate mattresses.

Updates
Our reviews are updated at least once a week in cases of changes, product releases, and new insights gathered from analyzing our data set.

Format
We present our mattress reviews in a Q&A format with the intent of mirroring the thought process of how customers make mattress purchase decisions
GhostBed 3D Matrix Mattress
By Brand: GhostBed
$

3995

$

2597
GhostBed deals Coupons
50% OFF ALL BUNDLES. Unlock an EXTRA 10% OFF your order!
35% – 50% Off All Mattresses plus 2 free ghost Pillows. Exclude smartbed.

Get Coupons

x

50% OFF ALL BUNDLES. Unlock an EXTRA 10% OFF your order!
35% – 50% Off All Mattresses plus 2 free ghost Pillows. Exclude smartbed.

Tip:No Code needed

Continue to Store

GhostBed Offers

50% OFF ALL BUNDLES. Unlock an EXTRA 10% OFF your order!
35% – 50% Off All Mattresses plus 2 free ghost Pillows. Exclude smartbed.
Product Description
Ghostbed, an American company, began its journey in 2015. The company's headquarters are in Plantation, Florida. All products are created in the United States, with science-backed proprietary technology for a luxuriously cool and pleasant night's sleep. The brand's major focus is on producing high-quality sleep needs at an affordable price. The quality of the material and the weight of the mattress speak for themselves.
GhostBed deals with the following mattresses
GhostBed Classic MEMORY FOAM and LATEX
GhostBed Flex HYBRID
GhostBed Luxe BEST COOLING
GhostBed 3D Matrix® PATENTED

Original Hybrid
SmartBed NEW

GhostBed Natural LATEX
The GhostBed is made by seasoned mattress experts with decades of experience in developing and making mattresses. They develop a sturdy, durable mattress with years of expertise that delivers ideal comfort for any style of sleeper: back, stomach, side, and combination! Above all, the gel memory foam and responsive Ghost Bounce (non-allergenic) inner layer work together to draw heat away from your body while you sleep, keeping you cool all night.
You'll wake up feeling revitalized and ready to face the challenges of the day.
The GhostBed 3D Matrix Mattress will be examined in-depth in this article in terms of structure and performance for various sleeping positions.
GhostBed 3D Matrix is a 12-inch hybrid mattress. Its thermal conductive gel polymer layer responds scientifically to your individual body form and temperature. It's ideal for hot sleepers who don't want to be saturated in sweat when they wake up. It's soft and fluffy, providing added support for joint discomfort in the shoulders, hips, and back. This gentle mattress has a firmness rating of 4-5 on a scale of 1 to 10. It's perfect for side and back sleepers who want a bouncy, soft mattress. The bed has seven layers of comfort technology that adjust to the shape of your body. The Ice Cooling Cover's luxuriously velvety cooling fabric is smooth, supple, and gently relaxing, and it's instantly cold to the touch. The soft 3D Matrix transition foam gracefully adapts to the body of the sleeper. A layer of 2-inch-thick gel memory foam stretches and adapts to your motions. The manufacturer offers a 25-year warranty on this mattress. It is available in the following sizes: Twin XL, Queen, King, California King, and Split King.
Material: Hybrid
The 12-inch tall GhostBed 3D Matrix mattress provides 3-dimensional hybrid comfort and cooling. It has a Thermal conductive gel polymer layer that scientifically responds to the form and temperature of the sleeper. Aside from that, there's a 2-inch of gel memory foam that stretches and adapts to the body, as well as soft transition foam that molds elegantly to the body. Furthermore, with reinforced edge support, there will be no falling off the edges.
Sizes: Ghostbed 3D Matrix is available in all regular sizes: Twin, Twin XL, Full, Queen, King, Cal King, Split King
Pricing: Depends on size
Shipping & Delivery: Free
Trial & Return: 101-day trial, full refund, and pickup
Warranty: 25 years limited mattress warranty
Pros & Cons
The GhostBed 3D mattress, which is made primarily of memory foam and non-allergenic latex, provides great comfort and support for all sleepers. The GhostBed is soft, supportive, and bouncing, yet it transfers very little motion. It's the ideal comfort balance, reducing stiffness and soreness for a restful night's sleep.
It also has a lot to offer to sleepers.
GhostBed 3D Matrix is Ideal for
Those who are tired of being hot when they wake up from a long night's sleep
Hip, shoulder, or other joint discomfort, arthritis, or a limited range of motion. You may benefit from extra support.
Those who sleep on their sides and those who sleep on their backs
Those seeking the highest level of luxury and cutting-edge sleep technology
 It's not great for those who
 Like deep sinkage
Are stomach sleepers
Are in a tight budget
Are heavier, with the exception of side sleepers
Firmness
It's difficult to say if a mattress is firm or soft, as it is relative. All mattresses should be weight-bearing, encourage proper spinal alignment, and provide a comfortable and peaceful night's sleep. Personal tastes determine whether a mattress is fluffy and spongy (what mattress businesses label soft or plush) or less so (what companies refer to as "firm").
The GhostBed 3D Matrix is a soft mattress with a firmness rating of 4 out of 10 on the firmness scale. Side and back sleepers will benefit from this plush, cozy mattress. It also has increased support for the shoulders, hips, and back.
The surface contours to curves instantaneously using the 3D Matrix technology, transferring weight away from pressure spots. This kind does not have the classic memory foam hugging sensation. The 3D matrix layer of GhostBed counteracts memory foam's sinking tendencies, giving you the feeling of sleeping "in" rather than "on" the mattress.
Responsive foam is paired with supporting innerspring coils beneath the memory foam layers to provide ideal support. 3D Matrix is sturdy enough for most plus-size sleepers.
Material & Construction
The GhostBed 3D Matrix hybrid mattress is made up of seven foam and spring layers. These materials provide a cushioning when combined, yet they are supported by coils. Other foam layers stretch in all directions and alleviate pressure points to nearly eliminate tossing and turning, in addition to the 3D Matrix soft transition foam layer. You may rest easy knowing what you're sleeping on because the gel technology is soy-based and ecologically friendly. The 12-inch-thick 3D matrix is above average for a bed-in-a-box mattress.
Let's take a closer look at the mattress's construction —
Layer 1: Ghost Ice cooling Cover- It feels cool to the touch, and the cooling fabric is pleasantly smooth, supple, and delicate.
Layer 2:  3D Matrix Polymer Layer — Instead of being trapped within the mattress, our unique gel polymer layer draws excess body heat and eliminates it.
Layer3:  Gel Memory Foam — Natural-cooling 2-inch gel memory foam conforms to the curve of the sleeper's body, stretches in all directions, and relieves pressure.
Layer 4:  Ghost Bounce Layer — It's unique to the brand and gives latex-like responsiveness and memory foam-like shaping.
Layer 5: Ghost 3D Matrix Soft Transition Foam — This soft transition foam benefits sleepers by providing greater pressure relief. It aids weight distribution and minimizes the necessity for readjusting.
Layer 6:  Individually Wrapped & Reinforced Coils — Individual coils provide classic innerspring mattresses the responsive support they need without the risk of their wearing out in a couple of months. This brand has tightened the coils around the circumference with its patented Spirited EdgeTM support, making it easier to sit comfortably on the edge without slipping off.
Layer 7: High-Density Support Layer — The full inch of foam underneath the coil layer adds extra stability and longevity.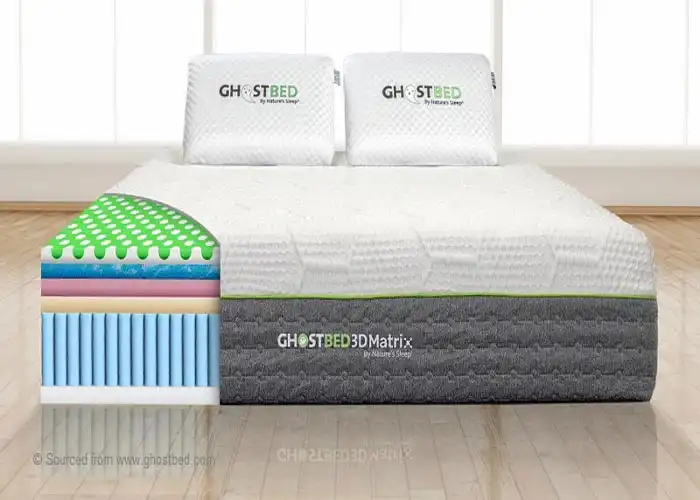 Rating
GhostBed 3D Matrix Mattress
Materials & Construction (1=Least, 5=Best)
Repositioning (1=Least, 5=Best)
Comfort (1=Least, 5=Best)
Cooling (1=Least, 5=Best)
Motion Isolation (1=Least, 5=Best)
Edge Support (1=Least, 5=Best)
Overall Rating
4.42/5
Rating Scale: 1 = Average, 2 = Good, 3 = Very Good, 4 = Excellent, 5 = Winner
Repositioning
Sleepers may easily shift positions with repositioning, which is not feasible with some memory foam mattresses. Many people, however, experience frequent tossing and turning during sleeping.
The GhostBed 3D Matrix is an extremely sensitive mattress, even with the memory foam layer, which helps movement. The foam layers cradle your body while allowing you to change positions without feeling "stuck."
Comfort, Back Support, Pressure Relief
When purchasing a mattress, it's critical to consider if it provides excellent back support, spinal alignment, and pressure reduction. Maintaining adequate spinal position when sleeping is essential for healthy back support. This implies your spine should be held in nearly the same posture as it is when you're standing. Localized discomfort, stiffness, and lack of circulation, as well as frequent tossing and other issues, can occur when a mattress pushes back against your body with too much power in a concentrated location.
In general, side sleepers should be most concerned with "pressure points," as this is the position in which your body's weight is dispersed across the lowest surface area. It is less of a worry for back sleepers since the body weight is dispersed across a larger surface area, resulting in fewer pressure points. The capacity of a bed to relieve stress in the shoulders, hips, and lower back area of the body is referred to as pressure release.
Unfortunately, no mattress provides these two benefits to all sleepers in the same way. Sleepers of various weights, body types, and sleep postures will have variable spinal alignment and pressure reduction capacities.
This mattress's 3D Matrix layer is ergonomically designed. It allows you to sleep on rather than in your bed. Each layer bends, stretches, and moves in three dimensions to form and cradle your body while reducing pressure and pain. The gel polymer keeps you cool all night. From head to toe, the soft transition foam adapts to your body, alleviating pressure. The high-density foam core promotes proper spinal alignment without being too hard.
Foam mattresses, particularly memory foam mattresses, cradle the body of the sleeper, dispersing body weight. This can assist with aches and pains in the regions of the mattress where the most force is exerted.
Chronic back pain patients require substantially more pressure relief than a soft mattress can supply. The softness of GhostBed 3D Matrix, which is towards the top of the softness scale, is ideal for the job. Because of its localized support, it also helps to relieve shoulder discomfort. Around the shoulders, it provides contouring, sinkage, and pressure reduction. It also improves hip discomfort and decreases strain on the hips for side sleepers.
Back Sleepers:Back sleepers require greater support, especially around the hips, which can sink into softer beds and inhibit good spinal alignment. Sleepers on the GhostBed 3D Matrix Hybrid mattress may be concerned that it lacks firmness and back support because it is a plush, soft mattress. Individuals who are overweight, on the other hand, may have difficulties.
Side sleepers:The GhostBed 3D Matrix is ideal for side sleepers. The mattress will absorb pressure and deliver a good night's sleep thanks to the soft comfort layer and several support layers.
Stomach sleepers: It might be more difficult to achieve appropriate spinal alignment for stomach sleepers since certain mattresses allow the hips to sink too far down. For "stomach sleepers," stability and support are especially crucial to avoid back and hip discomfort. The GhostBed 3D Matrix's soft design is ideal for light stomach sleepers, but it may be a problem for heavier sleepers who may sink in and develop a spinal curvature.
Heavy sleepers: For heavy sleepers, the GhostBed 3D Matrix is a fantastic mattress. Bigger GhostBed mattresses (queen-size, king-size, and larger) can hold 350 pounds on each side. Innerspring coils and strengthened edges are the most common examples. This mix of support and cushioning is preferred by heavy back sleepers.
Cooling & Temperature Control
Every GhostBed mattress has exceptional cooling capabilities. The GhostBed 3D matrix includes the Ghostbed Flex's cooling technology as well as a novel cooling gel polymer.
The mattress is adequately chilly thanks to a combination of Ghost Ice Fabric's cooling capability, gel memory foam, and a gel polymer termed the 3D matrix.
A conductive polymer gel is used to create the 3D polymer comfort layer. This material's conductivity is critical for the mattress. As your body produces heat while sleeping, the 3D matrix layer absorbs it and allows it to escape from your bed.
This unique 3D matrix layer adjusts to various body forms at once, allowing you and your companion to benefit from the gel polymer's temperature-regulating effects through body weight distribution and heat diffusion at the same time. Both of you will be able to sleep cool and comfortably as a result of this.
Motion Isolation and Sharing a Bed
This category assesses how effectively a mattress protects other people in the bed from being disturbed when their spouse rolls over, adjusts, or changes positions.
The innerspring unit of the GhostBed 3D Matrix minimizes motion transfer. It's great for couples since it isolates motion.
Edge Support
Couples should pay attention to edge support since poor performance here restricts sleeping and sex to the middle of the bed. Getting in and out of bed may cause your companion to become agitated, since the bed may flex when you sit on the edge. With all-foam mattresses, this is a regular occurrence. The 3D Matrix's edges, on the other hand, are kept firm and comfortable because of GhostBed's unique Spirited Edge support. Two rows of strengthened steel coils allow you to sit on the edge without feeling like you're about to fall. They also provide you with the option of sleeping around the edges.
Recommendation based on sleeping style
Let's take a closer look at the sleeping style.
Side Sleepers: Side sleepers want a mattress with plush comfort layers that cushion the hips and shoulders without sinking too deeply, preventing spinal misalignment. The GhostBed 3D Matrix is the optimum balance of give and support for side sleepers. However, this bed is not recommended for side sleepers with pressure sensitive hips, especially those who weigh over 130 pounds.
Back Sleepers: Back sleepers of all shapes and sizes will find all they need for a good night's sleep with the 3D Matrix. The pocketed coils support the heavier sections of the body while the memory foam soothes sensitive areas, making it an excellent mattress for back sleepers.
Stomach Sleepers: Stomach sleepers want a bed that provides sufficient support to prevent their hips from sinking too far. This mattress is quite supportive, and light stomach sleepers will not feel any pressure. Heavy stomach sleepers, on the other hand, may find it unpleasant. There may be a slight stiffness in the chest region.
Price
| Size | Dimensions | Weight | Price | Sale Price | Discount |
| --- | --- | --- | --- | --- | --- |
| Twin XL | 38 x 80 x 12 | 80 lbs | $3395 | $2207 | 35% |
| Queen | 60 x 80 x 12 | 123 lbs | $3995 | $2597 | 35% |
| King | 76 x 80 x 12 | 145 lbs | $4695 | $3052 | 35% |
| Cal King | 72 x 84 x 12 | 148 lbs | $4715 | $3065 | 35% |
Get Coupons
x
50% OFF ALL BUNDLES. Unlock an EXTRA 10% OFF your order!
35% – 50% Off All Mattresses plus 2 free ghost Pillows. Exclude smartbed.
Tip:No Code needed
Continue to Store
GhostBed Offers
50% OFF ALL BUNDLES. Unlock an EXTRA 10% OFF your order!
35% – 50% Off All Mattresses plus 2 free ghost Pillows. Exclude smartbed.
Coupons & Deals
50% OFF ALL BUNDLES. Unlock an EXTRA 10% OFF your order!
35% – 50% Off All Mattresses plus 2 free ghost Pillows. Exclude smartbed.
Check Other GhostBed Mattress Models