Methodology
We gather information on mattress industry, product, pricing, customer reviews and financial information from more than 50+ websites daily through our automated "bots" and use advanced data analytics techniques to evaluate and rate mattresses.

Updates
Our reviews are updated at least once a week in cases of changes, product releases, and new insights gathered from analyzing our data set.

Format
We present our mattress reviews in a Q&A format with the intent of mirroring the thought process of how customers make mattress purchase decisions
GhostBed Classic Mattress
By Brand: GhostBed
$

1295

$

842
GhostBed deals Coupons
50% OFF ALL BUNDLES. Unlock an EXTRA 10% OFF your order!
35% – 50% Off All Mattresses plus 2 free ghost Pillows. Exclude smartbed.

Get Coupons

x

50% OFF ALL BUNDLES. Unlock an EXTRA 10% OFF your order!
35% – 50% Off All Mattresses plus 2 free ghost Pillows. Exclude smartbed.

Tip:No Code needed

Continue to Store

GhostBed Offers

50% OFF ALL BUNDLES. Unlock an EXTRA 10% OFF your order!
35% – 50% Off All Mattresses plus 2 free ghost Pillows. Exclude smartbed.
Product Description
The American brand, Ghostbed started its journey in 2015. The head office is in Plantation, Florida. The creators use science-backed patented technology for a lavishly cool and comfortable sleep. Manufacturing high-quality sleep essentials at a reasonable price are the brand's chief focus. The material and mattress weight speak of its premium quality.
GhostBed deals with the following mattresses:
GhostBed Classic
GhostBed Flex
GhostBed Luxe
GhostBed 3D Matrix®

Original Hybrid
SmartBed NEW

GhostBed Natural
Experienced mattress professionals manufacture Ghostbed. They have been designing and producing mattresses for decades. With years of experience, they can manufacture a durable and supportive mattress providing maximum comfort for all types of sleepers: back, stomach, side, and combo! And above, its gel memory foam and aerated latex (non-allergenic) foam inner help keep you cool through the night.
You'll feel refreshed the following day and ready to take on the day.
This article will look deeply into The GhostBed Classic Mattress's construction performance for various sleeping positions.
The GhostBed Classic is an 11-inch height latex and foam mattress. It's a good selection for those who want the contouring support provided by a memory foam combined with the bounce effect of latex. The GhostBed Classic comes in one firmness level of 6.5 on the firmness scale. It is suited for all sleeping positions in general. While polyfoam support core, a gel-infused memory foam layer, and an aerated, synthetic Dunlop latex top layer make up the Ghostbed mattress, a woven polyester-fabric combination makes up the cover. It provides excellent neck and spine support and a 20-year manufacturer warranty.
Material: Memory Foam and latex
The GhostBed Classic Medium-Firm mattress comprises three layers measuring 11 inches thick; the 1.5-inch latex foam comfort layer provides cooling features and a springy feel. 2-inches memory foam is in the middle., below the cover.
Sizes: The GhostBed Classic is available in all regular sizes: Twin, Twin XL, Full, Queen, King, Cal King, Split King
Pricing: Depends on size & variety
Shipping & Delivery: Free
Trial & Return: 101-day trial, full refund, and pickup
Warranty: 20 years limited mattress warranty
Pros & Cons
The GhostBed mattress consisting of memory foam & latex (non-allergenic), provides exceptional comfort and support for every type of sleeper. The GhostBed feels soft, supportive, and bouncy—but with minimal motion transfer. It provides the optimal balance between comfort, relieving stiffness and pain for a great night's sleep. Besides, it offers a lot to sleepers.
GhostBed Classic is Ideal for folks who
Are searching for high-density foams and quality materials throughout.
Want relief from stiffness and pressure points.
I prefer to sleep cool.
Share a bed. It captures movement across the bed's surface, so you don't feel a partner move.
Not so ideal for folks who
 Like to sleep at the edge. Edge support is not good.
Are you searching for pure memory foam or latex mattresses?
Require a natural latex mattress.
Firmness
Whether a mattress feels firm or soft is relatively subjective. All mattresses should support body weight, promote healthy spinal alignment, and ensure comfortable and restful sleeping. Whether a mattress is fluffy and squishy (what mattress companies call soft or plush) or less so (what companies call firm) is purely defined based on personal preferences.
GhostBed Classic mattress is a medium-firm bed. The brand has designed it to feel this way by crafting a blend of firm support and comfort layers that should match most sleepers. Medium-firm beds are the most popular choice accommodating the majority of sleepers. As per industry standards, the ratings for Medium-firm beds are within a 5.5 or 6 on a firmness scale of 10. The GhostBed's medium-firmness may not suit some sleepers, like heavy folks over 300 pounds. Heavier sleepers usually enjoy firmer beds to prevent sinking too deep into the bed.
Material & Construction
The 11-inch tall Ghostbed Classic combines the characteristics of latex and memory foam to provide a smooth sleeping experience. The mattress has the responsiveness of latex and body hug of the memory foam. Ultimately, the shopper relishes a balanced feel of support and comfort. GhostBed Classic, with dual cooling stages, has an aerated latex layer followed by gel-infused memory foam. It is one of the most excellent mattresses, giving you a restful and rejuvenating sleep.
Let's dig into the details of the constitution of the mattress –
Plush Cover – The smooth, stretchable softcover is a blend of viscose and polyester, giving breathability and a cozy feel.
Layer 1:  This is an Aerated Latex (non-allergenic) Foam layer. The holes on the top latex (non-allergenic) layer of 1.5 inches constantly absorb heat from the body. The latex (non-allergenic) also supplies a pleasing, bouncy feel that makes bedroom activities quite enjoyable.
Layer2:  Gel Memory Foam is used to make the mattress. The proprietary foam of 2 inches has more giant cells than traditional memory foam. This layer aids in transporting heat away from the body, allowing for better cooling.
Layer 3:  This is the High-Density Base, the long-lasting, high-density foam core of 7.5 inches. It forms the base of your GhostBed. It's firm enough for optimal spinal alignment.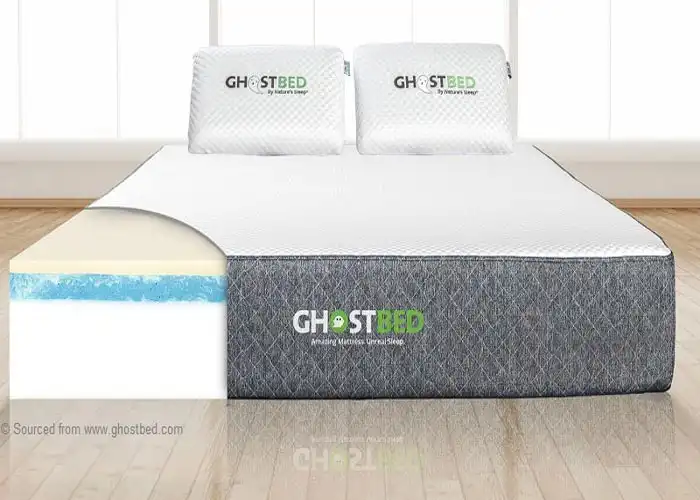 Rating
GhostBed Classic Mattress
Materials & Construction (1=Least, 5=Best)
Repositioning (1=Least, 5=Best)
Comfort (1=Least, 5=Best)
Cooling (1=Least, 5=Best)
Motion Isolation (1=Least, 5=Best)
Edge Support (1=Least, 5=Best)
Overall Rating
4.08/5
Rating Scale: 1 = Average, 2 = Good, 3 = Very Good, 4 = Excellent, 5 = Winner
Repositioning
Repositioning means that sleepers can change position quickly. Many people toss and frequently turn while sleeping.
It is not tough to move around on the mattress, as layers offer natural bounce and the denser support layer helps in responsiveness.
Comfort, Back Support, Pressure Relief
Evaluating whether a mattress provides good back support or spinal alignment and pressure relief is extremely important in choosing a bed. The key to good back support is maintaining proper spinal alignment while you sleep. The mattress should hold your spine in roughly the same position when standing. The result of a mattress pushing back the body with extreme force in a small area can be localized pain, soreness, loss of circulation, excessive tossing, and other problems. Such "pressure points" are the most significant concern for side sleepers since the smallest surface area takes up the whole body weight. It is less of a problem for back sleepers as the body weight is spread over a wider surface area, creating fewer pressure points. Pressure relief refers to a bed's ability to alleviate tension at the pressure points concentrated in the body's shoulders, hips, and lower back region.
Unfortunately, no mattress delivers spinal alignment and pressure relief capabilities across sleepers with different weights, body shapes, and sleep positions.
The high-density foam core of GhostBed Classic helps straighten the neck and spine and relieves hip and back discomfort with stiffness. The gel memory foam and aerated latex foam combine to transfer heat from the body to help sleep cooler. The layers work together to bounce, enhance contouring, and prevent sinking. The high-density base foam provides a strong foundation. Support and bounce combination is quite comfortable.
Generally, foam mattresses, particularly memory foam mattresses, tend to cradle the sleeper's body, redistributing body weight. It helps relieve pains in the mattress areas that exert the most force.
Back Sleepers: People sleeping on their back tend to require more support — particularly around the hips, which may sink into softer mattresses and prevent proper spinal alignment. GhostBed Classic mattress being medium-firm provides reasonable upward thrust to the hip area to keep the spine aligned. Back sleepers also require minor pressure relief, as the position causes fewer pressure points than other sleep styles. In this respect also, GhostBed is ideal.
Side sleepers: Side sleepers may have a challenge with Ghostbed. Since the top comfort layer is made entirely of foam, which is firm across the entire surface area, it may reflect pressure on the shoulder and not allow the body's upper portion to sink in. It may create pressure points and reduce pressure relief.
Stomach sleepers: As the hips sink in, a good spinal alignment is tricky for stomach sleepers. Stability and support are essential for "stomach sleepers" not to cause back or hip pain. A medium-firm configuration prevents lightweight stomach sleepers from sinking in and creating a spinal curvature.
Heavy sleepers: Heavy people can find the Ghostbed quite comfortable, particularly the back sleepers. They apply a lot of force and pressure, which GhostBed can withstand. In the case of heavy side sleepers and stomach sleepers, there may be some issues with the comfort and support for a relaxing sleep.
Cooling & Temperature Control
Ghostbed classic consists of latex and memory foam. These materials retain some heat released from the sleeper's body at night. But the complete construction of the mattress with minute perforations on the latex layer for air circulation helps maintain a temperature neutral environment while sleeping.
The memory foam is also with cooling gel infusion for providing the cooling required at night. Overall the GhostBed is ideal for moderate hot sleepers.
Motion Isolation and Sharing a Bed
This category rates how well a mattress can prevent other sleepers in a bed from feeling when their partner rolls over, shifts, or changes positions.
The foam and latex layers seem to control movement, preventing it from spreading throughout the mattress.
Edge Support
The GhostBed lacks a reinforced perimeter. It is an indicator of no edge support. The high-density core support of the GhostBed, on the other hand, helps to stabilize the edge.
Recommendation based on sleeping style
No matter what position we sleep in, we all need to sleep well so our bodies can heal and rejuvenate. The fact is, we shrink by one to two inches during the day. The compaction of the intervertebral discs explains this phenomenon following a loss of liquid. The fluid restores the discs during the night. For this to work, sleeping in a good position is essential. What do we mean by a good position? There are three sleep postures: Side, back, and stomach sleepers, and then some who may prefer a combination of such postures. Therefore, all three have different needs and specific experiences regarding the comfort, support, and flexibility that the mattress should offer them.
Young or old, nobody is immune to back pain, whether chronic or temporary. It is essential to pay attention to where you put your head (and back).
Let's get a clear idea about the Sleeping Style.
Side Sleepers: The majority of people sleep on the side. Most of the body's weight rests on the shoulders, hips, and legs in this position. It is, therefore, important that the area of the body can sink properly into the mattress while the waist needs to be supported and the spine aligned. It avoids waking up with pain in the neck and back. The areas that support the neck and pelvis should be flexible and reduce pressure on these areas.The GhostBed Classic is reasonably comfortable for light side sleepers weighing less than 130 pounds. Its 6.5 firmness rating may be too soft for sleepers who don't put too much weight. Heavyweight sleepers weighing more than 230 pounds and average-weight sleepers (those weighing between 130 and 230 pounds) find the GhostBed comfortable and satisfactory.
Back Sleepers: If you are more of a sleeper lying on your back, it is also crucial that your hips and shoulders sink far enough into the mattress to avoid painful arches.The GhostBed Classic is an excellent selection for lightweight back sleepers. It is considered reasonable by both ordinary and heavyweight sleepers. Back sleepers enjoy a medium-firm mattress, so the GhostBed Classic can is preferred.
Stomach Sleepers: In the case of sleeping on your stomach, a less flexible mattress with a good level of firmness is most suitable. It prevents your stomach from sinking in too far, which would reduce your body movements and lead to curvature. It leads to shoulder problems and tension in the neck. The GhostBed Classic is suitable for light sleepers. They might feel that the GhostBed is too firm for them. It is pretty helpful for those of average weight. It is also suitable for heavyweight sleepers.
Price
| Size | Dimensions | Weight | Price | Sale Price | Discount |
| --- | --- | --- | --- | --- | --- |
| Twin | 38 x 80 x 12 | 80 lbs | $995 | $647 | 35% |
| Twin XL | 60 x 80 x 12 | 123 lbs | $1095 | $712 | 35% |
| Full | 76 x 80 x 12 | 145 lbs | $1150 | $748 | 35% |
| Queen | 72 x 84 x 12 | 148 lbs | $1295 | $842 | 35% |
| King | 76 x 80 x 12 | 160 lbs | $1545 | $1004 | 35% |
| Cal King | 39 x 75 x 13 | 59 lbs | $1575 | $1024 | 35% |
Get Coupons
x
50% OFF ALL BUNDLES. Unlock an EXTRA 10% OFF your order!
35% – 50% Off All Mattresses plus 2 free ghost Pillows. Exclude smartbed.
Tip:No Code needed
Continue to Store
GhostBed Offers
50% OFF ALL BUNDLES. Unlock an EXTRA 10% OFF your order!
35% – 50% Off All Mattresses plus 2 free ghost Pillows. Exclude smartbed.
Coupons & Deals
50% OFF ALL BUNDLES. Unlock an EXTRA 10% OFF your order!
35% – 50% Off All Mattresses plus 2 free ghost Pillows. Exclude smartbed.
Check Other GhostBed Mattress Models