Methodology
We gather information on mattress industry, product, pricing, customer reviews and financial information from more than 50+ websites daily through our automated "bots" and use advanced data analytics techniques to evaluate and rate mattresses.

Updates
Our reviews are updated at least once a week in cases of changes, product releases, and new insights gathered from analyzing our data set.

Format
We present our mattress reviews in a Q&A format with the intent of mirroring the thought process of how customers make mattress purchase decisions
GhostBed Flex Mattress
By Brand: GhostBed
$

2595

$

1687
GhostBed deals Coupons
50% OFF ALL BUNDLES. Unlock an EXTRA 10% OFF your order!
35% – 50% Off All Mattresses plus 2 free ghost Pillows. Exclude smartbed.

Get Coupons

x

50% OFF ALL BUNDLES. Unlock an EXTRA 10% OFF your order!
35% – 50% Off All Mattresses plus 2 free ghost Pillows. Exclude smartbed.

Tip:No Code needed

Continue to Store

GhostBed Offers

50% OFF ALL BUNDLES. Unlock an EXTRA 10% OFF your order!
35% – 50% Off All Mattresses plus 2 free ghost Pillows. Exclude smartbed.
Product Description
GhostBed, an American company, began operations in 2015. The company's headquarters are in Plantation, Florida. All of the products are created in the United States, with science-backed proprietary technology for a luxuriously cool and pleasant night's sleep. The brand's major focus is on producing high-quality sleep needs at an affordable price. The quality of the material and the weight of the mattress speak for themselves.
GhostBed deals with the following mattresses
GhostBed Classic: MEMORY FOAM and LATEX
GhostBed Flex: HYBRID
GhostBed Luxe: BEST COOLING
GhostBed 3D Matrix®: PATENTED

Original Hybrid
SmartBed NEW

GhostBed Natural: LATEX
The GhostBed is made by seasoned mattress experts with decades of experience developing and making mattresses. They develop a sturdy, durable mattress with years of expertise that delivers ideal comfort for any style of sleeper: back, stomach, side, and combination! Above all, the gel memory foam and responsive Ghost Bounce (non-allergenic) inner layer work together to draw heat away from your body while you sleep, keeping you cool all night.
You'll feel energized and ready to take on the challenges of the day when you wake up.
This article will look deeply into The GhostBed Flex Mattress in terms of construction and performance for various sleeping positions.
The GhostBed Flex is a 13-inch high premium hybrid mattress. It's elastic and smooth, and the cooling cover is luxuriously velvety. Individually wrapped coils measuring 8.5 inches in length give optimal support from head to toe. It also aids in the alleviation of aches and pains. On a scale of 1 to 10, it's a medium-firm mattress with a firmness rating of 6-7. It's a perfect mix of supportive coils and plush gel memory foam, so it's suitable for all sleeping styles. Seven layers of blended comfort make up the bed. A plush quilted cover is featured, as well as cooling air-flow technology. The cover is woven with 1-inch of instant cool burst air-flow technology fiber. For that weightless feeling, the GhostBed Flex coil unit delivers springy support and cooling comfort. The basal layer is the most stable and long-lasting. The manufacturer offers a 25-year warranty on this mattress. The basic sizes are Twin, Twin XL, Full, Queen, King, California King, and Split King.
Material: Memory foam and coils
The 13-inch high GhostBed Flex Medium-Luxury mattress has 7 layers of hybrid comfort. It has coils for support and memory foam for contouring. A luxurious quilted cover with cooling air-flow technology ensures that you stay cool. It has edge support that is reinforced. There's no danger of slipping over the edges.
Sizes: The GhostBed Flex is available in all regular sizes: Twin, Twin XL, Full, Queen, King, Cal King, Split King
Pricing: Depends on size & variety
Shipping & Delivery: Free
Trial & Return: 101-day trial, full refund, and pickup
Warranty: 25 years limited mattress warranty
Pros & Cons
The GhostBed Flex boasts luxurious foam and fiber layers that reduce motion transmission. It has some of the finest motion isolation qualities of any hybrid mattress on the market. It also has a lot to offer sleepers.
GhostBed Classic is Ideal for
Side, back, and stomach sleeping positions
Relief in stiffness and back troubles
Motion isolation
Hot sleepers and plus-size people
 Not so ideal for
 Side sleepers in the light weight category
Folks on a tight budget
Those who require a classic memory foam mattress
Firmness
It's difficult to say if a mattress is firm or soft. All mattresses should be weight-bearing, encourage proper spinal alignment, and provide a comfortable and peaceful night's sleep. Personal tastes determine whether a mattress is fluffy and spongy (what mattress businesses label soft or plush) or less so (what companies refer to as "firm").
The GhostBed Flex is a medium-firm mattress. The designers crafted a combination of solid support and comfort layers that should suit most sleepers to make them feel this way. According to industry standards, medium-firm mattresses are normally graded a 6 or 7 on a 10-point firmness scale. The GhostBed's medium-firmness, on the other hand, may not be suitable for some sleepers, such as those who weigh more than 300 pounds. Firmer beds are preferred by heavier sleepers to avoid sinking too far into the bed.
Material & Construction
The Ghostbed Flex is a 13-inch mattress that blends coils, latex, and memory foam to give a comfortable resting experience. The Spirited EdgeTM support design is included on the mattress. The carefully packed coils offer edge support while also reducing motion transmission.
Let's take a closer look at the mattress's 7-layer construction —
Layer 1: Quilted, Cooling Cover: It has a soft and supple quilted cover with cool air-flow technology.
Layer 2: Cool Fiber:The cover has a second layer of 1-inch Flex woven into it to aid with airflow.
Layer 3: Gel Memory Foam:Next, the 1-inch layer of gel memory foam provides perfect contouring while also transferring heat away from the body.
Layer 4: A Repeat of Layer 3:It also has a 1-inch Gel Memory foam layer for added comfort. This also helps to relieve pain and aches.
Layer 5: GhostBounce Transition Foam:A one-inch transition foam blends the responsiveness of latex with the contouring benefits of memory foam.
Layer 6: Individually Wrapped Pocketed Coils:Two outer rows of reinforced coils provide supplemental support around the edge of the 8.5-inch Ghost Flex innerspring coil layer. It is designed to reduce motion transmission and maximize edge support.
Layer 7: High-Density Base Foam: The last 1-inch layer of Flex is built of supporting foundation foam, which adds to the structure's sturdiness and lifespan.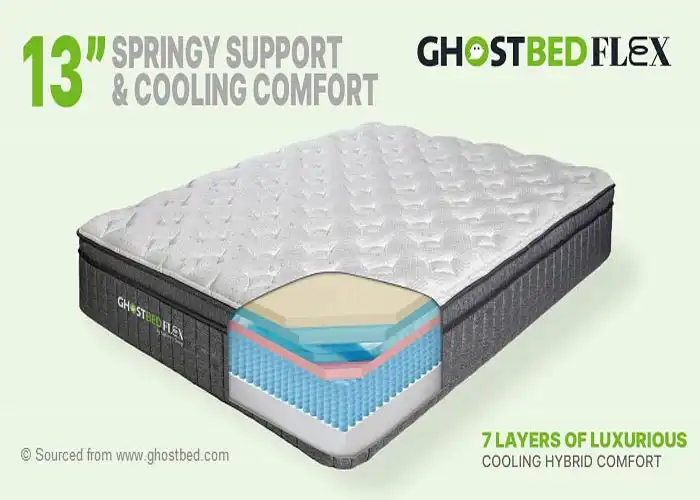 Rating
GhostBed Flex Mattress
Materials & Construction (1=Least, 5=Best)
Repositioning (1=Least, 5=Best)
Comfort (1=Least, 5=Best)
Cooling (1=Least, 5=Best)
Motion Isolation (1=Least, 5=Best)
Edge Support (1=Least, 5=Best)
Overall Rating
4.21/5
Rating Scale: 1 = Average, 2 = Good, 3 = Very Good, 4 = Excellent, 5 = Winner
Repositioning
Sleepers can effortlessly shift positions when the mattress paves the way for repositioning. Many individuals toss and turn a lot during night.
Moving about on the mattress should not be difficult due to the natural bounce of the layers and the deeper support layer's responsiveness. An innerspring unit is used in the GhostBed Flex hybrid mattress to provide the additional bounce needed to aid movement.
Comfort, Back Support, Pressure Relief
It's critical to determine if a mattress provides enough back support, spinal alignment, and pressure reduction. Maintaining adequate spinal position when sleeping is essential for healthy back support. This implies the mattress should keep your spine in a posture similar to how it is while you're standing. Localized discomfort, stiffness, lack of circulation, frequent tossing, and other issues can occur when a mattress pushes back against your body with too much power in a concentrated region. In general, side sleepers should be most concerned about such "pressure points," as this is the posture in which your body's weight is dispersed across the lowest surface area. It is less of a worry for back sleepers since the body weight is dispersed across a larger surface area, resulting in fewer pressure points. The capacity of a bed to relieve stress at pressure points located in the shoulders, hips, and lower back area of the body is referred to as pressure release.
Unfortunately, no mattress offers both of these advantages to all sleepers in the same way. Sleepers of various weights, body types, and sleep postures will have variable spinal alignment and pressure reduction capacities.
The GhostBed Flex mattress combines the solid stability of individually wrapped coils with the soft softness of gel memory foam to provide a supportive and pleasant sleep surface. The mattress embraces and shapes the body while giving excellent support. It's an excellent choice if you want a mattress that molds to your body without making you feel suffocated. It conforms to ease pressure spots on your hips, neck, and shoulders. The velvety and cooling cover of the GhostBed is soft, supple, and softly comforting.
Foam mattresses, particularly memory foam mattresses, cradle the body of the sleeper, dispersing body weight. This can assist with aches and pains in the regions of the mattress where the most force is exerted. An innerspring unit is used in this hybrid mattress to provide the additional bounce needed for movement.
Overall, all sleepers, including combo sleepers, enjoy the Flex mattress.
Back Sleepers: Back sleepers require greater support, especially around the hips, which can sink into softer beds and inhibit good spinal alignment. The medium-firm GhostBed Flex mattress delivers a modest upward push to the hip region to keep the spine upright. Back sleepers also require less pressure relief than other sleep types since the posture creates fewer pressure points.
Side sleepers: Ghostbed may be difficult for side sleepers. The top comfort layer is entirely constructed of foam, and it is firm over the whole surface area. It may cause a build-up of pressure in the shoulder area, preventing the upper body from sinking in. It's possible that it'll create pressure points and limit pressure alleviation.
Stomach sleepers: It might be more difficult to achieve appropriate spinal alignment for stomach sleepers since certain mattresses allow the hips to sink too far down. For "stomach sleepers," stability and support are especially crucial to avoid back and hip discomfort. The GhostBed Flex's medium-firm structure keeps light-weight stomach sleepers from sinking in and causing a spinal curvature.
Heavy sleepers: The Ghostbed Flex is especially pleasant for heavy folks who sleep on their backs. There may be some concerns with the comfort and support regarding restful sleep for heavier side sleepers and stomach sleepers.
Cooling & Temperature Control
The GhostBed Flex's temperature-regulating capabilities begin with the cover. It's quilted with cooling fibers to keep you cool while also allowing for adequate breathability. The two layers of memory foam in the comfort system are infused with gel, which helps to take heat away from the sleeper's body. Airflow through the coil core dissipates heat significantly and more effectively. For hot sleepers, the Ghostbed Flex is an excellent choice.
Motion Isolation and Sharing a Bed
This category assesses how effectively a mattress protects other sleepers in a bed from being disturbed when their partner moves, rollover, or changes positions.
The motion isolation on the GhostBed Flex is exceptional. The 1-inch fiber-fill and 2-inch memory foam in the comfort system provide an effective barrier against motion transfer throughout the mattress. The GhostBed Flex is perfect for couples and pet owners since it decreases sleep issues caused by a spouse or a pet moving on the mattress at night.
Edge Support
Couples should pay attention to edge support since poor performance here restricts sleeping and romantic activities to the middle of the bed. Getting in and out of bed may cause your companion to become agitated since the bed may flex when you sit on the edge. The GhostBed Flex has good to outstanding edge support. The mattress features a sturdy foundation owing to an 8.5-inch layer of innerspring coils that prevents excessive sinking at the edge. A reinforcing structure around the perimeter helps protect the foams from bottoming out when pressure is applied to them. The GhostBed Flex is stable across the bed's surface, despite slight compression at the edge. Spirited EdgeTM support is patented support that provides stability and prevents the mattress from sagging at the edges.
Recommendation based on sleeping style
Back discomfort, whether chronic or transitory, affects everyone, young or old. Whatever the case may be, it is critical to be aware of where you place your head (and back, of course).
Let's look at different sleeping styles in more detail:
Side Sleepers: The shoulders and hips are the main pressure sites for side sleepers. They demand a mattress that can cushion such areas while also preventing unpleasant impact or spine misalignment. Memory foam in the GhostBed Flex delivers the responsiveness needed to comfort side sleepers of any weight. Some folks who weigh more than 230 pounds, however, may find the 2-inch memory foam padding inadequate.
Back Sleepers: Back sleepers exert the most pressure on their mattresses at and around their stomachs. This part of the body bears more weight and requires more support; if the mattress is too soft, the body would sink into a U shape, resulting in back discomfort. A mattress that is overly firm, on the other hand, may induce lumbar pain owing to excessive impact. Back sleepers will like the GhostBed Flex's blend of contouring and firmness, especially those under 230 pounds.
Stomach Sleepers: When sleeping on one's stomach, a balance of conforming and firmness is required. In order to prevent feeling swallowed or smothered by the bed, these sleepers usually demand an even firmer surface. For stomach sleepers weighing less than 130 pounds, the GhostBed Flex is ideal. It's also good for individuals under 230 pounds. For people weighing more than 230 pounds, however, it is not nearly firm enough.
Price
| Size | Dimensions | Weight | Price | Sale Price | Discount |
| --- | --- | --- | --- | --- | --- |
| Twin | 38 x 80 x 12 | 80 lbs | $1995 | $1297 | 35% |
| Twin XL | 60 x 80 x 12 | 123 lbs | $2295 | $1492 | 35% |
| Full | 76 x 80 x 12 | 145 lbs | $2395 | $1557 | 35% |
| Queen | 72 x 84 x 12 | 148 lbs | $2595 | $1687 | 35% |
| King | 76 x 80 x 12 | 160 lbs | $2995 | $1947 | 35% |
| Cal King | 39 x 75 x 13 | 59 lbs | $3015 | $1960 | 35% |
Get Coupons
x
50% OFF ALL BUNDLES. Unlock an EXTRA 10% OFF your order!
35% – 50% Off All Mattresses plus 2 free ghost Pillows. Exclude smartbed.
Tip:No Code needed
Continue to Store
GhostBed Offers
50% OFF ALL BUNDLES. Unlock an EXTRA 10% OFF your order!
35% – 50% Off All Mattresses plus 2 free ghost Pillows. Exclude smartbed.
Coupons & Deals
50% OFF ALL BUNDLES. Unlock an EXTRA 10% OFF your order!
35% – 50% Off All Mattresses plus 2 free ghost Pillows. Exclude smartbed.
Check Other GhostBed Mattress Models