Methodology
We gather information on mattress industry, product, pricing, customer reviews and financial information from more than 50+ websites daily through our automated "bots" and use advanced data analytics techniques to evaluate and rate mattresses.

Updates
Our reviews are updated at least once a week in cases of changes, product releases, and new insights gathered from analyzing our data set.

Format
We present our mattress reviews in a Q&A format with the intent of mirroring the thought process of how customers make mattress purchase decisions
Nolah Original 10 Mattress
By Brand: Nolah Mattress
$

1449

$

1014
Nolah Mattress deals Coupons
30% off mattresses plus Two FREE Nolah Squishy Pillows ($198 Value).

Get Coupons

x

30% off mattresses plus Two FREE Nolah Squishy Pillows ($198 Value).

Tip:No Code needed

Continue to Store

Nolah Mattress Offers

30% off mattresses plus Two FREE Nolah Squishy Pillows ($198 Value).
Product Description
Selecting a mattress for a cozy, refreshing sleep takes up a lot of research work. With so many brands advertising, sometimes it becomes a bit confusing. We are trying to help a bit in your research work.
Similar to Casper, Nolah is another Bed in a box company. Starting in 2015, it has created a base amongst the shoppers. The mattress is known to provide excellent pressure relief to sleepers.
Nolah brings five mattresses, namely:
Nolah Original 10"
Nolah Signature 12"
Nolah Evolution 15"
Nolah Natural 11"
Nolah Nurture 10"
This review is solely on Nolah Original 10" in depth in lines of construction, ratings, sleep postures price, etc. Keep reading.
Nolah Original 10 is suitable for all sleeping positions with medium firmness. The mattress is best for the side sleepers of the average weight group. It has excellent pressure relief, motion isolation, and cooling for healthy sleeping.
Material: All-foam
Sizes: AvailaTwin, Twin XL, Full, Queen, King, Cal King
Pricing: Depends on size
Shipping & Delivery: Free
Trial & Return: 120-day trial, full refund
Warranty: Lifetime mattress warranty
Pros & Cons
Nolah original 10" provides excellent pressure relief brilliant cooling at reasonable pricing.
The benefits shoppers get with Nolah mattresses are
Superior pressure relief- construction with Air foam and natural Talalay latex helps to achieve this quality
Helps sleep cool
High durability
Comes with CertiPUR-US certification
Eco-friendly materials used
It can be used on any surface
Certain Disadvantages shoppers may notice are
Firmness issue with Strict stomach sleepers
Sinking deep for heavy individuals
Only available digitally- no physical store
Firmness customization is limited to Evolution and Nurture only.
Firmness
In selecting a mattress, feel and firmness is the deciding aspects.
Whether a mattress feels firm or soft is relatively subjective. All beds should support body weight, promote healthy spinal alignment, and ensure comfortable and restful sleeping. Whether a mattress is fluffy and plush (what mattress companies call soft) or less so (what companies call firm) is purely defined based on personal taste. As per the industry standard for firmness, Nolah Original is medium-soft.
Nolah Original 10″ is on the softer side of a (1-10 ) firmness scale. The Air foam used in construction is responsible for the softy feel. Again Air-foam with numerous microscopic air bubbles helps distribute the body weight evenly to maximize pressure relief.
Material & Construction
As from the name itself, Nolah Original 10 "we know it is a 10-inch tall mattress. It has three layers made of All-Foam.
Layer 1: The upper layer is 2 inches high made of Nolah's proprietary Air-Foam. According to the company, AirFoam is intended to remove pressure efficiently while keeping temperature neutral. Overheating is a common issue with traditional foam mattresses, as memory foam responds to body heat, softening and contouring the sleeper's body. Beneficial for hot sleepers'.Nolah has won the Best Cooling Mattresses of 2022
Layer 2: the Nolah Original 10 has a 1-inch thick mid-layer. It consists of firmer foam to offer support with a responsive bounce to enable a healthy sound sleep.
Layer 3: There is a 7-inch layer of high-density foam for stability and structure underneath this. This base support is also breathable, durable, and long-lasting.
Cover: The mattress comes wrapped in a snow-white cover made of Botanic Origin Tencel, breathable fabric. It gives the mattress a clean and crisp look.
This three-layer construction consisting of a thick and dense base layer, a transitional support layer, and a soft layer with cooling design elements is common among top-rated foam mattresses.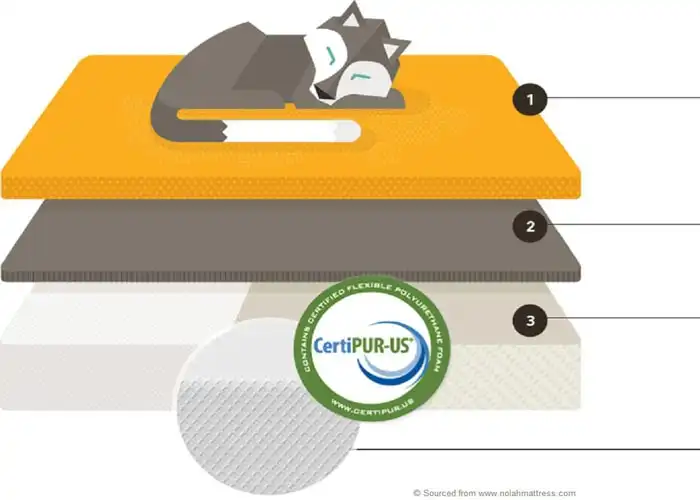 Rating
Nolah Original 10 Mattress
Materials & Construction (1=Least, 5=Best)
Repositioning (1=Least, 5=Best)
Comfort (1=Least, 5=Best)
Cooling (1=Least, 5=Best)
Motion Isolation (1=Least, 5=Best)
Edge Support (1=Least, 5=Best)
Overall Rating
3.5/5
Rating Scale: 1 = Average, 2 = Good, 3 = Very Good, 4 = Excellent, 5 = Winner
Repositioning
A sinking mattress makes moving in and out of bed and changing posture while sleeping quite tricky. Sleepers feel like they are trapped in or stuck in. In the case of Nolah Original 10 deep sinking is not an issue. Thanks to the Air-foam layer used in the construction.
Again ease of movement in the bed is also related to body weight. Usually, people in the light to moderate weight group do not struggle much with this Nolah Original 10. In the case of heavy people, there is a bit deeper sink, so they may feel uneasiness in moving in the bed.
Comfort, Back Support, Pressure Relief
Comfort is a highly subjective experience, which varies from person to person. The Nolah Original 10 is a cozy mattress for many, as it is a medium-firm mattress (lying somewhere in-between 5-6 on the firmness scale of 10). The mattress responds quickly to the pressure applied because of the polyfoam transient layer, which conforms as per the sleeper's body and comforts the sleeper (it loves you by the way it hugs you!!!). The robust and durable base layer provides support to the spine and lets the sleeper sleep in a healthy position.
Back Sleepers: People sleeping on their back tend to require more support — especially around the hips, which sinks into softer mattresses and prevent proper spinal alignment. The Nolah Original is a medium-firm bed suitable for average-weight back sleepers.
Side sleepers: Side sleepers enjoy Nolah Original. The proprietary Air-Foam cushions these areas promoting spinal alignment and relieving pressure.
Stomach sleepers: Achieving healthy spinal alignment for stomach sleepers can often be trickier as the hips can tend to sink too far with some mattresses. Stability and support are crucial for "stomach sleepers" not to cause back or hip pain. The inclusion of the memory foam layer with the top breathable layer provides enough alignment between hip and shoulder. Nolah Original is supportive of the lightweight group.
Heavy sleepers: For heavy people exerting a lot of force and pressure, the hybrid version with the pocketed coil is likely to absorb the weight better and offer comfy sleep. The foam option is reasonable, but the hybrid version does better. Nolah Original will not provide the requisite support for the heavy folks.
Cooling & Temperature Control
Nolah Original 10 beats many of its all-foam competitors in cooling. Breathable Air-Foam doesn't absorb too much body heat and is free of heat-sensitive Viscoelastic chemicals.
Heat dissipation is faster than memory foam mattress, giving sleepers a relaxed sleep.
Motion Isolation and Sharing a Bed
As it is an all-foam mattress, it offers incredible motion isolation. With one sleeping on the bed, they won't be able to feel any movement of their partner—a good choice for couples who wants a peaceful night.
The Air-Foam provides Nolah Original 10 a reasonably soft feel, allowing the material to soak movement from sleepers and preventing further action from being transferred through the mattress surface.
That said, the mattress does not entirely remove motion transfer. Couples may notice some movement not causing significant sleep disruptions.
Additionally, the Nolah Original is completely noiseless for underweight.
Edge Support
Edge support for a mattress is another consideration while purchasing. Nolah's performance on this is much better than much available foam mattresses. In Nolah Original 10," the transition layer and thick support core, work together to strengthen the perimeter.
Some sagging is seen while getting in and out of bed. This is due to the medium-firm feel of the mattress. Sagging is noticeable for heavy persons as they tend to put a lot of force. Sagging restricts sleepers' to the mid-portion of the bed. It cannot be very pleasing to the edge sleepers.
Recommendation based on sleeping style
Irrespective of the sleeping posture, we all need to sleep well so our bodies can heal and rejuvenate. The basic poses have different needs and, therefore, specific experiences regarding the comfort, support, and flexibility that the mattress should offer them.
Side Sleepers: Nolah Original 10 is the best mattress for side sleepers. The proprietary Air-Foam is soft and conformable enough to provide sufficient cushioning for the shoulders and hips. At the same time, the high-resiliency polystyrene foam transition layer prevents most side sleepers from sinking too far into the mattress.
A side sleeper's experience with the Nolah Original depends on their weight. The mattress is best suited for the moderate weight group preferring a softer surface feel. The mattress is too soft for heavy persons and will dip too much. They prefer a firmer, more supportive mattress.
Back sleepers: Contrary to side sleeping, sleeping on the back is advantageous. The back sleeping style promotes good spinal alignment as the shoulder, back and hips have the exact alignment. If the mattress is on the softer side, it can sink a bit deeper. It disrupts the spinal alignment, often causing neck-shoulder pain.
Nolah Original 10 supports back sleepers in the moderate weight group. The medium-firm feel is an excellent match for this weight group. They are less likely to sink excessively. Back sleepers over 230 pounds may have a different feeling. Air-Foam may be overly soft to hold these individuals in a uniform plane despite the robust transition and support layers.
Stomach Sleepers:Stomach sleepers can also feel similar problems as back sleepers. Nolah Original usually has a cozy curve and plush feels for stomach sleepers in the case of lightweight sleepers. It is not so for moderate to heavy-weight sleepers. Heavy individuals are prone to sink deep. They wake up with neck and lower backaches and pains.
Generally, stomach sleepers characteristically need less contouring and more support for a comfy feeling on a mattress. The majority carry a large amount of weight in their abdomen area. While sleeping on the stomach, this weight can push your body into the mattress, possibly to an extreme and painful degree. Stomach sleepers require a mattress with enhanced support for the midsection.
Combination Sleepers: Persons alternating between various positions in their sleep finds Nolah Original 10 a comfortable mattress for a relaxing sleep.
Price
| Size | Dimensions | Weight | Price | Sale Price | Discount |
| --- | --- | --- | --- | --- | --- |
| Twin | 38x75x10 | NA | $999 | $699 | 30% |
| Twin XL | 38x80x10 | NA | $1199 | $839 | 30% |
| Full | 54x75x10 | NA | $1349 | $944 | 30% |
| Queen | 60x80x10 | NA | $1449 | $1014 | 30% |
| King | 76x80x10 | NA | $1749 | $1224 | 30% |
| Cal King | 72x84x10 | NA | $1749 | $1224 | 30% |
Get Coupons
x
30% off mattresses plus Two FREE Nolah Squishy Pillows ($198 Value).
Tip:No Code needed
Continue to Store
Nolah Mattress Offers
30% off mattresses plus Two FREE Nolah Squishy Pillows ($198 Value).
Coupons & Deals
30% off mattresses plus Two FREE Nolah Squishy Pillows ($198 Value).
Check Other Nolah Mattress Mattress Models