Methodology
We gather information on mattress industry, product, pricing, customer reviews and financial information from more than 50+ websites daily through our automated "bots" and use advanced data analytics techniques to evaluate and rate mattresses.

Updates
Our reviews are updated at least once a week in cases of changes, product releases, and new insights gathered from analyzing our data set.

Format
We present our mattress reviews in a Q&A format with the intent of mirroring the thought process of how customers make mattress purchase decisions
Helix Dawn Mattress
By Brand: Helix Sleep
$

1373

$

1098
Helix Sleep deals Coupons
20% OFF SITEWIDE. USE CODE LDS20.
2 FREE Dream Pillows with Mattress Purchase ($150+ Value)!

Get Coupons

x

20% OFF SITEWIDE. USE CODE LDS20.
2 FREE Dream Pillows with Mattress Purchase ($150+ Value)!

Copy and Paste the Promotion Code below

Copy Code Continue to Store

Helix Sleep Offers

20% OFF SITEWIDE. USE CODE LDS20.
2 FREE Dream Pillows with Mattress Purchase ($150+ Value)!
Product Description
The Helix Dawn is a firm feel mattress that tops off the Dusk category and comes with body contouring features and back and stomach sleeper support. It is also available in the Standard and Luxe variant, which gives people an option to choose between the affordable and the luxuriant version. The Luxe category features an 8-inch pocketed coil with lumber coil support, the latter of which is missing in the standard variant.
The Helix Dawn is CertiPUR-US certified, implying that no harmful chemicals have been used in the making. Two free dream pillows comes with each mattress purchase.
In this article, we will review Helix Dawn in detail. The review below highlights the key attributes, features, and pros/cons of the mattress.
Material: The Helix Dawn comes with a soft knitted polyester cover, Helix Dynamic Foam top layer, high-grade polyfoam transition layer, and a pocketed coil support core on a high-density polyfoam base. Like the standard Dawn, the Luxe is constructed of multiple foam layers, pocketed coils, and a zoned body shape layer. The plush polyester ultra-cool premium pillow-top is an added feature treated with phase technology for greater temperature regulation.
Sizes: Both Helix Dawn and Dawn Luxe are available in all regular sizes: Twin, Twin XL, Full, Queen, California King, and King
Shipping & Delivery: Free shipping and delivery offered.
Trial & Return: 100 nights trial period, a full refund, and pick up
Warranty: Helix Dawn offers a 10-year warranty, while the Luxe provides 15 years warranty.
Pros & Cons
Helix Dawn is recommended for sleepers, who
Weigh below 230 pounds
Prefer sleeping on their back or stomach
Our heavyweight
Want pressure point relief
Prefer to sleep on a firmer mattress
Not so ideal for sleepers, who
Have light or average weight
Enjoy soft mattress
Want memory foam feel
Strictly sleep on their back
Firmness
Firmness is a subjective matter. To some, a particular mattress may feel soft, while it may feel firm to others. Whether a mattress is soft, plush, or firm is purely defined based on personal preferences, choices, and body type. Whether a mattress feels firm or soft, it should support body weight, promote healthy spinal alignment, and ensure comfortable and restful sleeping.
The Helix Dawn is the firmest model that Helix Sleep offers. The firmness lies in the range of 7.5 to 9.5 on a scale of 10. The mattress is 12 inches tall and comes in 4 layers. It provides strong support for back and stomach sleepers. The Dawn Luxe is 14 inches tall and has 6 layers. The mattress has the same firmness as its standard version, but the quilted pillow top gives more initial pressure relief.
The firmness of the mattress makes it an excellent choice for strict stomach sleepers as it helps the hips from sinking too deep into the mattress, thus keeping them aligned with the shoulders. The firmness is supportive of spine alignment during sleep. Those who prefer extra firm feel can opt for the Helix Dawn, and those who want additional pressure relief can go for Dawn Luxe.
Material & Construction
The Helix Dawn is a hybrid mattress that uses quality materials like other Helix models. The materials include Helix's Dynamic foam, premium polyfoam, and up to 950 individual coils. The breathable mattress cover is soft to touch and stretches slightly. It is designed to allow maximum airflow to keep the person and the mattress cool throughout the night. The cover prevents sweaty nights.
The Luxe, the upgraded version, includes high-quality features like a premium pillow top, a Tencel cover, zoned lumbar support, and other added features. The cover of Dawn Luxe is super soft and is a quilted premium pillow top made up of high-density polyurethane foam. It comes in two options: an Ultra-breathable TENCEL cover, designed for maximum airflow, or a GlacioTex Cooling cover made with fibers with a high thermal conductivity that wicks heat away from the body, giving a comfortable sleep.
The different layers in the mattress are detailed below:
Layer 1: The first layer is the Helix Dynamic Foam layer. It is designed to provide the people with an experience of a mattress that is highly responsive in feel and offers supportive contouring of latex as well as; they get to enjoy the pressure relief of foam.
Layer 2: This layer is the high-grade polyfoam transition layer. The sturdy and firm polyurethane foam is placed to stop the body from sinking in and helps in delivering exceptional spinal support and firmness.
Layer 3: This layer consists of individually-encased coils to provide targeted support and give comfort. Special coils are used on the edges of the mattress perimeter for excellent edge support. The standard Dawn has up to 950 individually wrapped 8 inches steel coil, whereas in the Luxe, there are up to 1500 individually wrapped 8 inches steel coils. The coils in Luxe provide zoned lumbar support that helps to cradle the body provide proper spine alignment and back pressure relief.
Layer 4: The base layer is the DuraDense Foam layer. It is a high-density polyfoam that helps stabilize the mattress, aids in motion isolation, and adds durability to the mattress.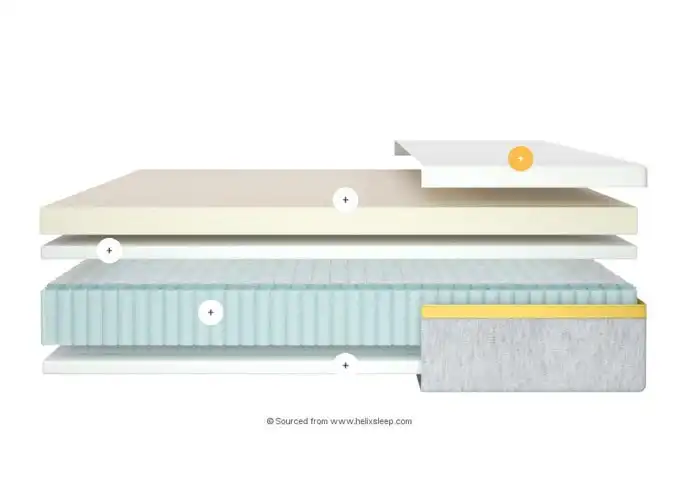 Rating
Helix Dawn Mattress
Materials & Construction (1=Least, 5=Best)
Repositioning (1=Least, 5=Best)
Comfort (1=Least, 5=Best)
Cooling (1=Least, 5=Best)
Motion Isolation (1=Least, 5=Best)
Edge Support (1=Least, 5=Best)
Overall Rating
4.08/5
Rating Scale: 1 = Average, 2 = Good, 3 = Very Good, 4 = Excellent, 5 = Winner
Repositioning
Repositioning means that a person can switch positions during sleep easily. Again, those who toss and turn pay attention to mattress responsiveness. It measures how quickly one can become comfortable after changing positions and how one can make an easy move. The spring coils layers of Helix Dawn make the mattress very responsive, thus allowing moving around the mattress and changing positions easy. The mattress does not comprise memory foam, so will never feel stuck when trying to switch positions. The individually wrapped coils (up to 950 in standard Dawn and up to 1500 in Dawn Luxe) in the core and the latex texture of the comfort layer give the mattress its bounciness.
Comfort, Back Support, Pressure Relief
With the variety of mattresses available in the market, it isn't easy to choose the right one. The right mattress can help get a good night's sleep, which leads to the feeling of rest and refreshment upon waking up. Pain relief is another important feature that people look for while buying a mattress. Back pain can be relieved only when the spine is relaxed. A mattress with good support and a cradle to the spine is often a good choice for sleepers who suffer from back pain.
The hybrid Helix Dawn mattress gives a responsive, firm, and supportive feel. The mattress evenly distributes the body weight to minimize the pressure from the lower back for back sleepers. However, side sleepers will experience a buildup of pressure around their hips and shoulders, so they can check for another mattress in the Helix lineup. Though the Dawn is a substantial mattress, the combination of thick foam layers and pocketed coils give the right cushioning for firm mattress lovers.
The Helix Dawn Luxe features many design elements that would minimize its chances of heat-trapping: a breathable cover, thin layers of foam, and a supportive layer of coils, which allows for plenty of airflow throughout the mattress. Due to firm polyfoam layers, users might feel added pressure while lying on the mattress.
The suitability of the mattress for different sleeping positions is detailed below:
Back sleepers: Average-weight and heavyweight back sleepers will like the supportive feel of Helix Dawn and will not feel any sagging at the hips or the shoulders. But those suffering from low back pain may feel the mattress too firm as it does not provide good pressure relief and contouring. The Luxe owing to its zoned support technology offers the right amount of firmness for most back sleepers. Heavyweight sleepers who sleep on their back and weigh around 230 pounds could get benefits for spinal support on the Helix Dawn Luxe. The mattress is best suited for those who like the firm feeling of their bed.
Side sleepers: Both the models from Helix Dawn will feel the mattress too firm and will experience pressure at the joints of hips and shoulders, thus making the mattress unsuitable for side sleepers. However, average-weight side sleepers, in all probability, find this mattress comfortable enough if they prefer a firm feel.
Stomach sleepers: Strict stomach sleepers preferring firm and supportive mattresses will find the Helix Dawn a good choice. They will not experience any sinkage under the hips or pelvis area. For average-weighing stomach sleepers, it should come out to be a supportive mattress and offers a friendly match that promotes spine alignment. Heavy-weighted stomach sleepers who weigh around 230 pounds should enjoy solid support. The mattress could be a perfect match for lightweight stomach sleepers, who will get to enjoy plenty of spine support.
Heavy sleepers: The Helix Dawn is a bit soft for back sleepers weighing over 250 pounds and too firm for side sleepers to sleep comfortably. For heavyweight stomach sleepers, the mattress is a good choice as they will feel the firm support needed to keep their hips and shoulders perfectly aligned.
Cooling & Temperature Control
The most critical condition determining the quality and duration of the body's recovery during sleep is an adequate decrease in the core body temperature. Like all other Helix Sleep mattresses, the Helix Dawn and Dawn Luxe also feature temperature regulation. The soft knitted breathable cover in the standard Dawn and the ultra-breathable TENCEL cover in the Luxe version make the mattress super cool. The pocketed coiled layers allow air to circulate throughout the mattress, thus preventing heat buildup.
Motion Isolation and Sharing a Bed
The mattress has foam layers and many individually wrapped coils which work in sync so that this mattress can handle motion transfer. Since it is a bouncy mattress, it won't minimize all movement transfer happening across the surface if one has a partner to share his bed with, a point worth considering.
Edge Support
The Helix Dawn is designed to offer comfortable edge support. The robust coil layer, high-density foam base, and latex comfort layer reinforce the perimeter and prevent the mattress from sinking. Thus, the presence of supportive coils helps the user feel secure while sitting and lying near the edge of the mattress.
Recommendation based on sleeping style
Good sleep is crucial to maintain a healthy lifestyle, but according to the National Institute of Health (NIH), about 7 – 19% of adults in the United States do not get enough sleep. The brand Helix is linked with the concept of sleep DNA, which the company mentions on its website. Each of us has a different sleep DNA or specific needs for comfort and support thus it becomes difficult for many people to find what they need when choosing between just one or two mattresses. Though Helix does not make a different mattress for every person, they offer a wide range of options that meet most sleepers' needs. Helix Dawn is a good choice for every sleeping position.
Below is a detailed description of how the Helix Dawn is a good fit for different sleep positions.
Side Sleepers: Heavyweight side sleepers, in all probability, will find this mattress too firm to sleep comfortably on their side. The firmness of the mattress may aid in increasing the pressure on the joints of the hips and shoulders.
Back Sleepers: Average-weighing back and side sleepers will likely find that this mattress might be too firm and probably doesn't offer enough pressure relief while sleeping in these positions. Heavyweight sleepers who sleep on their back and weigh around 230 pounds could get benefits for healthy spinal support on the Helix Dawn, while people who weigh much higher than that might want to consider buying another mattress. Lightweight back and side sleepers will likely experience that this mattress feels too firm.
 Stomach Sleepers: The firm feel of Helix Dawn makes it a fantastic fit for stomach sleepers, who will find that their hips and spine area remain aligned whenever sleeping. Heavyweight stomach sleepers who may weigh less than 300 pounds will get enough spinal support, while those weighing more than 300 pounds will probably have to look for other options. The firm feel offered by this mattress is great for lightweight stomach sleepers, who will get to enjoy plenty of support.
Combination Sleepers-Those who alternate between various positions: Combination sleepers tend to change positions while sleeping. Average and heavyweight combination sleepers will find the mattress very comfortable and suited. The bounce of the mattress is very appealing to most combination sleepers.
Price
| Size | Dimensions | Weight | Price | Sale Price | Discount |
| --- | --- | --- | --- | --- | --- |
| Twin | 38x75 | NA | $936 | $748 | 20% |
| Twin XL | 38x80 | NA | $1061 | $848 | 20% |
| Full | 54x75 | NA | $1248 | $998 | 20% |
| Queen | 60x80 | NA | $1373 | $1098 | 20% |
| Cal King | 72x84 | NA | $1748 | $1398 | 20% |
| King | 76x80 | NA | $1748 | $1398 | 20% |
Get Coupons
x
20% OFF SITEWIDE. USE CODE LDS20.
2 FREE Dream Pillows with Mattress Purchase ($150+ Value)!
Copy and Paste the Promotion Code below
Copy Code
Continue to Store
Helix Sleep Offers
20% OFF SITEWIDE. USE CODE LDS20.
2 FREE Dream Pillows with Mattress Purchase ($150+ Value)!
Coupons & Deals
20% OFF SITEWIDE. USE CODE LDS20.
2 FREE Dream Pillows with Mattress Purchase ($150+ Value)!
Check Other Helix Sleep Mattress Models