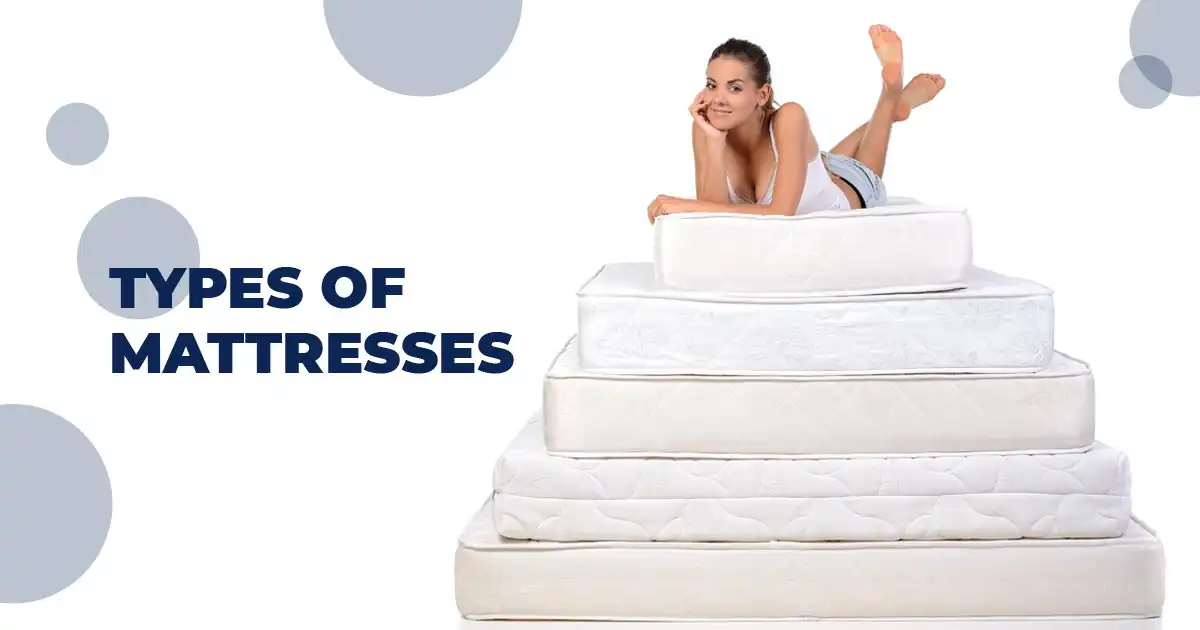 Thinking about getting a new mattress? But feeling lost on which one might be a suitable fit? We might just have the solution for you!
Mattresses come in all types, features and sizes. They are built with a varied range of materials, springs, covers, and more. Different types of mattresses have their own unique feature, firmness, feel and sets of pros and cons. Your very own sleeping style and sleep preferences in what you like the most in a mattress will help you figure out which type of mattress is just right for you.
Eager to shop but short on time?
This compact guide will outline all the different types of mattresses that you're most likely to find in stores or online this Black Friday 2023. We will help you narrow down your mattress choices so that you select the right fit.
If you want more information about mattresses, check out our comprehensive guide on mattresses.
Different Types of Mattresses:
If you routinely wake up with body ache and pain in the muscle or joints, it might be because of your old mattress. With our Black Friday 2023 sales around the corner, this may be just the time for you to get a new one! But to pick the right mattress, you must first know the different types of mattresses out there.
Let's read all about the different types of mattresses available—from spring to foam and spoil you with more options to consider!
1. Innerspring Mattress
Innerspring mattresses are a traditional type of mattress. They use different types of coils to make sure you feel comfortable and supported all over. On top of the coils, there are thick layers of latex, polyfoam, or memory foam to make the mattress cozy.
Innerspring mattresses have 4 types of coils: Continuous, Bonnell, Offset, and Encased. Let's have a closer look at each of them and see what they're about!
Types of Innerspring Mattress Coils
Continuous coils are like a single wire that shapes the whole support system of the bed. Instead of separate coils, they're crafted into an S-shape. Since they are made up of a single interlinked wire, you get a sturdy setup at a competitive price range.
These coils are shaped like an hourglass. They were the first type of mattress coils made for mattresses and are still really popular today.
If you're bothered by noisy springs, you might want to check out offset coils. They're similar to Bonnell coils but have flat edges at the top and bottom, creating a bend that fits your body better. They're strong, long-lasting, provide good support, and aren't noisy at all.
These coils are different from others because they're not connected, and they work independently of each other. The coils are of thin-gauge barrel-shaped design. They provide extra support and help in motion isolation. You'll usually find these in hybrid mattresses, which is a variation of innerspring mattresses.
Pros
Affordable Price: Innerspring mattresses don't have as many layers as other types of mattresses. That's why they're cheaper, which means you can buy them at a competitive price range.
Traditional feel: Innerspring mattresses are bouncy and give off that familiar, classic feel that a lot of people like.
Breathability: In an innerspring mattress, the coiled section helps to keep things cool by letting air flow through. Thus, the top layer doesn't get too hot.
Cons
Weight: Innerspring mattresses are pretty heavy because of steel coils inside. This might make it tough to move the mattress on your own from your doorstep. For a hassle-free Mattress Set Up experience, read our tips and expert guide.
Motion Transfer: Innerspring mattresses aren't good at motion isolation. Unless you choose ones with individually encased coils, you might feel a lot of motion from one side to the other.
Recommendation
Innerspring mattresses are pretty versatile and work well for different sleeping habits. They're good for combination sleepers because they're bouncy and easy to move around on.
Saatva Classic Mattress is all about those innersprings! It's got a tough innerspring base topped with another layer of responsive, individually pocketed coils. It contours to your body to relieve pressure points.
Head on to our Saatva mattress review page for more information!
Claim the best Black Friday Deals this 2023!

2. Memory Foam Mattress
Back in 1966, NASA created memory foam to make airplanes safer. Now, it's used all across the mattress industry, in mattresses, pillows, blankets, and more. A memory foam mattress is made of a special type of polyurethane foam. This foam creates a feeling of being cradled.
When you lie down, it takes the shape of your body and bounces back slowly when you get up. You may prefer this sensation as it feels like you're being hugged by your mattress!
It's good on comfort and right for individuals who sleep on their side or those who need extra softness due to pain or discomfort.
Pros
Pressure Relief: Memory foam is good at easing pain in sensitive pressure points. These mattresses help to cushion your body and reduce pressure on areas like shoulders, hips, and knees.
Hypoallergenic: Memory foam mattresses usually make use of materials that are hypoallergenic and keep dust mites away. They're a good choice, especially if you deal with allergies or breathing issues.
Motion Isolation: A memory foam mattress works well for couples because it's really good at motion isolation.
Cons
Overheating: Memory foam mattresses often get too warm since the foam can trap heat. Some mattresses feature cool gel memory foam layers or other cooling materials to avoid overheating, but not all memory foam beds come with these cooling features.
Recommendation
Memory foam mattresses are a good fit if you have issues like pressure sores and painful joints. They hug your body and prevent pressure builds up, especially if you're a side sleeper. If you want a mattress that lasts long without flipping or too much maintenance, a memory foam mattress is the right one for you.
I recommend this mattress for those who share a bed and want maximum motion isolation.
Casper is one of those memory foam mattresses that features a responsive layer of foam that soothes you with a bit of bounce. It also comes with cooling technology and breathability. Want to learn more? Check out our mattress review on Casper memory foam mattresses!

3. Gel Foam Mattress
Memory foam can sometimes make you feel all hot as it traps heat. That's where Gel Foam comes in! It acts as a cooling layer for memory foam mattresses. The gel infused into foam absorbs up that extra heat from your body, so you stay cool as a cucumber while you sleep. This helps you stay cool while you sleep, so you won't wake up feeling all hot and sweaty.
Pros
Cooling: Gel mattresses are made to keep you cool while you sleep. They use gel to take away body heat, so even if you tend to get hot at night, you can stay comfortable and cool.
Responsive Feel: Gel beds are like memory foam but a bit more flexible. That means they can adjust quicker when you switch positions while you sleep.
Cons
Synthetic Materials: Gel foams are created by heating and mixing specific plastics and then cooling them into shape. While they offer advantages, some folks might hesitate because they involve combining chemicals in their mattresses.
Recommendation
For those who sleep hot but still crave memory foam comfort, a gel foam mattress is the way to go! The gel lets you enjoy all the perks of memory foam without turning up the heat.
Loom & Leaf is a memory foam mattress. They use gel-infused memory foam with micro-perforations to make the memory foam even more breathable. If you want more details, check out our mattress review page on Loom & Leaf mattresses—it's all there!
4. Latex Mattress
Latex comes from rubber tree sap. It's a natural variant of bedding andsuitable if you wish for something natural for your mattress. Think of it as a cool alternative to those synthetic mattresses. It's a bit like memory foam when it comes to pressure reliefcomfort.
Additionally, latex mattresses keep you cooler than memory foam ones, so you can sleep without feeling too warm.
There are basically two types of latex mattresses: Dunlop and Talalay.
In the production of Dunlop latex, latex is poured into a mold all at once. What happens is the top of the mattress ends up feeling softer while the bottom gets denser. It's why those mattresses feel different in different spots!
Talalay is a more intricate way to make latex mattresses. They pour latex into a mold and use a vacuum to remove all the air. After that, they freeze it to make the mattress structure strong. This process creates foams that feel more consistent compared to the Dunlop method.
Pros
Natural Materials: When you go for a natural latex mattress, you can relax, knowing there aren't any metals or chemicals in the material. Lots of organic mattresses use latex for their construction.
Pain Relief: If you're dealing with back or joint pain, latex mattresses can be a great pick. They give your body support and help your spine stay aligned naturally.
Breathability: Latex has this natural open-cell design that lets air flow through easily. That means the mattress stays cooler and lets your skin breathe better.
Bounce: Latex is bouncy and can make it simpler for individuals who switch positions a lot or those who have trouble moving around on the bed.
Cons
Cost: Latex mattresses can be costlier because they use natural materials that are harder to produce.
Recommendation
Latex mattresses suit allergy-prone individuals for their hypoallergenic nature and resistance to dust mites. Their breathability suits hot sleepers, while the buoyancy aids mobility for combination sleepers.
Nolah Natural 11-inch mattress is a luxury latex hybrid mattress. It's got a top layer of natural Talalay latex foam that hugs your body just right, giving you relief from any pressure points. It's all about comfort and support for a great night's sleep! Curious for more details? Check out our Nolah mattress review!
5. Hybrid Mattress
Hybrid mattresses are like the combination of different elements of mattresses to give you a comfortable sleep. The mattress has a coil support system. The spring layer is topped by dense layers of latex, memory foam, or gel foam to offer comfort, pressure point relief, and motion isolation. These mattresses keep you cool with good airflow, too.
Pros
Versatility: Hybrid mattresses have both foam layers and steel coils. It's like getting the best of both worlds, making hybrids a fantastic option for all kinds of sleepers.
Advanced Support: Hybrid mattresses provide good support by the combination of coils with foam layers. Those coils are the main support, while the foam layers step in to make sure your spine stays aligned while you sleep.
Cons
Weight: Hybrid mattresses, with their mix of coils and multiple foam layers, tend to be on the heavier side among mattresses. You might want to have some extra help around when it comes to moving the mattress.
Recommendation
Hybrid mattresses are versatile and suitable for lots of individuals, no matter how they sleep. They're a combination of innerspring and foam materials. If you're a back or stomach sleeper craving extra support and pain relief, hybrids are our go-to recommendation.
Brooklyn Signature Hybrid Mattress is made with foams like gel-infused TitanFlex polyfoam and has a support core of individually encased coils. That combination is what makes it comfortable and supportive. For more details, you can check out our mattress review!

6. Waterbed
Waterbed was made by Dr. Neill Arnott to help individuals with bedsores. They've got this compartment filled with water that makes you feel like you're floating! Plus, you can adjust how the water supports your body weight while you sleep.
Pros
Comfort: Waterbeds feel comfortable because the water inside molds to your body. They don't push back and give good pressure relief no matter how you sleep.
Adjustable Firmness: You can make the bed softer or firmer by adding or taking out water because it's filled with liquid.
Heating: A waterbed solves the cold bed problem in winter! Lots of them come with adjustable heating, so you can find that just-right temperature for better sleep, relaxing your muscles, and soothing any aches.
Cons
Potential Leaks: Waterbeds aren't resilient and may leak. They're covered in durable vinyl outside, but there's always a chance that water could spill in your bedroom.
Lack of Support: These mattresses feel comfortable and bouncy, yet they might not give your body the support it needs.
Recommendation
A lot of sleepers find the waterbed experience really good. I'd recommend it for individuals dealing with pressure build-up. That's because a waterbed molds to your body, stopping that pressure from building up on your shoulders, hips, and knees.
7. Pillow Top Mattress
Pillow Top mattresses, also called Euro Top Mattresses, have an extra padded layer fixed firmly on top for extra comfort. This layer can lift the bed a few inches. Pillow Tops add more cushioning, letting your shoulders and hips sink in for a cozier sleep.
They're made of latex, cotton, foam, or wool layers, making them a bit pricier than regular mattresses.
Pros
Added Comfort: A pillowtop makes your mattress comfier by adding extra cushioning. It's great at relieving pressure, no matter how you sleep.
Motion Isolation: A foam pillow top is good because it stops motion transfer.
Price: You can actually find pillowtops in all sorts of mattresses, even the ones that are budget-friendly!
Cons
Maintenance: Pillowtop mattresses might sag over time, which means they need flipping regularly.
Recommendation
If you prefer an extra cushion on your bed, a pillowtop mattress could be your favorite one! They're made to level up the coziness of a regular mattress, fitting all kinds of sleepers. It's like an upgrade for added comfort!
Helix Midnight Luxe is a memory foam mattress with a soft pillow top that adds a plush feel. This premium quilted top makes it even more comfortable! If you want more details, check out our review of Helix Midnight Mattress!
8. Polyfoam Mattress
Polyfoam is made synthetically for mattresses and bedding stuff. It is synthetic and petroleum-based. It uses chemicals, but don't worry; they go through some processes to make sure those chemicals don't cause any harm.
Polyfoam mattresses have this CertiPUR-US® certification, which ensures that the mattress is totally safe. Additionally, these mattresses are budget-friendly and give you good comfort and support for your sleep.
Pros
Inexpensive: Polyfoam mattresses are budget-friendly because the materials they use are inexpensive to make. So, if you're someone who keeps an eye on your wallet while shopping, these beds might be a smart pick for you!
Lightweight: Polyfoam mattresses are light, so you can easily carry them from your doorstep to your bedroom.
Cons
Durability: Polyfoam mattresses are not as durable as other types of mattresses like innerspring, hybrid, latex, or memory foam mattresses.
Recommendation
If you want a short-term solution, polyfoam mattresses could be your thing. Don't expect them to last long, as they're not durable mattresses. They're suitable if you're watching your wallet and prefer something different from the traditional innerspring mattresses.
9. Adjustable Bed
An adjustable bed is made with adjustable motors that let you change your sleeping position as per your comfort. Plus, they can even tilt back, fitting exactly how you want them to.
They're suitable for individuals dealing with sinus troubles or back pain and even for those who love to watch TV or do other stuff in bed. You can adjust these beds to match exactly what you need, making them way cozier.
However, they do come with a higher price tag and some extra costs for keeping those electric motors running smoothly. So, if you're after a more budget-friendly option, that's something to keep in mind.
Pros
Comfort: These beds are all about making you comfortable. You can adjust how you sleep, finding a suitable position that's just right for you.
Pain Relief: An adjustable bed is amazing for easing pain. You can change the angle to focus on those sore spots, helping them feel better and giving your body a chance to heal up.
Cons
Incompatibility with Mattresses: If you're getting an adjustable base, you'll need a mattress that plays nice with it. Most mattresses are cool with these bases, but it might narrow down your choices a bit.
Recommendation
We often suggest adjustable beds for individuals dealing with conditions like sciatica or arthritis. They're a great fit for older people and anyone who might have trouble moving around easily. These beds can really boost mobility and ease pain, making life a bit smoother.
iSense Hybrid Premier Mattress features dual-sided adjustability. That means you can pick how firm or soft you want each side of your bed to be. Plus, there's an iSense App that lets you take charge of your bed and the adjustable base. If you want to know more, check out our iSense mattress review page for all the details!
10. Airbed
Airbeds have motors that pump air into the mattress so you can adjust how firm or soft it feels. They're kind of regular beds but with foam layers that give you a change from the usual mattress vibe.
These mattresses often have motors you can adjust. That means you and your partner can customize just the way you like it. Airbeds tend to stay in good shape longer, so no worries about that sagging you might get with regular mattresses!
Pros
Adjustable Firmness: Changing the firmness of an airbed is easy since it's filled with air. This flexibility lets you discover the perfect comfort level without needing to switch mattresses all the time.
No Sagging: The air inside the mattress molds to your body, responds to movement, and bounces back when you get up.
Cons
Potential Leaks Punctures: Airbeds use tough vinyl to make sure they're strong and last long. But they can easily leak, and that's impossible to fix.
Recommendation
If you prefer a mattress that's easy to move around and lets you adjust how firm or soft it feels, an airbed might be just what you need.
11. Organic Mattress
Organic Mattress is all about using natural products like latex, wool, and even recycled steel for coils. The mattress is eco-friendly and toxin-free. Plus, they're made with renewable materials and fewer chemicals, so they're totally safe for you to sleep.
Pros
Healthier: Organic mattresses have way more natural and organic products than synthetic materials, making them a healthier choice for people.
Temperature Regulation: Organic mattresses use natural materials that keep you warm in winter and cool in summer. It's like having a built-in temperature control for your sleep!
Eco-friendly: Since the mattress doesn't have any chemicals or harmful products, these beds are not damaging to the environment.
Cons
Fewer Options: You won't find as many organic mattresses as the regular ones made with non-organic products. So, the choices are a bit limited when you're searching for an organic one.
Recommendation
For individuals who care about the environment, organic mattresses are a top pick. They're made from wool, cotton, and latex that mostly come from sustainable sources.
Avocado Green Mattress is totally organic and has the GOTS certification. The Standard and Pillowtop versions use GOLS-certified organic Dunlop latex, and every model includes GOTS-certified organic wool and cotton. Check out our mattress review on Avocado mattress for all the details!

12. Futon Mattress
Futon Mattresses are like a two-in-one deal—you can switch them from a bed to a sofa. Suitable for your living room, especially if you're all about saving space. They're firm and foldable, so you get the good of worlds.
Pros
Space saving: Futons are great for smaller spaces like apartments because you can fold them up into a couch when you don't need the bed.
Less expensive: Futons usually cost less than regular beds or sofas.
Cons
Not thick mattress: Futons can fold up easily, which means they're not as thick as regular mattresses.
Recommendation
If your apartment is limited in space, place a futon in the living room! It's suitable as a sofa during the day and a bed at night.

FAQs about Types of Mattresses
Q1. What type of mattress is the most durable?
Q2. Which mattress type is the most popular?
Memory foam beds are really liked by a lot people. Hybrid mattresses are special because they have different kinds of mattress parts, like coils, gel, and memory foam mixed together. Adjustable air mattresses are ideal for patients or if you want to change your bed to fit your lifestyle just right.
Q3. Which is the best type of mattress for back pain?
Medium-firm foam or hybrid mattresses are comfortable and can help with back pain. They also make your sleep better and are durable. Companies rate how soft or firm their mattresses are on a scale of 1 to 10, with 1 being super soft and 10 being really firm.
Q4. Which is better – a spring mattress or a foam mattress?
Spring mattresses can stay good for some time, but their springs might start to sink after around 5 to 8 years of use. If the coils are thicker, the mattress can last even longer. Memory foam mattresses usually last even longer, ranging from 8 to 12 years.
Q5. What type of mattress is popular in sleep retreats or hotels?
References